Youth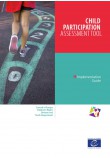 Implementation Guide to the Child Participation Assessment Tool (2016)
REF. 107616GBR
Type of document : Document
Format : PDF
Size : 1.23 MB
Language : English
Number of pages : 32
The aim of the Council of Europe Child Participation Assessment Tool is to support states in meeting the goals of the Recommendation on participation of children and young people under the age of 18. The Assessment Tool offers a method, at European level, to facilitate and support the implementation of the child's right to participate.
The Assessment Tool provides 10 basic indicators enabling states to:
    · undertake a baseline assessment of current implementation of the recommendation;
    · help identify measures needed to achieve further compliance by states;
    · measure progress over time.

The Assessment Tool is accompanied by an Implementation Guide with a roadmap and detailed guidance on information collection, focus groups and using the results for reporting to the UN Committee for the Rights of the Child.
FREQUENTLY ASKED QUESTIONS AND ANSWERS ON THE CHILD PARTICIPATION ASSESSMENT TOOL
GUIDANCE NOTE TO THE CHILD PARTICIPATION ASSESSMENT TOOL
     Introduction                                                            
     Process                                                            
GUIDELINES FOR COLLECTING INFORMATION ON THE 10 INDICATORS
EXPLORING CHILDREN'S VIEWS THROUGH FOCUS GROUPS
     Number of focus groups and length of discussions
     The role of the facilitator
     Composition and selection of focus groups
     Evaluation of the consultation process
     Reporting                                                          
FACTSHEET – LINKING THE UNCRC REPORTING PROCESS TO THE COUNCIL OF EUROPE CHILD PARTICIPATION ASSESSMENT PROCESS
     UNCRC Reporting Process
     Reporting process of the Committee on the Rights of the Child
     How does the child participation  assessment fit into the CRC reporting process?  
ROAD MAP TO THE COUNCIL OF EUROPE CHILD PARTICIPATION ASSESSMENT TOOL
     Introduction                                                          
     Purpose  
     Guidance note and training package
     Timeline  
AGENDA
     "Guaranteeing children's right to participate in all fields of life and measuring progress in promoting child participation"