The Council of Europe in brief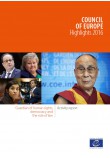 PDF - Council of Europe - Highlights 2016 (2017)
"Council of Europe Highlights 2016 provides a comprehensive overview of the Organisation's work to promote human rights, democracy and the rule of law. Some of our activities generate substantial public and media attention, while others can best be described as "quiet diplomacy". But all of our work is aimed at protecting the individual rights enshrined in the European Convention on Human Rights. The welfare of human beings lies at the heart of our mission.
In 2016 more challenges to human rights arose, including discrimination, threats to freedom of expression and risks to justice.
This publication shows how we are addressing those challenges – and why this work is essential for the future of our continent."
Foreword by Thorbjørn Jagland, Secretary General of the Council of Europe
FOREWORD
COMMITTEE OF MINISTERS
PARLIAMENTARY ASSEMBLY
     A pan-European forum to debate major political issues
     The preparatory work in committees
CONGRESS OF LOCAL AND REGIONAL AUTHORITIES
     The Congress, a watchdog of local and regional democracy
     Renewal of delegations and new Presidency
     Integration of migrants and refugees
     Fighting radicalisation and promoting intercultural dialogue
     Promoting public ethics
     Human rights at the local level
     Co-operation activities
     New working priorities for 2017-2020
EUROPEAN COURT OF HUMAN RIGHTS
     Engagement with civil society
     Deepening co-operation with national courts
     Judicial dialogue in various forms
     A growing workload and a new response
     Recognition of the Court's contribution to the development of Europe
COMMISSIONER FOR HUMAN RIGHTS
     Country monitoring
     Thematic work
CONFERENCE OF INTERNATIONAL NON-GOVERNMENTAL ORGANISATIONS (INGOS)
     Civil society's voice in the Council of Europe
     Voice of solidarity with European civil society
     Voicing issues of concern to European civil society
EXTERNAL RELATIONS
     Policy of the Council of Europe towards neighbouring regions
     Relations with the European Union, the UN and the OSCE
     Relations with other organisations/other countries
POLICY PLANNING AND POLITICAL ADVICE
     Policy planning
     Schools of Political Studies
     Political affairs
HUMAN RIGHTS AND THE RULE OF LAW
     Protection and development of human rights
     Specific human rights issues
     Co-operation activities
     Rule of law
     Justice and legal co-operation
DEMOCRACY
     Democratic governance
     Democratic participation and citizenship
     Human dignity and equality
     European Directorate for the Quality of Medicines & HealthCare (EDQM)
ACTIONS IN THE FIELD AND RESOURCE MOBILISATION
     Member states
     Non-member states
PUBLIC INTERNATIONAL LAW
COMMUNICATIONS
     Press relations
     Online and audiovisual communications
     Public relations and publications
2016 CONTRIBUTIONS OF COUNCIL OF EUROPE MEMBER STATES
2016 VOLUNTARY CONTRIBUTIONS TO THE COUNCIL OF EUROPE
ORGANISATION CHART OF THE SECRETARIAT GENERAL OF THE COUNCIL OF EUROPE IN 2016