Human rights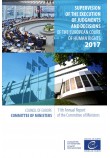 Supervision of the execution of judgments of the European Court of Human Rights 2017 - 11th Annual Report of the Committee of Ministers (2018)
REF. 001918GBR
Type of document : Report
Format : PDF
Size : 5.48 MB
Language : English
Number of pages : 273
Other available languages
> French
Implementing European Court judgments: Record number of cases closed in 2017 - challenges remain...
The Committee of Ministers' annual report presents the status of execution of the main judgments of the European Court of Human Rights by the member states of the Council of Europe. It also provides statistics and other information relating to new cases, pending cases and cases closed during the year.
2017 saw a confirmation of the positive results observed over the last years in pursuing the reforms undertaken in the context of the "Interlaken process". The progress achieved demonstrates an enhanced dialogue between all stakeholders and the commitment of member states to abide by the Court's judgments.
The current efforts still have to be supplemented by further measures to improve the system's capacity to overcome situations of resistance and to provide speedier and more effective support to states in complex execution processes. The stocktaking of the results of the "Interlaken process" is due end 2019.
I. EXECUTIVE SUMMARY
II. INTRODUCTION BY THE CHAIRS OF THE HUMAN RIGHTS MEETINGS
III. REMARKS BY THE DIRECTOR GENERAL OF THE DIRECTORATE GENERAL OF HUMAN RIGHTS AND RULE OF LAW
IV. IMPROVING THE EXECUTION PROCESS: A PERMANENT REFORM WORK
V. COOPERATION ACTIVITIES
VI. MAIN RECENT ACHIEVEMENTS
VII. GLOSSARY
APPENDIX 1 – STATISTICS
A. New cases
B. Pending cases
C. Closed cases
D. Supervision process
E. Length of the execution proces
F. Just satisfaction
G. Additional statistics
APPENDIX 2 – MAIN CASES OR GROUPS OF CASES PENDING
APPENDIX 3 – MAIN CASES CLOSED
APPENDIX 4 – NEW JUDGMENTS WITH INDICATIONS OF RELEVANCE FOR THE EXECUTION
A. Pilot judgments which became final in 2017
B. Judgments with indications of relevance for the execution which became final in 2017
APPENDIX 5 – THEMATIC OVERVIEW OF THE MOST IMPORTANT DEVELOPMENTS IN THE SUPERVISION PROCESS IN 2017
A. Actions of security forces
B. Right to life – Protection against ill-treatment: specific situations
C. Detention
D. Reception / Expulsion / Extradition
E. Slavery and forced labour
F. Functioning of justice
G. No punishment without law
H. Home / Private and family life
I. Environmental protection and hazards
J. Freedom of thought, conscience and religion
K. Freedom of expression
L. Freedom of assembly and association
M. Right to marry
N. Protection of property
N.1. Expropriations, nationalisations
N.2. Other interferences with property rights
O. Right to education
P. Electoral rights
P.1. Right to vote and stand for elections
P.2. Control of elections
Q. Freedom of movement
R. Discrimination
S. Use of restrictions on rights for illegitimate purposes
T. Cooperation with the European Court and right to individual petition
U. Inter-State and related case(s)
APPENDIX 6 – THE COMMITTEE OF MINISTERS' SUPERVISION UNDER THE NEW WORKING METHODS
Introduction
A. Scope of the supervision
B. New supervision modalities: a twin-track approach to improve prioritization and transparency
C. Increased interaction between the Court and the Committee of Ministers
D. Friendly settlements
E. Unilateral declarations
APPENDIX 7 – WHERE TO FIND FURTHER INFORMATION ON THE EXECUTION OF JUDGMENTS?
APPENDIX 8 – REFERENCES
A. CMDH meetings in 2016 and 2017
B. General abbreviations
C. Country codes
INDEX OF CASES