Array ( [id] => 2 [link] => [name] => [desc] => [children] => Array ( [0] => Array ( [id] => 7 [link] => https://edoc.coe.int/en/7-online-resources [name] => Online resources [desc] => [children] => Array ( [0] => Array ( [id] => 378 [link] => https://edoc.coe.int/en/378-the-council-of-europe-in-brief [name] => The Council of Europe in brief [desc] => [children] => Array ( [0] => Array ( [id] => 364 [link] => https://edoc.coe.int/en/364-map-of-the-member-states [name] => Map of the member states [desc] => [children] => Array ( ) ) [1] => Array ( [id] => 381 [link] => https://edoc.coe.int/en/381-an-overview [name] => An overview [desc] => [children] => Array ( ) ) [2] => Array ( [id] => 408 [link] => https://edoc.coe.int/en/408-annual-activity-report [name] => Annual activity report [desc] => [children] => Array ( ) ) ) ) [1] => Array ( [id] => 170 [link] => https://edoc.coe.int/en/170-human-rights [name] => Human rights [desc] => [children] => Array ( [0] => Array ( [id] => 172 [link] => https://edoc.coe.int/en/172-european-convention-on-human-rights [name] => European Convention on Human Rights [desc] => [children] => Array ( ) ) [1] => Array ( [id] => 374 [link] => https://edoc.coe.int/en/374-fundamental-freedoms [name] => Fundamental freedoms [desc] => [children] => Array ( ) ) [2] => Array ( [id] => 191 [link] => https://edoc.coe.int/en/191-violence-against-women [name] => Violence against women [desc] => [children] => Array ( ) ) [3] => Array ( [id] => 187 [link] => https://edoc.coe.int/en/187-children-s-rights [name] => Children's rights [desc] => [children] => Array ( ) ) [4] => Array ( [id] => 192 [link] => https://edoc.coe.int/en/192-trafficking-in-human-beings [name] => Trafficking in human beings [desc] => [children] => Array ( ) ) [5] => Array ( [id] => 372 [link] => https://edoc.coe.int/en/372-refugees [name] => Refugees [desc] => [children] => Array ( ) ) [6] => Array ( [id] => 176 [link] => https://edoc.coe.int/en/176-death-penalty [name] => Death penalty [desc] => [children] => Array ( ) ) [7] => Array ( [id] => 177 [link] => https://edoc.coe.int/en/177-prevention-of-torture [name] => Prevention of torture [desc] => [children] => Array ( ) ) [8] => Array ( [id] => 178 [link] => https://edoc.coe.int/en/178-racism [name] => Racism [desc] => [children] => Array ( ) ) ) ) [2] => Array ( [id] => 179 [link] => https://edoc.coe.int/en/179-democracy [name] => Democracy [desc] => [children] => Array ( [0] => Array ( [id] => 180 [link] => https://edoc.coe.int/en/180-local-democracy [name] => Local democracy [desc] => [children] => Array ( ) ) [1] => Array ( [id] => 182 [link] => https://edoc.coe.int/en/182-elections [name] => Elections [desc] => [children] => Array ( ) ) [2] => Array ( [id] => 181 [link] => https://edoc.coe.int/en/181-world-forum-for-democracy [name] => World Forum for Democracy [desc] => [children] => Array ( ) ) [3] => Array ( [id] => 413 [link] => https://edoc.coe.int/en/413-civil-society [name] => Civil society [desc] => [children] => Array ( ) ) ) ) [3] => Array ( [id] => 233 [link] => https://edoc.coe.int/en/233-law [name] => Law [desc] => [children] => Array ( [0] => Array ( [id] => 234 [link] => https://edoc.coe.int/en/234-organised-crime [name] => Organised crime [desc] => [children] => Array ( ) ) [1] => Array ( [id] => 235 [link] => https://edoc.coe.int/en/235-corruption [name] => Corruption [desc] => [children] => Array ( ) ) [2] => Array ( [id] => 237 [link] => https://edoc.coe.int/en/237-data-protection [name] => Data protection [desc] => [children] => Array ( ) ) [3] => Array ( [id] => 175 [link] => https://edoc.coe.int/en/175-european-prison-reform [name] => European prison reform [desc] => [children] => Array ( ) ) [4] => Array ( [id] => 238 [link] => https://edoc.coe.int/en/238-terrorism [name] => Terrorism [desc] => [children] => Array ( ) ) [5] => Array ( [id] => 239 [link] => https://edoc.coe.int/en/239-efficiency-of-justice [name] => Efficiency of justice [desc] => [children] => Array ( ) ) [6] => Array ( [id] => 379 [link] => https://edoc.coe.int/en/379-international-law [name] => International law [desc] => [children] => Array ( ) ) ) ) [4] => Array ( [id] => 193 [link] => https://edoc.coe.int/en/193-society [name] => Society [desc] => [children] => Array ( [0] => Array ( [id] => 194 [link] => https://edoc.coe.int/en/194-living-together-diversity-and-freedom-in-europe [name] => Living Together - Diversity and Freedom in Europe [desc] => [children] => Array ( ) ) [1] => Array ( [id] => 195 [link] => https://edoc.coe.int/en/195-european-social-charter [name] => European Social Charter [desc] => [children] => Array ( ) ) [2] => Array ( [id] => 205 [link] => https://edoc.coe.int/en/205-drug-policies [name] => Drug policies [desc] => [children] => Array ( ) ) [3] => Array ( [id] => 196 [link] => https://edoc.coe.int/en/196-migration [name] => Migration [desc] => [children] => Array ( ) ) [4] => Array ( [id] => 197 [link] => https://edoc.coe.int/en/197-council-of-europe-development-bank [name] => Council of Europe Development Bank [desc] => [children] => Array ( ) ) [5] => Array ( [id] => 222 [link] => https://edoc.coe.int/en/222-lgbt [name] => LGBT [desc] => [children] => Array ( ) ) [6] => Array ( [id] => 223 [link] => https://edoc.coe.int/en/223-people-with-disabilities [name] => People with disabilities [desc] => [children] => Array ( ) ) [7] => Array ( [id] => 190 [link] => https://edoc.coe.int/en/190-gender-equality [name] => Gender equality [desc] => [children] => Array ( ) ) ) ) [5] => Array ( [id] => 198 [link] => https://edoc.coe.int/en/198-new-technologies-medias [name] => New technologies / Medias [desc] => [children] => Array ( [0] => Array ( [id] => 199 [link] => https://edoc.coe.int/en/199-internet [name] => Internet [desc] => [children] => Array ( ) ) [1] => Array ( [id] => 200 [link] => https://edoc.coe.int/en/200-children-and-the-internet [name] => Children and the Internet [desc] => [children] => Array ( ) ) [2] => Array ( [id] => 201 [link] => https://edoc.coe.int/en/201-media [name] => Media [desc] => [children] => Array ( ) ) [3] => Array ( [id] => 202 [link] => https://edoc.coe.int/en/202-cybercrime [name] => Cybercrime [desc] => [children] => Array ( ) ) [4] => Array ( [id] => 410 [link] => https://edoc.coe.int/en/410-artificial-intelligence [name] => Artificial intelligence [desc] => [children] => Array ( ) ) ) ) [6] => Array ( [id] => 203 [link] => https://edoc.coe.int/en/203-health [name] => Health [desc] => [children] => Array ( [0] => Array ( [id] => 204 [link] => https://edoc.coe.int/en/204-bioethics [name] => Bioethics [desc] => [children] => Array ( ) ) [1] => Array ( [id] => 206 [link] => https://edoc.coe.int/en/206-medicines [name] => Medicines [desc] => [children] => Array ( ) ) [2] => Array ( [id] => 207 [link] => https://edoc.coe.int/en/207-health-care [name] => Health care [desc] => [children] => Array ( ) ) ) ) [7] => Array ( [id] => 208 [link] => https://edoc.coe.int/en/208-culture-heritage-nature [name] => Culture, heritage, nature [desc] => [children] => Array ( [0] => Array ( [id] => 210 [link] => https://edoc.coe.int/en/210-european-cultural-convention [name] => European Cultural Convention [desc] => [children] => Array ( ) ) [1] => Array ( [id] => 211 [link] => https://edoc.coe.int/en/211-intercultural-and-interreligious-dialogue [name] => Intercultural and interreligious dialogue [desc] => [children] => Array ( ) ) [2] => Array ( [id] => 212 [link] => https://edoc.coe.int/en/212-environment [name] => Environment [desc] => [children] => Array ( ) ) [3] => Array ( [id] => 214 [link] => https://edoc.coe.int/en/214-culture-and-democracy [name] => Culture and democracy [desc] => [children] => Array ( ) ) [4] => Array ( [id] => 397 [link] => https://edoc.coe.int/en/397-cultural-heritage [name] => Cultural heritage [desc] => [children] => Array ( ) ) ) ) [8] => Array ( [id] => 215 [link] => https://edoc.coe.int/en/215-the-council-of-europe-and-the-european-union [name] => The Council of Europe and the European Union [desc] => [children] => Array ( [0] => Array ( [id] => 216 [link] => https://edoc.coe.int/en/216-different-roles-shared-values [name] => Different roles, shared values [desc] => [children] => Array ( ) ) [1] => Array ( [id] => 217 [link] => https://edoc.coe.int/en/217-partnerships [name] => Partnerships [desc] => [children] => Array ( ) ) ) ) [9] => Array ( [id] => 218 [link] => https://edoc.coe.int/en/218-minority-rights [name] => Minority rights [desc] => [children] => Array ( [0] => Array ( [id] => 219 [link] => https://edoc.coe.int/en/219-national-minorities [name] => National minorities [desc] => [children] => Array ( ) ) [1] => Array ( [id] => 220 [link] => https://edoc.coe.int/en/220-minority-languages [name] => Minority languages [desc] => [children] => Array ( ) ) [2] => Array ( [id] => 221 [link] => https://edoc.coe.int/en/221-roma-and-travellers [name] => Roma and Travellers [desc] => [children] => Array ( ) ) ) ) [10] => Array ( [id] => 224 [link] => https://edoc.coe.int/en/224-education [name] => Education [desc] => [children] => Array ( [0] => Array ( [id] => 226 [link] => https://edoc.coe.int/en/226-teaching-history [name] => Teaching History [desc] => [children] => Array ( ) ) [1] => Array ( [id] => 393 [link] => https://edoc.coe.int/en/393-human-rights-democratic-citizenship-and-interculturalism [name] => Human rights, democratic citizenship and interculturalism [desc] => [children] => Array ( ) ) [2] => Array ( [id] => 394 [link] => https://edoc.coe.int/en/394-language-learning [name] => Language learning [desc] => [children] => Array ( ) ) [3] => Array ( [id] => 398 [link] => https://edoc.coe.int/en/398-teacher-education [name] => Teacher education [desc] => [children] => Array ( ) ) ) ) [11] => Array ( [id] => 382 [link] => https://edoc.coe.int/en/382-youth [name] => Youth [desc] => [children] => Array ( [0] => Array ( [id] => 392 [link] => https://edoc.coe.int/en/392-youth-in-europe [name] => Youth in Europe [desc] => [children] => Array ( ) ) ) ) [12] => Array ( [id] => 383 [link] => https://edoc.coe.int/en/383-sport [name] => Sport [desc] => [children] => Array ( [0] => Array ( [id] => 384 [link] => https://edoc.coe.int/en/384-sport-for-all [name] => Sport for all [desc] => [children] => Array ( ) ) [1] => Array ( [id] => 390 [link] => https://edoc.coe.int/en/390-doping [name] => Doping [desc] => [children] => Array ( ) ) [2] => Array ( [id] => 391 [link] => https://edoc.coe.int/en/391-violence-in-sport [name] => Violence in sport [desc] => [children] => Array ( ) ) ) ) [13] => Array ( [id] => 240 [link] => https://edoc.coe.int/en/240-institutions [name] => Institutions [desc] => [children] => Array ( [0] => Array ( [id] => 242 [link] => https://edoc.coe.int/en/242-parliamentary-assembly [name] => Parliamentary Assembly  [desc] => [children] => Array ( ) ) [1] => Array ( [id] => 243 [link] => https://edoc.coe.int/en/243-congress-of-local-and-regional-authorities [name] => Congress of Local and Regional Authorities  [desc] => [children] => Array ( ) ) [2] => Array ( [id] => 244 [link] => https://edoc.coe.int/en/244-european-court-of-human-rights [name] => European Court of Human Rights [desc] => [children] => Array ( ) ) [3] => Array ( [id] => 245 [link] => https://edoc.coe.int/en/245-human-rights-commissioner [name] => Human Rights Commissioner [desc] => [children] => Array ( ) ) [4] => Array ( [id] => 246 [link] => https://edoc.coe.int/en/246-conference-of-ingos [name] => Conference of INGOs [desc] => [children] => Array ( ) ) [5] => Array ( [id] => 247 [link] => https://edoc.coe.int/en/247-conferences-on-the-future-of-the-european-court-of-human-rights [name] => Conferences on the future of the European Court of Human Rights [desc] => [children] => Array ( ) ) ) ) [14] => Array ( [id] => 386 [link] => https://edoc.coe.int/en/386-resources-for-young-people [name] => Resources for young people [desc] => [children] => Array ( [0] => Array ( [id] => 387 [link] => https://edoc.coe.int/en/387-6-10-years [name] => 6 - 10 years [desc] => [children] => Array ( ) ) [1] => Array ( [id] => 389 [link] => https://edoc.coe.int/en/389-11-18-years [name] => 11 - 18 years [desc] => [children] => Array ( ) ) ) ) [15] => Array ( [id] => 402 [link] => https://edoc.coe.int/en/402-resources-for-teachers [name] => Resources for teachers [desc] => [children] => Array ( [0] => Array ( [id] => 404 [link] => https://edoc.coe.int/en/404-educational-tools [name] => Educational tools [desc] => [children] => Array ( ) ) [1] => Array ( [id] => 407 [link] => https://edoc.coe.int/en/407-history-teaching [name] => History teaching [desc] => [children] => Array ( ) ) ) ) ) ) ) ) 1
Catalog
Victims of Nazism - A mosaic of Fates - Pedagogical Factsheets for teachers
(2016)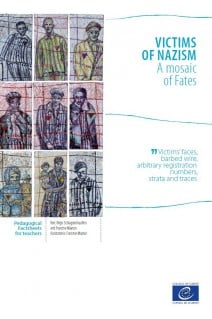  
The cross-cutting programme "Passing on the Remembrance of the Holocaust and prevention of crimes against humanity" comes within the institutional framework of the 1954 European Cultural Convention and Recommendation Rec(2001)15 on history teaching in twenty-first-century Europe.

"Whilst highlighting the positive advances obtained in the 20th century, such as the peaceful use of science to improve the quality of human life and the development of democracy and human rights, it is necessary to implement the entire range of educational measures with a view to preventing the repetition or denial of the devastating events having marked that century, namely the Holocaust, genocide and other crimes against humanity, ethnic cleansing, and large-scale breaches of human rights and of the fundamental values which the Council of Europe holds dear".
This means that:
-    pupils must be helped to learn and know the facts – and their causes – about this darkest period in Europe's history;
-    there must be implementation, follow-up and monitoring of the Declaration of the Ministers of Education  and schools must observe a "Day of remembrance of the Holocaust and prevention of crimes against humanity", chosen in the light of each member state's history;
-    activities – to be defined - are needed in the field of history teaching, so as to strengthen trust and tolerance within and between countries and meet the challenges of the 21st century.
Those education factsheets on the different categories of Nazi victims are designed to help teachers prepare their lessons on the history and remebrance of the Holocaust. Each sheet gives an overview of the Nazi persecution of a specific victim group.
Teaching material is created and distributed with a view to making it easier for teachers to prepare lessons based on the "Day of Remembrance of the Holocaust and for the Prevention of Crimes against Humanity".