Array ( [id] => 2 [link] => [name] => [desc] => [children] => Array ( [0] => Array ( [id] => 6 [link] => https://edoc.coe.int/en/6-online-bookshop [name] => Online Bookshop [desc] => [children] => Array ( [0] => Array ( [id] => 40 [link] => https://edoc.coe.int/en/40-committee-of-ministers [name] => Committee of Ministers [desc] => [children] => Array ( [0] => Array ( [id] => 41 [link] => https://edoc.coe.int/en/41-texts-of-council-of-europe-treaties [name] => Texts of Council of Europe Treaties [desc] => [children] => Array ( ) ) [1] => Array ( [id] => 43 [link] => https://edoc.coe.int/en/43-council-of-europe-treaties-and-explanatory-reports [name] => Council of Europe Treaties and explanatory reports [desc] => [children] => Array ( ) ) [2] => Array ( [id] => 44 [link] => https://edoc.coe.int/en/44-collected-edition-of-the-council-of-europe-treaties-series [name] => Collected edition of the Council of Europe Treaties Series [desc] => [children] => Array ( ) ) [3] => Array ( [id] => 45 [link] => https://edoc.coe.int/en/45-committee-of-ministers-compendium-of-adopted-texts [name] => Committee of Ministers - Compendium of adopted texts [desc] => [children] => Array ( ) ) [4] => Array ( [id] => 42 [link] => https://edoc.coe.int/en/42-committee-of-ministers-other-publications [name] => Committee of Ministers - Other publications [desc] => [children] => Array ( ) ) ) ) [1] => Array ( [id] => 46 [link] => https://edoc.coe.int/en/46-parliamentary-assembly [name] => Parliamentary Assembly [desc] => [children] => Array ( [0] => Array ( [id] => 47 [link] => https://edoc.coe.int/en/47-parliamentary-assembly-adopted-texts [name] => Parliamentary Assembly / Adopted texts [desc] => [children] => Array ( ) ) [1] => Array ( [id] => 48 [link] => https://edoc.coe.int/en/48-parliamentary-assembly-orders-of-the-day-minutes [name] => Parliamentary Assembly / Orders of the Day, Minutes [desc] => [children] => Array ( ) ) [2] => Array ( [id] => 49 [link] => https://edoc.coe.int/en/49-parliamentary-assembly-official-reports-of-debates [name] => Parliamentary Assembly / Official Reports of Debates [desc] => [children] => Array ( ) ) [3] => Array ( [id] => 50 [link] => https://edoc.coe.int/en/50-parliamentary-assembly-documents-working-papers [name] => Parliamentary Assembly / Documents, Working Papers [desc] => [children] => Array ( ) ) [4] => Array ( [id] => 51 [link] => https://edoc.coe.int/en/51-parliamentary-assembly-general-publications [name] => Parliamentary Assembly / General publications [desc] => [children] => Array ( ) ) ) ) [2] => Array ( [id] => 52 [link] => https://edoc.coe.int/en/52-congress [name] => Congress [desc] => [children] => Array ( [0] => Array ( [id] => 53 [link] => https://edoc.coe.int/en/53-congress-local-and-regional-action-series [name] => Congress / Local and Regional Action Series [desc] => [children] => Array ( ) ) [1] => Array ( [id] => 54 [link] => https://edoc.coe.int/en/54-congress-studies-and-texts-series [name] => Congress/ Studies and Texts Series [desc] => [children] => Array ( ) ) [2] => Array ( [id] => 55 [link] => https://edoc.coe.int/en/55-congress-adopted-texts [name] => Congress / Adopted Texts [desc] => [children] => Array ( ) ) [3] => Array ( [id] => 56 [link] => https://edoc.coe.int/en/56-congress-official-report-of-debates [name] => Congress / Official Report of Debates [desc] => [children] => Array ( ) ) ) ) [3] => Array ( [id] => 57 [link] => https://edoc.coe.int/en/57-human-rights [name] => Human Rights [desc] => [children] => Array ( [0] => Array ( [id] => 58 [link] => https://edoc.coe.int/en/58-human-rights-and-democracy [name] => Human Rights and Democracy [desc] => [children] => Array ( ) ) [1] => Array ( [id] => 59 [link] => https://edoc.coe.int/en/59-children-s-rights-and-family-law [name] => Children's rights and family law [desc] => [children] => Array ( ) ) [2] => Array ( [id] => 60 [link] => https://edoc.coe.int/en/60-making-democratic-institutions-work [name] => Making democratic institutions work [desc] => [children] => Array ( ) ) [3] => Array ( [id] => 61 [link] => https://edoc.coe.int/en/61-minorities [name] => Minorities [desc] => [children] => Array ( ) ) [4] => Array ( [id] => 62 [link] => https://edoc.coe.int/en/62-human-rights-files [name] => Human Rights Files [desc] => [children] => Array ( ) ) [5] => Array ( [id] => 63 [link] => https://edoc.coe.int/en/63-european-social-charter [name] => European Social Charter [desc] => [children] => Array ( ) ) [6] => Array ( [id] => 64 [link] => https://edoc.coe.int/en/64-social-charter-monographs [name] => Social Charter Monographs [desc] => [children] => Array ( ) ) [7] => Array ( [id] => 65 [link] => https://edoc.coe.int/en/65-gender-equality [name] => Gender equality [desc] => [children] => Array ( ) ) [8] => Array ( [id] => 66 [link] => https://edoc.coe.int/en/66-european-court-of-human-rights [name] => European Court of Human Rights [desc] => [children] => Array ( ) ) [9] => Array ( [id] => 67 [link] => https://edoc.coe.int/en/67-european-commission-of-human-rights [name] => European Commission of Human Rights [desc] => [children] => Array ( ) ) ) ) [4] => Array ( [id] => 68 [link] => https://edoc.coe.int/en/68-law [name] => Law [desc] => [children] => Array ( [0] => Array ( [id] => 69 [link] => https://edoc.coe.int/en/69-points-of-view-points-of-law [name] => Points of view - Points of Law [desc] => [children] => Array ( ) ) [1] => Array ( [id] => 70 [link] => https://edoc.coe.int/en/70-europeans-and-their-rights [name] => Europeans and their rights [desc] => [children] => Array ( ) ) [2] => Array ( [id] => 71 [link] => https://edoc.coe.int/en/71-international-law [name] => International Law [desc] => [children] => Array ( ) ) [3] => Array ( [id] => 72 [link] => https://edoc.coe.int/en/72-terrorism-and-law [name] => Terrorism and Law [desc] => [children] => Array ( ) ) [4] => Array ( [id] => 73 [link] => https://edoc.coe.int/en/73-migrants-rights [name] => Migrants rights [desc] => [children] => Array ( ) ) [5] => Array ( [id] => 74 [link] => https://edoc.coe.int/en/74-economy-and-crime-fight-against-corruption [name] => Economy and crime, fight against corruption [desc] => [children] => Array ( ) ) [6] => Array ( [id] => 75 [link] => https://edoc.coe.int/en/75-constitutional-law [name] => Constitutional Law [desc] => [children] => Array ( ) ) [7] => Array ( [id] => 76 [link] => https://edoc.coe.int/en/76-penal-law-and-criminology [name] => Penal Law and criminology [desc] => [children] => Array ( ) ) [8] => Array ( [id] => 77 [link] => https://edoc.coe.int/en/77-legal-instruments [name] => Legal instruments [desc] => [children] => Array ( ) ) [9] => Array ( [id] => 78 [link] => https://edoc.coe.int/en/78-themis-programme [name] => Themis Programme [desc] => [children] => Array ( ) ) [10] => Array ( [id] => 79 [link] => https://edoc.coe.int/en/79-computers-and-law [name] => Computers and law [desc] => [children] => Array ( ) ) ) ) [5] => Array ( [id] => 80 [link] => https://edoc.coe.int/en/80-health [name] => Health [desc] => [children] => Array ( [0] => Array ( [id] => 81 [link] => https://edoc.coe.int/en/81-health-and-society-ethics [name] => Health and society, Ethics [desc] => [children] => Array ( ) ) [1] => Array ( [id] => 82 [link] => https://edoc.coe.int/en/82-blood-transfusion-and-organ-transplantation [name] => Blood transfusion and organ transplantation [desc] => [children] => Array ( ) ) [2] => Array ( [id] => 83 [link] => https://edoc.coe.int/en/83-health-protection-of-the-consumer [name] => Health protection of the consumer [desc] => [children] => Array ( ) ) [3] => Array ( [id] => 84 [link] => https://edoc.coe.int/en/84-integration-of-people-with-disabilities [name] => Integration of people with disabilities [desc] => [children] => Array ( ) ) [4] => Array ( [id] => 85 [link] => https://edoc.coe.int/en/85-european-directorate-for-the-quality-of-medicines-and-healthcare-edqm [name] => European Directorate for the Quality of Medicines and HealthCare (EDQM) [desc] => [children] => Array ( ) ) ) ) [6] => Array ( [id] => 86 [link] => https://edoc.coe.int/en/86-society [name] => Society [desc] => [children] => Array ( [0] => Array ( [id] => 87 [link] => https://edoc.coe.int/en/87-demography [name] => Demography [desc] => [children] => Array ( ) ) [1] => Array ( [id] => 88 [link] => https://edoc.coe.int/en/88-trends-in-social-cohesion-series [name] => Trends in Social Cohesion Series [desc] => [children] => Array ( ) ) [2] => Array ( [id] => 89 [link] => https://edoc.coe.int/en/89-responses-to-violence-in-everyday-life-in-a-democratic-society-series [name] => Responses to violence in everyday life in a democratic society Series [desc] => [children] => Array ( ) ) [3] => Array ( [id] => 90 [link] => https://edoc.coe.int/en/90-drugs-and-addiction [name] => Drugs and addiction [desc] => [children] => Array ( ) ) [4] => Array ( [id] => 91 [link] => https://edoc.coe.int/en/91-social-security [name] => Social Security [desc] => [children] => Array ( ) ) [5] => Array ( [id] => 92 [link] => https://edoc.coe.int/en/92-community-relations [name] => Community relations [desc] => [children] => Array ( ) ) [6] => Array ( [id] => 93 [link] => https://edoc.coe.int/en/93-social-co-operation-in-europe [name] => Social co-operation in Europe [desc] => [children] => Array ( ) ) [7] => Array ( [id] => 94 [link] => https://edoc.coe.int/en/94-population-studies-series [name] => Population Studies Series [desc] => [children] => Array ( ) ) ) ) [7] => Array ( [id] => 95 [link] => https://edoc.coe.int/en/95-environnement [name] => Environnement [desc] => [children] => Array ( [0] => Array ( [id] => 96 [link] => https://edoc.coe.int/en/96-nature-and-environment-series [name] => Nature and environment Series [desc] => [children] => Array ( ) ) [1] => Array ( [id] => 97 [link] => https://edoc.coe.int/en/97-environmental-encounters-series [name] => Environmental Encounters Series [desc] => [children] => Array ( ) ) [2] => Array ( [id] => 98 [link] => https://edoc.coe.int/en/98-territory-and-landscape-series [name] => Territory and Landscape Series [desc] => [children] => Array ( ) ) [3] => Array ( [id] => 99 [link] => https://edoc.coe.int/en/99-european-regional-planning-series [name] => European Regional Planning Series [desc] => [children] => Array ( ) ) [4] => Array ( [id] => 100 [link] => https://edoc.coe.int/en/100-environment-general-publications [name] => Environment / General publications [desc] => [children] => Array ( ) ) ) ) [8] => Array ( [id] => 101 [link] => https://edoc.coe.int/en/101-local-and-regional-democracy [name] => Local and Regional Democracy [desc] => [children] => Array ( [0] => Array ( [id] => 102 [link] => https://edoc.coe.int/en/102-co-operation-for-local-and-regional-democracy [name] => Co-operation for Local and Regional Democracy [desc] => [children] => Array ( ) ) [1] => Array ( [id] => 103 [link] => https://edoc.coe.int/en/103-local-and-regional-authorities-in-europe-series [name] => Local and Regional Authorities in Europe Series [desc] => [children] => Array ( ) ) [2] => Array ( [id] => 104 [link] => https://edoc.coe.int/en/104-structure-and-operation-of-local-and-regional-democracy-series [name] => Structure and operation of Local and Regional Democracy Series [desc] => [children] => Array ( ) ) ) ) [9] => Array ( [id] => 105 [link] => https://edoc.coe.int/en/105-education [name] => Education [desc] => [children] => Array ( [0] => Array ( [id] => 106 [link] => https://edoc.coe.int/en/106-pestalozzi-series [name] => Pestalozzi series [desc] => [children] => Array ( ) ) [1] => Array ( [id] => 107 [link] => https://edoc.coe.int/en/107-history-teaching [name] => History teaching [desc] => [children] => Array ( ) ) [2] => Array ( [id] => 108 [link] => https://edoc.coe.int/en/108-human-rights-education-intercultural-education [name] => Human rights education, intercultural education [desc] => [children] => Array ( ) ) [3] => Array ( [id] => 109 [link] => https://edoc.coe.int/en/109-education-for-democratic-citizenship [name] => Education for democratic citizenship [desc] => [children] => Array ( ) ) [4] => Array ( [id] => 110 [link] => https://edoc.coe.int/en/110-secondary-education [name] => Secondary education [desc] => [children] => Array ( ) ) [5] => Array ( [id] => 111 [link] => https://edoc.coe.int/en/111-a-secondary-education-for-europe-series [name] => A secondary education for Europe Series [desc] => [children] => Array ( ) ) [6] => Array ( [id] => 112 [link] => https://edoc.coe.int/en/112-higher-education-and-research [name] => Higher education and research [desc] => [children] => Array ( ) ) ) ) [10] => Array ( [id] => 113 [link] => https://edoc.coe.int/en/113-modern-languages [name] => Modern languages [desc] => [children] => Array ( [0] => Array ( [id] => 114 [link] => https://edoc.coe.int/en/114-language-learning-ecml-graz [name] => Language learning (ECML, Graz) [desc] => [children] => Array ( ) ) [1] => Array ( [id] => 115 [link] => https://edoc.coe.int/en/115-modern-languages-monographs [name] => Modern languages - Monographs [desc] => [children] => Array ( ) ) [2] => Array ( [id] => 116 [link] => https://edoc.coe.int/en/116-regional-and-minority-languages [name] => Regional and minority languages [desc] => [children] => Array ( ) ) [3] => Array ( [id] => 117 [link] => https://edoc.coe.int/en/117-terminology [name] => Terminology [desc] => [children] => Array ( ) ) ) ) [11] => Array ( [id] => 118 [link] => https://edoc.coe.int/en/118-youth [name] => Youth [desc] => [children] => Array ( [0] => Array ( [id] => 119 [link] => https://edoc.coe.int/en/119-training-kits-youth [name] => Training Kits / Youth [desc] => [children] => Array ( ) ) [1] => Array ( [id] => 120 [link] => https://edoc.coe.int/en/120-national-youth-policies [name] => National Youth Policies [desc] => [children] => Array ( ) ) [2] => Array ( [id] => 121 [link] => https://edoc.coe.int/en/121-youth-other-publications [name] => Youth / Other publications [desc] => [children] => Array ( ) ) ) ) [12] => Array ( [id] => 122 [link] => https://edoc.coe.int/en/122-culture [name] => Culture [desc] => [children] => Array ( [0] => Array ( [id] => 123 [link] => https://edoc.coe.int/en/123-cultural-development [name] => Cultural development [desc] => [children] => Array ( ) ) [1] => Array ( [id] => 124 [link] => https://edoc.coe.int/en/124-cultural-heritage [name] => Cultural heritage [desc] => [children] => Array ( ) ) [2] => Array ( [id] => 125 [link] => https://edoc.coe.int/en/125-cultural-policies [name] => Cultural Policies [desc] => [children] => Array ( ) ) [3] => Array ( [id] => 126 [link] => https://edoc.coe.int/en/126-culture-and-neighbourhoods [name] => Culture and neighbourhoods [desc] => [children] => Array ( ) ) ) ) [13] => Array ( [id] => 127 [link] => https://edoc.coe.int/en/127-sport [name] => Sport [desc] => [children] => Array ( [0] => Array ( [id] => 128 [link] => https://edoc.coe.int/en/128-sports-monographs [name] => Sports - Monographs [desc] => [children] => Array ( ) ) ) ) [14] => Array ( [id] => 129 [link] => https://edoc.coe.int/en/129-communication [name] => Communication [desc] => [children] => Array ( [0] => Array ( [id] => 130 [link] => https://edoc.coe.int/en/130-mass-media [name] => Mass media [desc] => [children] => Array ( ) ) [1] => Array ( [id] => 131 [link] => https://edoc.coe.int/en/131-european-audiovisual-observatory [name] => European Audiovisual Observatory [desc] => [children] => Array ( ) ) [2] => Array ( [id] => 132 [link] => https://edoc.coe.int/en/132-new-information-technologies [name] => New information technologies [desc] => [children] => Array ( ) ) ) ) [15] => Array ( [id] => 133 [link] => https://edoc.coe.int/en/133-european-issues [name] => European issues [desc] => [children] => Array ( [0] => Array ( [id] => 373 [link] => https://edoc.coe.int/en/373-catalogues-of-publications [name] => Catalogues of publications [desc] => [children] => Array ( ) ) [1] => Array ( [id] => 134 [link] => https://edoc.coe.int/en/134-activities-annual-report [name] => Activities Annual Report [desc] => [children] => Array ( ) ) [2] => Array ( [id] => 135 [link] => https://edoc.coe.int/en/135-democracy-debates [name] => Democracy Debates [desc] => [children] => Array ( ) ) [3] => Array ( [id] => 136 [link] => https://edoc.coe.int/en/136-european-debates [name] => European debates [desc] => [children] => Array ( ) ) [4] => Array ( [id] => 137 [link] => https://edoc.coe.int/en/137-books-on-europe [name] => Books on Europe [desc] => [children] => Array ( ) ) [5] => Array ( [id] => 138 [link] => https://edoc.coe.int/en/138-other-fields [name] => Other fields [desc] => [children] => Array ( ) ) ) ) [16] => Array ( [id] => 139 [link] => https://edoc.coe.int/en/139-non-official-languages [name] => Non-official languages [desc] => [children] => Array ( [0] => Array ( [id] => 140 [link] => https://edoc.coe.int/en/140-albanian [name] => Albanian [desc] => [children] => Array ( ) ) [1] => Array ( [id] => 141 [link] => https://edoc.coe.int/en/141-arabic [name] => Arabic [desc] => [children] => Array ( ) ) [2] => Array ( [id] => 142 [link] => https://edoc.coe.int/en/142-armenian [name] => Armenian [desc] => [children] => Array ( ) ) [3] => Array ( [id] => 143 [link] => https://edoc.coe.int/en/143-bulgarian [name] => Bulgarian [desc] => [children] => Array ( ) ) [4] => Array ( [id] => 144 [link] => https://edoc.coe.int/en/144-catalan [name] => Catalan [desc] => [children] => Array ( ) ) [5] => Array ( [id] => 145 [link] => https://edoc.coe.int/en/145-czech [name] => Czech [desc] => [children] => Array ( ) ) [6] => Array ( [id] => 146 [link] => https://edoc.coe.int/en/146-danish [name] => Danish [desc] => [children] => Array ( ) ) [7] => Array ( [id] => 147 [link] => https://edoc.coe.int/en/147-dutch [name] => Dutch [desc] => [children] => Array ( ) ) [8] => Array ( [id] => 148 [link] => https://edoc.coe.int/en/148-estonian [name] => Estonian [desc] => [children] => Array ( ) ) [9] => Array ( [id] => 149 [link] => https://edoc.coe.int/en/149-galician [name] => Galician [desc] => [children] => Array ( ) ) [10] => Array ( [id] => 150 [link] => https://edoc.coe.int/en/150-georgian [name] => Georgian [desc] => [children] => Array ( ) ) [11] => Array ( [id] => 151 [link] => https://edoc.coe.int/en/151-german [name] => German [desc] => [children] => Array ( ) ) [12] => Array ( [id] => 152 [link] => https://edoc.coe.int/en/152-greek [name] => Greek [desc] => [children] => Array ( ) ) [13] => Array ( [id] => 153 [link] => https://edoc.coe.int/en/153-hungarian [name] => Hungarian [desc] => [children] => Array ( ) ) [14] => Array ( [id] => 154 [link] => https://edoc.coe.int/en/154-italian [name] => Italian [desc] => [children] => Array ( ) ) [15] => Array ( [id] => 155 [link] => https://edoc.coe.int/en/155-japanese [name] => Japanese [desc] => [children] => Array ( ) ) [16] => Array ( [id] => 156 [link] => https://edoc.coe.int/en/156-latvian [name] => Latvian [desc] => [children] => Array ( ) ) [17] => Array ( [id] => 157 [link] => https://edoc.coe.int/en/157-lithuanian [name] => Lithuanian [desc] => [children] => Array ( ) ) [18] => Array ( [id] => 158 [link] => https://edoc.coe.int/en/158-macedonian-language [name] => Macedonian language [desc] => [children] => Array ( ) ) [19] => Array ( [id] => 159 [link] => https://edoc.coe.int/en/159-maltese [name] => Maltese [desc] => [children] => Array ( ) ) [20] => Array ( [id] => 160 [link] => https://edoc.coe.int/en/160-norwegian [name] => Norwegian [desc] => [children] => Array ( ) ) [21] => Array ( [id] => 161 [link] => https://edoc.coe.int/en/161-polish [name] => Polish [desc] => [children] => Array ( ) ) [22] => Array ( [id] => 162 [link] => https://edoc.coe.int/en/162-portuguese [name] => Portuguese [desc] => [children] => Array ( ) ) [23] => Array ( [id] => 163 [link] => https://edoc.coe.int/en/163-romanian [name] => Romanian [desc] => [children] => Array ( ) ) [24] => Array ( [id] => 164 [link] => https://edoc.coe.int/en/164-russian [name] => Russian [desc] => [children] => Array ( ) ) [25] => Array ( [id] => 165 [link] => https://edoc.coe.int/en/165-serbian [name] => Serbian [desc] => [children] => Array ( ) ) [26] => Array ( [id] => 166 [link] => https://edoc.coe.int/en/166-spanish [name] => Spanish [desc] => [children] => Array ( ) ) [27] => Array ( [id] => 167 [link] => https://edoc.coe.int/en/167-turkish [name] => Turkish [desc] => [children] => Array ( ) ) [28] => Array ( [id] => 168 [link] => https://edoc.coe.int/en/168-ukrainian [name] => Ukrainian [desc] => [children] => Array ( ) ) [29] => Array ( [id] => 169 [link] => https://edoc.coe.int/en/169-welsh [name] => Welsh [desc] => [children] => Array ( ) ) ) ) ) ) [1] => Array ( [id] => 7 [link] => https://edoc.coe.int/en/7-online-resources [name] => Online resources [desc] => [children] => Array ( [0] => Array ( [id] => 378 [link] => https://edoc.coe.int/en/378-the-council-of-europe-in-brief [name] => The Council of Europe in brief [desc] => [children] => Array ( [0] => Array ( [id] => 364 [link] => https://edoc.coe.int/en/364-map-of-the-member-states [name] => Map of the member states [desc] => [children] => Array ( ) ) [1] => Array ( [id] => 381 [link] => https://edoc.coe.int/en/381-an-overview [name] => An overview [desc] => [children] => Array ( ) ) [2] => Array ( [id] => 408 [link] => https://edoc.coe.int/en/408-annual-activity-report [name] => Annual activity report [desc] => [children] => Array ( ) ) ) ) [1] => Array ( [id] => 170 [link] => https://edoc.coe.int/en/170-human-rights [name] => Human rights [desc] => [children] => Array ( [0] => Array ( [id] => 172 [link] => https://edoc.coe.int/en/172-european-convention-on-human-rights [name] => European Convention on Human Rights [desc] => [children] => Array ( ) ) [1] => Array ( [id] => 374 [link] => https://edoc.coe.int/en/374-fundamental-freedoms [name] => Fundamental freedoms [desc] => [children] => Array ( ) ) [2] => Array ( [id] => 191 [link] => https://edoc.coe.int/en/191-violence-against-women [name] => Violence against women [desc] => [children] => Array ( ) ) [3] => Array ( [id] => 187 [link] => https://edoc.coe.int/en/187-children-s-rights [name] => Children's rights [desc] => [children] => Array ( ) ) [4] => Array ( [id] => 192 [link] => https://edoc.coe.int/en/192-trafficking-in-human-beings [name] => Trafficking in human beings [desc] => [children] => Array ( ) ) [5] => Array ( [id] => 372 [link] => https://edoc.coe.int/en/372-refugees [name] => Refugees [desc] => [children] => Array ( ) ) [6] => Array ( [id] => 176 [link] => https://edoc.coe.int/en/176-death-penalty [name] => Death penalty [desc] => [children] => Array ( ) ) [7] => Array ( [id] => 177 [link] => https://edoc.coe.int/en/177-prevention-of-torture [name] => Prevention of torture [desc] => [children] => Array ( ) ) [8] => Array ( [id] => 178 [link] => https://edoc.coe.int/en/178-racism [name] => Racism [desc] => [children] => Array ( ) ) ) ) [2] => Array ( [id] => 179 [link] => https://edoc.coe.int/en/179-democracy [name] => Democracy [desc] => [children] => Array ( [0] => Array ( [id] => 180 [link] => https://edoc.coe.int/en/180-local-democracy [name] => Local democracy [desc] => [children] => Array ( ) ) [1] => Array ( [id] => 182 [link] => https://edoc.coe.int/en/182-elections [name] => Elections [desc] => [children] => Array ( ) ) [2] => Array ( [id] => 181 [link] => https://edoc.coe.int/en/181-world-forum-for-democracy [name] => World Forum for Democracy [desc] => [children] => Array ( ) ) ) ) [3] => Array ( [id] => 233 [link] => https://edoc.coe.int/en/233-law [name] => Law [desc] => [children] => Array ( [0] => Array ( [id] => 234 [link] => https://edoc.coe.int/en/234-organised-crime [name] => Organised crime [desc] => [children] => Array ( ) ) [1] => Array ( [id] => 235 [link] => https://edoc.coe.int/en/235-corruption [name] => Corruption [desc] => [children] => Array ( ) ) [2] => Array ( [id] => 237 [link] => https://edoc.coe.int/en/237-data-protection [name] => Data protection [desc] => [children] => Array ( ) ) [3] => Array ( [id] => 175 [link] => https://edoc.coe.int/en/175-european-prison-reform [name] => European prison reform [desc] => [children] => Array ( ) ) [4] => Array ( [id] => 238 [link] => https://edoc.coe.int/en/238-terrorism [name] => Terrorism [desc] => [children] => Array ( ) ) [5] => Array ( [id] => 239 [link] => https://edoc.coe.int/en/239-efficiency-of-justice [name] => Efficiency of justice [desc] => [children] => Array ( ) ) [6] => Array ( [id] => 379 [link] => https://edoc.coe.int/en/379-international-law [name] => International law [desc] => [children] => Array ( ) ) ) ) [4] => Array ( [id] => 193 [link] => https://edoc.coe.int/en/193-society [name] => Society [desc] => [children] => Array ( [0] => Array ( [id] => 194 [link] => https://edoc.coe.int/en/194-living-together-diversity-and-freedom-in-europe [name] => Living Together - Diversity and Freedom in Europe [desc] => [children] => Array ( ) ) [1] => Array ( [id] => 195 [link] => https://edoc.coe.int/en/195-european-social-charter [name] => European Social Charter [desc] => [children] => Array ( ) ) [2] => Array ( [id] => 205 [link] => https://edoc.coe.int/en/205-drug-policies [name] => Drug policies [desc] => [children] => Array ( ) ) [3] => Array ( [id] => 196 [link] => https://edoc.coe.int/en/196-migration [name] => Migration [desc] => [children] => Array ( ) ) [4] => Array ( [id] => 197 [link] => https://edoc.coe.int/en/197-council-of-europe-development-bank [name] => Council of Europe Development Bank [desc] => [children] => Array ( ) ) [5] => Array ( [id] => 222 [link] => https://edoc.coe.int/en/222-lgbt [name] => LGBT [desc] => [children] => Array ( ) ) [6] => Array ( [id] => 223 [link] => https://edoc.coe.int/en/223-people-with-disabilities [name] => People with disabilities [desc] => [children] => Array ( ) ) [7] => Array ( [id] => 190 [link] => https://edoc.coe.int/en/190-gender-equality [name] => Gender equality [desc] => [children] => Array ( ) ) ) ) [5] => Array ( [id] => 198 [link] => https://edoc.coe.int/en/198-new-technologies-medias [name] => New technologies / Medias [desc] => [children] => Array ( [0] => Array ( [id] => 199 [link] => https://edoc.coe.int/en/199-internet [name] => Internet [desc] => [children] => Array ( ) ) [1] => Array ( [id] => 200 [link] => https://edoc.coe.int/en/200-children-and-the-internet [name] => Children and the Internet [desc] => [children] => Array ( ) ) [2] => Array ( [id] => 201 [link] => https://edoc.coe.int/en/201-media [name] => Media [desc] => [children] => Array ( ) ) [3] => Array ( [id] => 202 [link] => https://edoc.coe.int/en/202-cybercrime [name] => Cybercrime [desc] => [children] => Array ( ) ) [4] => Array ( [id] => 410 [link] => https://edoc.coe.int/en/410-artificial-intelligence [name] => Artificial intelligence [desc] => [children] => Array ( ) ) ) ) [6] => Array ( [id] => 203 [link] => https://edoc.coe.int/en/203-health [name] => Health [desc] => [children] => Array ( [0] => Array ( [id] => 204 [link] => https://edoc.coe.int/en/204-bioethics [name] => Bioethics [desc] => [children] => Array ( ) ) [1] => Array ( [id] => 206 [link] => https://edoc.coe.int/en/206-medicines [name] => Medicines [desc] => [children] => Array ( ) ) [2] => Array ( [id] => 207 [link] => https://edoc.coe.int/en/207-health-care [name] => Health care [desc] => [children] => Array ( ) ) ) ) [7] => Array ( [id] => 208 [link] => https://edoc.coe.int/en/208-culture-heritage-nature [name] => Culture, heritage, nature [desc] => [children] => Array ( [0] => Array ( [id] => 210 [link] => https://edoc.coe.int/en/210-european-cultural-convention [name] => European Cultural Convention [desc] => [children] => Array ( ) ) [1] => Array ( [id] => 211 [link] => https://edoc.coe.int/en/211-intercultural-and-interreligious-dialogue [name] => Intercultural and interreligious dialogue [desc] => [children] => Array ( ) ) [2] => Array ( [id] => 212 [link] => https://edoc.coe.int/en/212-environment [name] => Environment [desc] => [children] => Array ( ) ) [3] => Array ( [id] => 214 [link] => https://edoc.coe.int/en/214-culture-and-democracy [name] => Culture and democracy [desc] => [children] => Array ( ) ) [4] => Array ( [id] => 397 [link] => https://edoc.coe.int/en/397-cultural-heritage [name] => Cultural heritage [desc] => [children] => Array ( ) ) ) ) [8] => Array ( [id] => 215 [link] => https://edoc.coe.int/en/215-the-council-of-europe-and-the-european-union [name] => The Council of Europe and the European Union [desc] => [children] => Array ( [0] => Array ( [id] => 216 [link] => https://edoc.coe.int/en/216-different-roles-shared-values [name] => Different roles, shared values [desc] => [children] => Array ( ) ) [1] => Array ( [id] => 217 [link] => https://edoc.coe.int/en/217-partnerships [name] => Partnerships [desc] => [children] => Array ( ) ) ) ) [9] => Array ( [id] => 218 [link] => https://edoc.coe.int/en/218-minority-rights [name] => Minority rights [desc] => [children] => Array ( [0] => Array ( [id] => 219 [link] => https://edoc.coe.int/en/219-national-minorities [name] => National minorities [desc] => [children] => Array ( ) ) [1] => Array ( [id] => 220 [link] => https://edoc.coe.int/en/220-minority-languages [name] => Minority languages [desc] => [children] => Array ( ) ) [2] => Array ( [id] => 221 [link] => https://edoc.coe.int/en/221-roma-and-travellers [name] => Roma and Travellers [desc] => [children] => Array ( ) ) ) ) [10] => Array ( [id] => 224 [link] => https://edoc.coe.int/en/224-education [name] => Education [desc] => [children] => Array ( [0] => Array ( [id] => 226 [link] => https://edoc.coe.int/en/226-teaching-history [name] => Teaching History [desc] => [children] => Array ( ) ) [1] => Array ( [id] => 393 [link] => https://edoc.coe.int/en/393-human-rights-democratic-citizenship-and-interculturalism [name] => Human rights, democratic citizenship and interculturalism [desc] => [children] => Array ( ) ) [2] => Array ( [id] => 394 [link] => https://edoc.coe.int/en/394-language-learning [name] => Language learning [desc] => [children] => Array ( ) ) [3] => Array ( [id] => 398 [link] => https://edoc.coe.int/en/398-teacher-education [name] => Teacher education [desc] => [children] => Array ( ) ) ) ) [11] => Array ( [id] => 382 [link] => https://edoc.coe.int/en/382-youth [name] => Youth [desc] => [children] => Array ( [0] => Array ( [id] => 392 [link] => https://edoc.coe.int/en/392-youth-in-europe [name] => Youth in Europe [desc] => [children] => Array ( ) ) ) ) [12] => Array ( [id] => 383 [link] => https://edoc.coe.int/en/383-sport [name] => Sport [desc] => [children] => Array ( [0] => Array ( [id] => 384 [link] => https://edoc.coe.int/en/384-sport-for-all [name] => Sport for all [desc] => [children] => Array ( ) ) [1] => Array ( [id] => 390 [link] => https://edoc.coe.int/en/390-doping [name] => Doping [desc] => [children] => Array ( ) ) [2] => Array ( [id] => 391 [link] => https://edoc.coe.int/en/391-violence-in-sport [name] => Violence in sport [desc] => [children] => Array ( ) ) ) ) [13] => Array ( [id] => 240 [link] => https://edoc.coe.int/en/240-institutions [name] => Institutions [desc] => [children] => Array ( [0] => Array ( [id] => 242 [link] => https://edoc.coe.int/en/242-parliamentary-assembly [name] => Parliamentary Assembly  [desc] => [children] => Array ( ) ) [1] => Array ( [id] => 243 [link] => https://edoc.coe.int/en/243-congress-of-local-and-regional-authorities [name] => Congress of Local and Regional Authorities  [desc] => [children] => Array ( ) ) [2] => Array ( [id] => 244 [link] => https://edoc.coe.int/en/244-european-court-of-human-rights [name] => European Court of Human Rights [desc] => [children] => Array ( ) ) [3] => Array ( [id] => 245 [link] => https://edoc.coe.int/en/245-human-rights-commissioner [name] => Human Rights Commissioner [desc] => [children] => Array ( ) ) [4] => Array ( [id] => 246 [link] => https://edoc.coe.int/en/246-conference-of-ingos [name] => Conference of INGOs [desc] => [children] => Array ( ) ) [5] => Array ( [id] => 247 [link] => https://edoc.coe.int/en/247-conferences-on-the-future-of-the-european-court-of-human-rights [name] => Conferences on the future of the European Court of Human Rights [desc] => [children] => Array ( ) ) ) ) [14] => Array ( [id] => 386 [link] => https://edoc.coe.int/en/386-resources-for-young-people [name] => Resources for young people [desc] => [children] => Array ( [0] => Array ( [id] => 387 [link] => https://edoc.coe.int/en/387-6-10-years [name] => 6 - 10 years [desc] => [children] => Array ( ) ) [1] => Array ( [id] => 389 [link] => https://edoc.coe.int/en/389-11-18-years [name] => 11 - 18 years [desc] => [children] => Array ( ) ) ) ) [15] => Array ( [id] => 402 [link] => https://edoc.coe.int/en/402-resources-for-teachers [name] => Resources for teachers [desc] => [children] => Array ( [0] => Array ( [id] => 404 [link] => https://edoc.coe.int/en/404-educational-tools [name] => Educational tools [desc] => [children] => Array ( ) ) [1] => Array ( [id] => 407 [link] => https://edoc.coe.int/en/407-history-teaching [name] => History teaching [desc] => [children] => Array ( ) ) ) ) ) ) ) ) 1
Catalog
Newsletter
Stay informed
Subscribe to our newsletter
Subscribe to our newsletter
Короткий вступ до процесуального інтерв'ю - Практичний посібник (A brief introduction to investigative interviewing - A practitioner's guide - Ukrainian version)
(2021)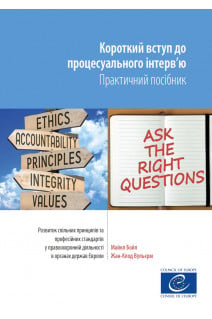  
Розвиток спільних принципів та професійних стандартів


Цей короткий вступний посібник розроблений за ініціативою Відділу з питань співробітництва у галузі кримінального права Ради Європи (DG1) та призначений насамперед як навчальний інструмент для співробітників поліції, які проводять процесуальні інтерв'ю, з особливим наголосом на інтерв'ю підозрюваних осіб. Його основоположна мета полягає в розвитку побудованих на дотриманні прав людини практик процесуального інтерв'ю як частини розслідування, з наголосом не лише на правових та моральних імперативах, але й на оперативній ефективності такого підходу.

Цей посібник наголошує на небезпеці цілковитого покладання на необґрунтовані визнання як на засіб розкриття злочинів; підкреслює критичну важливість збереження об'єктивності та презумпції невинуватості; надає докази ненадійності застосування репресивних засобів та катувань під час інтерв'ю підозрюваних осіб; містить практичні поради щодо постановки запитань до підозрюваних осіб, які з більшою вірогідністю дадуть змогу одержати реальну інформацію; надає співробітникам поліції засоби ефективного структурування та планування процесуальних інтерв'ю.



Promoting shared principles and professional standards in European policing
Initiated by the Criminal Law Cooperation Unit of the Council of Europe (DG1), this brief introductory guide is primarily designed as a training tool for police officers involved in interviewing, with particular reference to the interviewing of suspects. Its fundamental aim is to promote human rights compliant practices throughout the interview phase of investigations and in so doing underlines not only the legal and moral imperatives, but also the operational effectiveness of adopting such an approach.
The guide further highlights the dangers of relying solely on unsubstantiated confessions as a means of resolving cases; emphasises the critical importance of maintaining an open mind and the presumption of innocence; presents evidence for the unreliability of using oppressive means and torture in interviewing suspects; contains practical advice for questioning suspects in ways that are most likely to elicit actionable information; and provides officers with the means to structure and plan investigative interviews effectively.
ВСТУПНА ЧАСТИНА 
ПРОФЕСІЙНЕ ПРОЦЕСУАЛЬНЕ ІНТЕРВ'Ю 
Інтерв'ю чи допит? 
Виклики, пов'язані з дотриманням прав людини 
Дотримання закону – обов'язок поліцейського 
Права людини 
Золоте правило 
Катування не працює 
Як поводитися з підозрюваною особою 
Постановка запитань 
Зчитування поведінки підозрюваної особи: пересторога 
Докази вини 
Аудіо- та відеозапис інтерв'ю 
Визнання вини 
Підозрювана особа, яка мовчить 
Практична перевірка 
ПРОЦЕС ІНТЕРВ'Ю 
Планування 
Підготовка 
Вступна частина 
Розповідь 
Запитання 
Завершення 
Оцінювання 
ЗАКЛЮЧНА ЧАСТИНА 
ПРИНЦИПИ ПРОЦЕСУАЛЬНОГО ІНТЕРВ'Ю