Detention as a measure of restraint: justification for its application and extension - adapted and translated for Armenian legal professionals
(2021)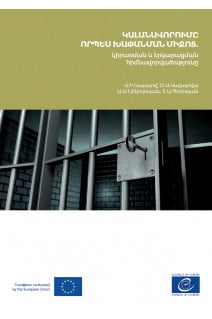  
This handbook was developed at the Supreme Court of the Russian Federation by O.V. Kachalova and V.E. Kachalov, professors of the Russian State University of Justice, with the support of the Council of Europe in the light of the requirements of the European Convention on Human Rights and the Russian Legislation.

The translation and adaptation were carried out by A.S. Nikoghosyan, YSU Faculty of Law Associate professor, judge of the RA Criminal Court of Appeal and T.A. Poghosyan, the Prosecutor of Department for Combating Crimes Against Human at the Prosecutor General's Office.

Both the translation and the adaptation have been produced as part of the project "Supporting the criminal justice reform and harmonising the application of European standards in Armenia" co-funded by the European Union and the Council of Europe.
ՆԵՐԱԾՈՒԹՅՈՒՆ 
ԳԼՈՒԽ 1. - Ազատության սահմանափակման պայմաններն ու հիմքերը կալանավորումը որպես խափանման միջոց ընտրելու դեպքում 
1.1. Հանցագործության կատարման մեջ հիմննավոր կասկածի (մեղադրանքի) առկայությունը, որը չի բացառում անձի նկատմամբ որպես խափանման միջոց կալանավորումը կիրառելու համար 
1.2. Կալանավորման կիրառման հիմքերը 
1.3. Այլընտրանքային խափանման միջոցների կիրառման անհնարինությունը 
ԳԼՈՒԽ 2. - Կալանավորումը բացառող հանգամանքները 
2.1. Կալանավորմանը խոչընդոտող հիվանդությունների առկայությունը 
2.2. Կալանքի տակ պահելու պայմանները խոշտանգումնների, անմարդկային և նվաստացնող վերաբերմունքի արգելքի համատեքստում 
2.3 Կորոնավիրուսով (COVID-19-ով) պայմանավորված կալանքի կիրառման մի շարք հար ցեր Կալանքի տակ գտնվելու ժամկետների երկարացումը 
ԳԼՈՒԽ 3. - Կալանքի տակ գտնվելու ժամկետների երկարացումը 
3.1. Կալանավորման ժամկետի երկարացումը նախնական քննության փուլում 
3.2. Կալանավորման ժամկետի երկարացումը նյութերի ծանոթացման և գործը դատարան ուղարկելու ընթացքում 
3.3. Կալանավորման ժամկետի երկարացումը դատաքննության փուլում (կալանավորման պահպանումը) 
ԳԼՈՒԽ 4. - Անվտանգության միջոց հոգեբուժական հիվանդանոցում տեղավորելը որպես հարկադրանքի միջոց
ԳԼՈՒԽ 5. - Դատական նիստի անցկացման առանձնահատկությունները կալանավորման հարցի քննության ժամանակ 

ՀԱ ՎԵԼ ՎԱԾՆԵՐ
1. Կալանավորման հիմննավորվածության գնահատման չափանիշները 
2. Կալանավորման ժամկետի երկարացման հիմննավորման գնահատման չափանիշները