Array ( [id] => 2 [link] => [name] => [desc] => [children] => Array ( [0] => Array ( [id] => 7 [link] => https://edoc.coe.int/en/7-online-resources [name] => Online resources [desc] => [children] => Array ( [0] => Array ( [id] => 378 [link] => https://edoc.coe.int/en/378-the-council-of-europe-in-brief [name] => The Council of Europe in brief [desc] => [children] => Array ( [0] => Array ( [id] => 364 [link] => https://edoc.coe.int/en/364-map-of-the-member-states [name] => Map of the member states [desc] => [children] => Array ( ) ) [1] => Array ( [id] => 381 [link] => https://edoc.coe.int/en/381-an-overview [name] => An overview [desc] => [children] => Array ( ) ) [2] => Array ( [id] => 408 [link] => https://edoc.coe.int/en/408-annual-activity-report [name] => Annual activity report [desc] => [children] => Array ( ) ) ) ) [1] => Array ( [id] => 170 [link] => https://edoc.coe.int/en/170-human-rights [name] => Human rights [desc] => [children] => Array ( [0] => Array ( [id] => 172 [link] => https://edoc.coe.int/en/172-european-convention-on-human-rights [name] => European Convention on Human Rights [desc] => [children] => Array ( ) ) [1] => Array ( [id] => 374 [link] => https://edoc.coe.int/en/374-fundamental-freedoms [name] => Fundamental freedoms [desc] => [children] => Array ( ) ) [2] => Array ( [id] => 191 [link] => https://edoc.coe.int/en/191-violence-against-women [name] => Violence against women [desc] => [children] => Array ( ) ) [3] => Array ( [id] => 187 [link] => https://edoc.coe.int/en/187-children-s-rights [name] => Children's rights [desc] => [children] => Array ( ) ) [4] => Array ( [id] => 192 [link] => https://edoc.coe.int/en/192-trafficking-in-human-beings [name] => Trafficking in human beings [desc] => [children] => Array ( ) ) [5] => Array ( [id] => 372 [link] => https://edoc.coe.int/en/372-refugees [name] => Refugees [desc] => [children] => Array ( ) ) [6] => Array ( [id] => 176 [link] => https://edoc.coe.int/en/176-death-penalty [name] => Death penalty [desc] => [children] => Array ( ) ) [7] => Array ( [id] => 177 [link] => https://edoc.coe.int/en/177-prevention-of-torture [name] => Prevention of torture [desc] => [children] => Array ( ) ) [8] => Array ( [id] => 178 [link] => https://edoc.coe.int/en/178-racism [name] => Racism [desc] => [children] => Array ( ) ) ) ) [2] => Array ( [id] => 179 [link] => https://edoc.coe.int/en/179-democracy [name] => Democracy [desc] => [children] => Array ( [0] => Array ( [id] => 180 [link] => https://edoc.coe.int/en/180-local-democracy [name] => Local democracy [desc] => [children] => Array ( ) ) [1] => Array ( [id] => 182 [link] => https://edoc.coe.int/en/182-elections [name] => Elections [desc] => [children] => Array ( ) ) [2] => Array ( [id] => 181 [link] => https://edoc.coe.int/en/181-world-forum-for-democracy [name] => World Forum for Democracy [desc] => [children] => Array ( ) ) [3] => Array ( [id] => 413 [link] => https://edoc.coe.int/en/413-civil-society [name] => Civil society [desc] => [children] => Array ( ) ) ) ) [3] => Array ( [id] => 233 [link] => https://edoc.coe.int/en/233-law [name] => Law [desc] => [children] => Array ( [0] => Array ( [id] => 234 [link] => https://edoc.coe.int/en/234-organised-crime [name] => Organised crime [desc] => [children] => Array ( ) ) [1] => Array ( [id] => 235 [link] => https://edoc.coe.int/en/235-corruption [name] => Corruption [desc] => [children] => Array ( ) ) [2] => Array ( [id] => 237 [link] => https://edoc.coe.int/en/237-data-protection [name] => Data protection [desc] => [children] => Array ( ) ) [3] => Array ( [id] => 175 [link] => https://edoc.coe.int/en/175-european-prison-reform [name] => European prison reform [desc] => [children] => Array ( ) ) [4] => Array ( [id] => 238 [link] => https://edoc.coe.int/en/238-terrorism [name] => Terrorism [desc] => [children] => Array ( ) ) [5] => Array ( [id] => 239 [link] => https://edoc.coe.int/en/239-efficiency-of-justice [name] => Efficiency of justice [desc] => [children] => Array ( ) ) [6] => Array ( [id] => 379 [link] => https://edoc.coe.int/en/379-international-law [name] => International law [desc] => [children] => Array ( ) ) ) ) [4] => Array ( [id] => 193 [link] => https://edoc.coe.int/en/193-society [name] => Society [desc] => [children] => Array ( [0] => Array ( [id] => 194 [link] => https://edoc.coe.int/en/194-living-together-diversity-and-freedom-in-europe [name] => Living Together - Diversity and Freedom in Europe [desc] => [children] => Array ( ) ) [1] => Array ( [id] => 195 [link] => https://edoc.coe.int/en/195-european-social-charter [name] => European Social Charter [desc] => [children] => Array ( ) ) [2] => Array ( [id] => 205 [link] => https://edoc.coe.int/en/205-drug-policies [name] => Drug policies [desc] => [children] => Array ( ) ) [3] => Array ( [id] => 196 [link] => https://edoc.coe.int/en/196-migration [name] => Migration [desc] => [children] => Array ( ) ) [4] => Array ( [id] => 197 [link] => https://edoc.coe.int/en/197-council-of-europe-development-bank [name] => Council of Europe Development Bank [desc] => [children] => Array ( ) ) [5] => Array ( [id] => 222 [link] => https://edoc.coe.int/en/222-lgbt [name] => LGBT [desc] => [children] => Array ( ) ) [6] => Array ( [id] => 223 [link] => https://edoc.coe.int/en/223-people-with-disabilities [name] => People with disabilities [desc] => [children] => Array ( ) ) [7] => Array ( [id] => 190 [link] => https://edoc.coe.int/en/190-gender-equality [name] => Gender equality [desc] => [children] => Array ( ) ) ) ) [5] => Array ( [id] => 198 [link] => https://edoc.coe.int/en/198-new-technologies-medias [name] => New technologies / Medias [desc] => [children] => Array ( [0] => Array ( [id] => 199 [link] => https://edoc.coe.int/en/199-internet [name] => Internet [desc] => [children] => Array ( ) ) [1] => Array ( [id] => 200 [link] => https://edoc.coe.int/en/200-children-and-the-internet [name] => Children and the Internet [desc] => [children] => Array ( ) ) [2] => Array ( [id] => 201 [link] => https://edoc.coe.int/en/201-media [name] => Media [desc] => [children] => Array ( ) ) [3] => Array ( [id] => 202 [link] => https://edoc.coe.int/en/202-cybercrime [name] => Cybercrime [desc] => [children] => Array ( ) ) [4] => Array ( [id] => 410 [link] => https://edoc.coe.int/en/410-artificial-intelligence [name] => Artificial intelligence [desc] => [children] => Array ( ) ) ) ) [6] => Array ( [id] => 203 [link] => https://edoc.coe.int/en/203-health [name] => Health [desc] => [children] => Array ( [0] => Array ( [id] => 204 [link] => https://edoc.coe.int/en/204-bioethics [name] => Bioethics [desc] => [children] => Array ( ) ) [1] => Array ( [id] => 206 [link] => https://edoc.coe.int/en/206-medicines [name] => Medicines [desc] => [children] => Array ( ) ) [2] => Array ( [id] => 207 [link] => https://edoc.coe.int/en/207-health-care [name] => Health care [desc] => [children] => Array ( ) ) ) ) [7] => Array ( [id] => 208 [link] => https://edoc.coe.int/en/208-culture-heritage-nature [name] => Culture, heritage, nature [desc] => [children] => Array ( [0] => Array ( [id] => 210 [link] => https://edoc.coe.int/en/210-european-cultural-convention [name] => European Cultural Convention [desc] => [children] => Array ( ) ) [1] => Array ( [id] => 211 [link] => https://edoc.coe.int/en/211-intercultural-and-interreligious-dialogue [name] => Intercultural and interreligious dialogue [desc] => [children] => Array ( ) ) [2] => Array ( [id] => 212 [link] => https://edoc.coe.int/en/212-environment [name] => Environment [desc] => [children] => Array ( ) ) [3] => Array ( [id] => 214 [link] => https://edoc.coe.int/en/214-culture-and-democracy [name] => Culture and democracy [desc] => [children] => Array ( ) ) [4] => Array ( [id] => 397 [link] => https://edoc.coe.int/en/397-cultural-heritage [name] => Cultural heritage [desc] => [children] => Array ( ) ) ) ) [8] => Array ( [id] => 215 [link] => https://edoc.coe.int/en/215-the-council-of-europe-and-the-european-union [name] => The Council of Europe and the European Union [desc] => [children] => Array ( [0] => Array ( [id] => 216 [link] => https://edoc.coe.int/en/216-different-roles-shared-values [name] => Different roles, shared values [desc] => [children] => Array ( ) ) [1] => Array ( [id] => 217 [link] => https://edoc.coe.int/en/217-partnerships [name] => Partnerships [desc] => [children] => Array ( ) ) ) ) [9] => Array ( [id] => 218 [link] => https://edoc.coe.int/en/218-minority-rights [name] => Minority rights [desc] => [children] => Array ( [0] => Array ( [id] => 219 [link] => https://edoc.coe.int/en/219-national-minorities [name] => National minorities [desc] => [children] => Array ( ) ) [1] => Array ( [id] => 220 [link] => https://edoc.coe.int/en/220-minority-languages [name] => Minority languages [desc] => [children] => Array ( ) ) [2] => Array ( [id] => 221 [link] => https://edoc.coe.int/en/221-roma-and-travellers [name] => Roma and Travellers [desc] => [children] => Array ( ) ) ) ) [10] => Array ( [id] => 224 [link] => https://edoc.coe.int/en/224-education [name] => Education [desc] => [children] => Array ( [0] => Array ( [id] => 226 [link] => https://edoc.coe.int/en/226-teaching-history [name] => Teaching History [desc] => [children] => Array ( ) ) [1] => Array ( [id] => 393 [link] => https://edoc.coe.int/en/393-human-rights-democratic-citizenship-and-interculturalism [name] => Human rights, democratic citizenship and interculturalism [desc] => [children] => Array ( ) ) [2] => Array ( [id] => 394 [link] => https://edoc.coe.int/en/394-language-learning [name] => Language learning [desc] => [children] => Array ( ) ) [3] => Array ( [id] => 398 [link] => https://edoc.coe.int/en/398-teacher-education [name] => Teacher education [desc] => [children] => Array ( ) ) ) ) [11] => Array ( [id] => 382 [link] => https://edoc.coe.int/en/382-youth [name] => Youth [desc] => [children] => Array ( [0] => Array ( [id] => 392 [link] => https://edoc.coe.int/en/392-youth-in-europe [name] => Youth in Europe [desc] => [children] => Array ( ) ) ) ) [12] => Array ( [id] => 383 [link] => https://edoc.coe.int/en/383-sport [name] => Sport [desc] => [children] => Array ( [0] => Array ( [id] => 384 [link] => https://edoc.coe.int/en/384-sport-for-all [name] => Sport for all [desc] => [children] => Array ( ) ) [1] => Array ( [id] => 390 [link] => https://edoc.coe.int/en/390-doping [name] => Doping [desc] => [children] => Array ( ) ) [2] => Array ( [id] => 391 [link] => https://edoc.coe.int/en/391-violence-in-sport [name] => Violence in sport [desc] => [children] => Array ( ) ) ) ) [13] => Array ( [id] => 240 [link] => https://edoc.coe.int/en/240-institutions [name] => Institutions [desc] => [children] => Array ( [0] => Array ( [id] => 242 [link] => https://edoc.coe.int/en/242-parliamentary-assembly [name] => Parliamentary Assembly  [desc] => [children] => Array ( ) ) [1] => Array ( [id] => 243 [link] => https://edoc.coe.int/en/243-congress-of-local-and-regional-authorities [name] => Congress of Local and Regional Authorities  [desc] => [children] => Array ( ) ) [2] => Array ( [id] => 244 [link] => https://edoc.coe.int/en/244-european-court-of-human-rights [name] => European Court of Human Rights [desc] => [children] => Array ( ) ) [3] => Array ( [id] => 245 [link] => https://edoc.coe.int/en/245-human-rights-commissioner [name] => Human Rights Commissioner [desc] => [children] => Array ( ) ) [4] => Array ( [id] => 246 [link] => https://edoc.coe.int/en/246-conference-of-ingos [name] => Conference of INGOs [desc] => [children] => Array ( ) ) [5] => Array ( [id] => 247 [link] => https://edoc.coe.int/en/247-conferences-on-the-future-of-the-european-court-of-human-rights [name] => Conferences on the future of the European Court of Human Rights [desc] => [children] => Array ( ) ) ) ) [14] => Array ( [id] => 386 [link] => https://edoc.coe.int/en/386-resources-for-young-people [name] => Resources for young people [desc] => [children] => Array ( [0] => Array ( [id] => 387 [link] => https://edoc.coe.int/en/387-6-10-years [name] => 6 - 10 years [desc] => [children] => Array ( ) ) [1] => Array ( [id] => 389 [link] => https://edoc.coe.int/en/389-11-18-years [name] => 11 - 18 years [desc] => [children] => Array ( ) ) ) ) [15] => Array ( [id] => 402 [link] => https://edoc.coe.int/en/402-resources-for-teachers [name] => Resources for teachers [desc] => [children] => Array ( [0] => Array ( [id] => 404 [link] => https://edoc.coe.int/en/404-educational-tools [name] => Educational tools [desc] => [children] => Array ( ) ) [1] => Array ( [id] => 407 [link] => https://edoc.coe.int/en/407-history-teaching [name] => History teaching [desc] => [children] => Array ( ) ) ) ) ) ) ) ) 1
Catalog
Newsletter
Stay informed
Subscribe to our newsletter
Subscribe to our newsletter
Council of Europe and Internet - maximising rights, minimising restrictions
(2013)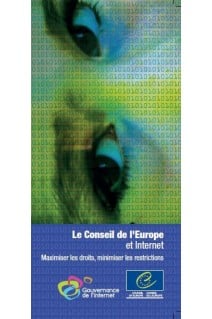  
The Internet is one of the greatest liberating forces of our age: information and global communication have never been as accessible as today. The Internet has created new opportunities for strengthening democracy. Unfortunately it is also a space or a tool that can be used to restrict democratic freedoms or to perpetrate crimes.
The Council of Europe is working with its 47 member states to make sure that the Internet provides a safe and open environment where freedom of expression, freedom of assembly, democracy, diversity, education and knowledge can flourish.
We promote an Internet with a maximum of rights and services subject to a minimum of restrictions and a level of security
which users are entitled to expect. Our ultimate aim is to enhance the protection of human rights, democracy and the rule of law in the online environment.
The use of the Internet raises issues related to the protection of rights and freedoms enshrined in the most important Council of Europe treaty, the European Convention on Human Rights, notably the rights to privacy and freedom of expression.
The European Court of Human Rights, which rules on applications alleging violations of the Convention, has already delivered judgments in cases involving the Internet.
In March 2012 the Organisation adopted its first Internet Governance strategy, which contains more than 40 lines of action, including the creation of a compendium of rights of Internet users.