PDF - State of democracy, human rights and the rule of law
(2016)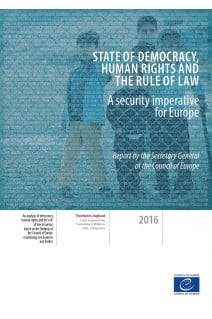  
A security imperative for Europe

The past 12 months have seen a gear shift in Europe's security concerns. Recent terrorist attacks have sent a shockwave through our societies. Unco-ordinated responses to the migrant crisis have sustained chaos at our borders. Combined with economic uncertainty, this is creating fertile ground for nationalists and xenophobes who seek to exploit public anxiety. Such developments are posing serious problems for our shared security.
This is the third annual report of the Secretary General on the state of democracy, human rights and the rule of law. The report assesses the extent to which the Council of Europe's member states are able to make the building blocks of democratic security a reality and exposes Europe's democratic shortcomings, which require immediate attention. The report also highlights pan-European trends and areas for joint action, where key recommendations have been made.
CONTENTS
FOREWORD
EXECUTIVE SUMMARY
CHAPTER 1 – AN EFFICIENT, IMPARTIAL AND INDEPENDENT JUDICIARY
     Introduction
     Judicial independence
     Efficiency of court proceedings
     Enforcement of court judgments
     Legality and legal certainty
     Access to legal aid
     Lawyer professionalism
     Proposed actions and recommendations
CHAPTER 2 – FREEDOM OF EXPRESSION
     Introduction
     Safety of journalists and others performing public watchdog functions
     Protection from arbitrary application of law
     Media independence
     Media pluralism and diversity
     Protection of freedom of expression on the Internet
     Proposed actions and recommendations
CHAPTER 3 – FREEDOM OF ASSEMBLY AND FREEDOM OF ASSOCIATION
     Introduction
     Freedom of assembly
     Freedom of association
     Proposed actions and recommendations
CHAPTER 4 – DEMOCRATIC INSTITUTIONS
     Introduction
     Free and fair elections
     Functioning of democratic institutions
     Vertical separation of powers
     Good governance
     Proposed actions and recommendations
CHAPTER 5 – INCLUSIVE SOCIETIES
     Introduction
     Social rights
     Non-discrimination
     Integration of migrants
     Education and culture for democracy
     Engaging young people
     Proposed actions and recommendations