State of democracy, human right and the rule of law 2023 - Annual report of the Secretary General of the Council of Europe
(2023)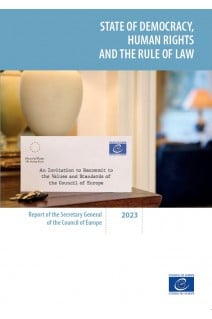  
An invitation to recommit to the values and standards of the Council of Europe.
In her annual report, published today – Council of Europe Day – the Secretary General says the Organisation's standards need to be applied across every aspect of Europeans' lives. She also stressed the deep impact of Russia's brutal, illegal and ongoing aggression against Ukraine. "The aggression against Ukraine has caused extraordinary suffering: hundreds of thousands of deaths, millions of refugees, horrifying stories of torture, rape and loss. We yearn for a return to peace: a sustainable peace based on justice".
The report, with a first section looking at strengths and weaknesses in democratic institutions and a second focusing on the quality of the democratic environment, highlights challenges such as:
• increased violence against journalists, the use of surveillance to track and intimidate them and tactics ranging from detention to strategic lawsuits against public participation (SLAPPs) to prevent investigative journalists and others from doing their jobs;
• new laws and the misuse of existing ones to limit civil society, with public demonstrations wrongly classified as dangerous, excessive force used against demonstrators, non-governmental organisations (NGOs) faced with increased financial restrictions and bureaucratic hurdles, and the use of the legal system to undermine political opposition;
•a polarised political environment in which hate speech continues to grow, both online and offline, often targeting women and a range of minorities and vulnerable groups.
These negative trends are not found everywhere, and it is important to recognise that there also positive developments in some member states.
A PREFACE BY THE SECRETARY GENERAL 
KEY FINDINGS OF THE REPORT 
GUIDE TO THE REPORT 

PART I – DEMOCRATIC INSTITUTIONS 
CHAPTER 1 – EFFICIENT, IMPARTIAL AND INDEPENDENT JUDICIARIES
Introduction 
Judicial independence 
Judicial accountability 
Efficiency of judicial systems 
CHAPTER 2 – FREEDOM OF EXPRESSION 
Introduction 
Legal guarantees for freedom of expression 
Safety of journalists and others who speak up 
Independent and pluralistic media environment 
Reliability and trust in information 
CHAPTER 3 – FREEDOM OF ASSEMBLY AND FREEDOM OF ASSOCIATION 
Introduction 
Freedom of assembly 
Freedom of association 
CHAPTER 4 – POLITICAL INSTITUTIONS
Introduction 
Functioning of democratic institutions 
Democratic elections 
Local and regional democracy 
Good governance at all levels 
CHAPTER 5 – INTEGRITY OF INSTITUTIONS
Introduction 
Institutional integrity frameworks 
Standards of conduct for public officials 
Integrity, effectiveness and the impact of accountability and enforcement mechanisms 
Criminal and non-criminal enforcement mechanisms 

PART II – DEMOCRATIC ENVIRONMENT 
CHAPTER 6 – HUMAN DIGNITY
Introduction 
Combating trafficking in human beings 
Promoting and protecting women's rights 
Human rights and dignity of children 
Social rights 
Humane detention conditions 
CHAPTER 7 – ANTI-DISCRIMINATION, DIVERSITY AND INCLUSION 
Introduction 
Anti-discrimination 
Diversity and inclusion 
CHAPTER 8 – DEMOCRATIC PARTICIPATION 
Introduction 
Education for democracy 
Youth for democracy 
Culture and cultural heritage for democracy