Multilateralism 2020 - Annual report of the Secretary General of the Council of Europe
(2020)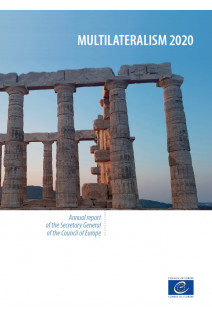  
The Council of Europe has proven to be an essential, indispensable guardian of human rights during the Covid-19 pandemic. This is one of the main conclusions of a new report by the Secretary General covering the Council of Europe's actions since the Helsinki Ministerial Meeting in May 2019 and the organisation's response to the Covid-19 pandemic in 2020.

"Our value-based support and guidance to member states in upholding human rights, democracy and the rule of law during the crisis is a perfect example of multilateralism and why we need to protect it. In that sense we have passed the stress test" said Secretary General Marija Pejčinović Burić in a briefing to journalists.

The report details the Council of Europe's guidance to member states during the pandemic including the so-called toolkit designed to help ensure that measures taken by member states during the crisis remain proportionate to the threat posed by the spread of the virus and are limited in time.

The Secretary General also underlined the need for further reforms. "I want to make the Council of Europe even stronger and more effective to address both continuing and emerging challenges", she said and highlighted gender equality, the fight against hate speech and hate crimes and artificial intelligence as priorities of the organisation.
KEY POINTS 
INTRODUCTION BY THE SECRETARY GENERAL 
Helsinki follow-up and the Covid-19 pandemic 
Priorities and efficiency 
Reform and effectiveness 
PART I  - FOLLOW-UP ACTION TO THE HELSINKI DECISIONS
Strengthening the role and participation of civil society 
Artificial intelligence 
Action against trafficking in human beings 
Freedom of expression 
Addressing inequality, racism, xenophobia, hate speech and discrimination 
Social rights 
Challenges arising from global migration 
Equality between women and men, and fighting violence against women and domestic violence 
PART II - COVID-19 AND THE COUNCIL OF EUROPE 
A toolkit for respecting democracy, rule of law and human rights in the framework of the Covid-19 sanitary crisis 
Programmes and co-operation 
Partial agreements 
Activities of the statutory and other key bodies of the Council of Europe