Human rights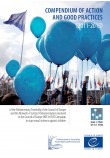 Compendium of action and good practices (2011-2015) of the PACE and the Network of Contact Parliamentarians involved in the Council of Europe ONE in FIVE Campaign to stop sexual violence against children (2016)
REF. 207615GBR
Type of document : Document
Format : PDF
Size : 2.01 MB
Language : English
Number of pages : 88
Other available languages
> French
Compendium of action and good practices (2011-2015) of the Parliamentary Assembly of the Council of Europe and the Network of Contact Parliamentarians involved in the Council of Europe ONE in FIVE Campaign to stop sexual violence against children

The issue of the protection of children's rights remains a major challenge for all member States of the Council of Europe, despite great progress achieved since the adoption of the UN Convention on the Rights of the Child more than 25 years ago. Too many children continue to suffer from various forms of violence, including sexual abuse and exploitation.
The Council of Europe and its Parliamentary Assembly have been strongly committed to the protection of children for many years. Council of Europe standard setting bodies adopted the Convention on the Protection of Children against Sexual Exploitation and Sexual Abuse (Lanzarote Convention) in 2007, which as of December 2015 has been ratified by 39 member States. The Parliamentary Assembly has successfully promoted this Convention amongst national parliaments, and raised general awareness of the need to fight child sexual abuse.
Contents
THE COUNCIL OF EUROPE
THE PARLIAMENTARY ASSEMBLY OF THE COUNCIL OF EUROPE
INTRODUCTION
PRESENTATION
ACTION BY THE PARLIAMENTARY ASSEMBLY
          Parliamentary Assembly involvement
          Action by the Committee on Social Affairs, Health and Sustainable Development
          Network of Contact Parliamentarians to stop sexual violence against children
EUROPEAN DAY ON THE PROTECTION OF CHILDREN AGAINST SEXUAL EXPLOITATION AND SEXUAL ABUSE
          Raising awareness is essential for protecting children from sexual abuse
          Austria
          Azerbaijan
          Bulgaria
          Cyprus
          Germany
          Greece
          Portugal
          Serbia
ACTION BY PARLIAMENTARIANS AND NATIONAL PARLIAMENTS
CONCLUSIONS AND RECOMMENDATIONS
APPENDIX 1 : List of signatures and ratifications of the Council of Europe Convention on the Protection of Children against Sexual Exploitation and Sexual Abuse
APPENDIX 2 : List of members of the Network of Contact Parliamentarians to stop sexual violence against children
APPENDIX 3 : Florence Declaration
APPENDIX 4 : Joint statement by Ms Marlene Rupprecht, and Mr José Mendes Bota
APPENDIX 5 : Moscow Declaration
APPENDIX 6 : Statement by Ms Stella Kyriakides
APPENDIX 7 : Statement by Ms Ana Vukadinović
APPENDIX 8 : Statement by Ms Stella Kyriakides
APPENDIX 9 : Statement by the President of the House of Representatives of the Republic of Cyprus, Mr. Yiannakis L. Omirou