Human rights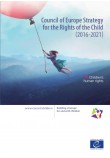 Council of Europe Strategy for the Rights of the Child (2016-2021) (2016)
REF. 017916GBR
Type of document : Document
Format : PDF
Size : 240 KB
Language : English
Number of pages : 26
Other available languages
> French
Building a Europe for and with children

Since launching the Programme "Building a Europe for and with children" in Monaco in 2006, the Council of Europe has implemented strategies over a series of policy cycles to guide its work on strengthening child rights protection in Europe.
This document – adopted by the Committee of Ministers of the Council of Europe – contains the text of the Strategy for the Rights of the Child which will be implemented for the period 2016-2021. It covers priority areas to guarantee all children their rights, namely in the areas of equal opportunities, participation, a violence-free life, child-friendly justice and their rights in the digital environment.
INTRODUCTION
I. THE COUNCIL OF EUROPE AND THE RIGHTS OF THE CHILD: ACHIEVEMENTS TO BUILD UPON
II. ARE WE THERE YET? CHALLENGES FOR CHILDREN'S RIGHTS TODAY AND TOMORROW
1. Poverty, inequality and exclusion
2. Violence
3. A justice system made for adults
4. Challenges for families and parents
5. Racism, hate speech and radicalisation
6. Growing up in a digital world
7. Migration
III. PRIORITY AREAS
1. Equal opportunities for all children
2. Participation of all children
3. A life free from violence for all children
4. Child-friendly justice for all children
5. Rights of the child in the digital environment
IV. DELIVERING THE STRATEGY
1. Making the standards work for children
2. Involving all relevant stakeholders
3. Communicating children's rights
4. Evaluating performance