Working with the Council of Europe: a practical guide for civil society
(2022)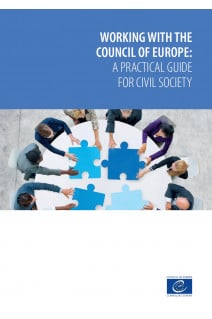  
At its Helsinki Ministerial session in 2019 the Council of Europe Committee of Ministers adopted the decision "A shared responsibility for democratic security in Europe: the need to strengthen the protection and promotion of civil society space in Europe." 

In response to this decision, the Secretary General made a number of proposals. Their implementation was endorsed at the Hamburg Ministerial session in May 2021.

This handbook is prepared in response to the Secretary General's call to strengthen the role and meaningful participation of civil society organisations, and national human rights institutions in the Organisation, with the view to increasing its openness and transparency towards civil society.

The aim of the handbook is to provide a non-exhaustive overview of the many ways in which the Council of Europe works with civil society, to provide links to in-depth information and to act as a guide for how civil society can become involved in the work of the Organisation. It gives information on the different forms of access, co-operation, input, participation, and/or partnership that are possible and relevant for NGOs.

It contains a thematic index, with links to websites provided throughout the text. Further information can be found on the main portal: www.coe.int, where there is also the possibility to sign up to newsletters.

The handbook is based on the Council of Europe's Programme and Budget 2022-2025 with some additional thematic entries for ease of reference, and it will be updated regularly.
INTRODUCTION 
COUNCIL OF EUROPE WORK 
WHAT ROLE FOR NON-GOVERNMENTAL ORGANISATION (NGOS) IN THE WORK OF THE COUNCIL OF EUROPE? 
Participatory status with the Council of Europe 
How to apply 
Conference of INGOs 
STANDARD-SETTING AND MONITORING WORK IN COMMITTEES 
COUNCIL OF EUROPE'S CO-OPERATION SECTOR AND NGOS 
INSTITUTIONS AND GOVERNING BODIES 
Committee of Ministers 
European Court of Human Rights 
Commissioner for Human Rights 
Parliamentary Assembly 
Congress of Local and Regional Authorities 
Secretary General 
The Secretary General's procedure to assist human rights defenders 
Patronage 
HUMAN RIGHTS
Effective ECHR implementation 
Execution of ECHR judgments and decisions 
Effectiveness of the ECHR System at national and European level 
Prevention of Torture and Other Forms of Ill-Treatment (CPT) 
Human Rights in the fields of Biomedicine and Health 
Freedom of Expression and Freedom of the Media 
Data Protection 
Artificial intelligence 
Equality and Human Dignity 
Gender Equality 
Combating Violence against Women and Domestic Violence (GREVIO) 
Children's rights 
Anti-discrimination, Diversity and Inclusion 
European Commission against Racism and Intolerance (ECRI) 
National minorities 
Roma and Travellers 
Intercultural Cities 
Sexual orientation and gender identity 
Migrants' rights 
Secretariat of the Partial Agreement on the Council of Europe Development Bank 
Social rights 
European Social Charter
RULE OF LAW 
Rule of law based institutions 
Democracy through Law (Venice Commission) 
Independence and efficiency of Justice 
Legal co-operation 
Action against crime, security and protection of citizens 
Crime and terrorism 
Money laundering (MONEYVAL) 
Medicrime 
Trafficking in Human Beings (GRETA) 
Cybercrime 
Combatting Corruption (GRECO) 
Prison and Police 
European Directorate for the Quality of Medicines & Healthcare (EDQM) 
Drugs and Addictions (Pompidou Group) 
Sports Conventions 
The Enlarged Partial Agreement on Sport (EPAS) 
DEMOCRACY 
Democratic Governance 
Centre of expertise for good governance 
Elections and civil participation 
World Forum for Democracy 
Platform for the Safety of Journalists 
Democratic Participation 
Education for Democracy 
European Centre for Modern Languages (Graz) 
Observatory on History Teaching in Europe (OHTE) 
Global Interdependence and Solidarity (North-South Centre) 
Youth Co-Management 
Youth for Democracy 
European Youth Foundation 
Culture, Nature and Heritage 
Cultural Routes 
GRANTS AND RESOURCES