Institutions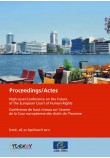 High-level conference on the future of the European Court of Human Rights, Izmir, Turkey, 26-27 April 2011 (2011)
REF. Court_Conf_Izmir_BIL
Type of document : Proceedings
Format : PDF
Size : 1.42 MB
Language : Bilingual French/English
Number of pages : 149
The Turkish Chairmanship of the Committee of Ministers of the Council of Europe organised a high-level conference on the future of the European Court of Human Rights in Izmir on 26 and 27 April 2011.

Major step towards following up and maintaining the momentum of the process of reform of the supervisory machinery set up by the European Convention on Human Rights, process launched by the Interlaken Conference, the Izmir Conference has three main goals arising from the need to ensure the effectiveness of this machinery:
- to make an assessment as of today of the impact of Protocol No. 14;
- to take stock of what has been achieved by the reform process launched in Interlaken;
- following a thorough reflection, lend impetus for pursuing that reform.
Justice ministers and other senior officials from the 47 member states of the Council of Europe and the observer states attended the conference, together with representatives of specialised organisations and institutions.