Culture, heritage, nature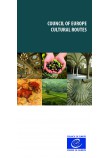 Leaflet - Council of Europe Cultural Routes (2016)
REF. 030616GBR
Type of document : Leaflet
Format : PDF
Size : 7,6 Mo
Language : English
Number of pages : 6
Other available languages
> French
The Cultural Routes programme launched by the Council of Europe in 1987 demonstrates, by means of a journey through space and time, how the heritage of the different countries of Europe contributes to a shared cultural heritage.
The Cultural Routes put into practice the fundamental values of the Council of Europe: human rights, cultural democracy, cultural diversity and identity and mutual exchanges and enrichment across boundaries and centuries. They act as channels for intercultural dialogue and promote better knowledge and understanding of a European cultural identity.
The Cultural Routes preserve and enhance Europe's natural and cultural heritage as a factor for improving the living environment and as a source of cultural, social and economic development. They promote cultural tourism that fits in with sustainable development.
Video – Discover the cultural routes of the Council of Europe