Roadmap for the Adriatic-Ionian Region (Routes4U - Cultural Routes 1)
(2018)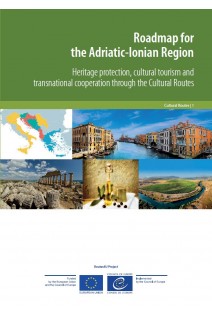  
Heritage protection, cultural tourism and transnational cooperation through the Cultural Routes

The "Roadmap for the Adriatic-Ionian Region" not only provides background information and recommendations for the various stakeholders working in the field of sustainable tourism, cultural cooperation and social participation. It is also meant to support national, regional and local authorities in the Adriatic-Ionian Region in making best use of the Cultural Routes of the Council of Europe to strengthen their regional development.
Routes4U is a joint programme between the Council of Europe and the European Union. The 30-months project (2017-20) aims to foster regional development through the Cultural Routes of the Council of Europe programme in the four EU macro-regions, according to the Faro Convention.
More info: https://pjp-eu.coe.int/en/web/cultural-routes-and-regional-development/home
FOREWORD
INTRODUCTION
PART I. CULTURAL ROUTES FOR THE REGIONAL DEVELOPMENT OF THE ADRIATIC-IONIAN REGION
1. THE CULTURAL ROUTES OF THE COUNCIL OF EUROPE
1.1. Structure of the programme
1.2 Certification process
1.3. Added value of Cultural Routes
2. THE ADRIATIC AND IONIAN REGION
2.1. Adriatic and Ionian Region macro-regional strategy (EUSAIR)
2.2. EUSAIR Pillar: Sustainable Tourism
2.3. Analysis of the Cultural Routes in the Adriatic and Ionian Region
2.4. Cultural Routes on regional development
3. ROUTES4U PROJECT
3.1. Routes of the Olive Tree
3.2. Roman Emperors' Route
PART II. EXPERTS REPORTS ON REGIONAL DEVELOPMENT THROUGH THE CULTURAL ROUTES IN THE ADRIATIC-IONIAN REGION
1. REGIONAL DEVELOPMENT THROUGH CULTURAL TOURISM
1.1. Introduction
1.2. Workshop discussion and participants recommendations
1.3. Expert recommendations
2. TRANSNATIONAL NETWORKS FOR CULTURAL COOPERATION
2.1. Introduction
2.2 Workshop discussion and participants recommendations
2.3. Expert recommendations
3. MARKETING STRATEGIES FOR THE VISIBILITY OF HERITAGE
3. 1. Introduction
3.2. Workshop discussion and participants recommendations
3.3. Expert recommendations
PART III. ROADMAP FOR THE ADRIATIC AND IONIAN REGION
I. IMPLEMENTATION PRIORITIES
1.1. Monitoring system
1.2. Dialogue between stakeholders and capacity building
1.3.Country focus
1.4. Policies and joint actions
1.5. Raising awareness at macro-regional level
1.6. Research and university involvement
1.7. Legal framework
1.8. Certification process and best practices database
1.9. Development of projects in view of Cultural Routes certification
1.10. Extension of certified Cultural Routes
1.11. EUSAIR Cultural Routes priority
2. IDEAS FOR THE FUTURE
2.1. Brand-building
2.2. Routes award
2.3. Common Adriatic-Ionian tourism portal
APPENDIX
APPENDIX I. LIST OF MEMBERS OF THE CULTURAL ROUTES IN THE ADRIATIC-IONIAN REGION
Albania
Bosnia and Herzegovina
Croatia
Greece
Italy
Montenegro
Serbia
Slovenia
APPENDIX II. SPEECHES OF THE ROUTES4U MEETING FOR THE ADRIATIC-IONIAN REGION (6 JUNE 2018. VENICE, ITALY)
Speech of Gabriella BATTAINI-DRAGONI, Deputy Secretary General, Council of Europe
Speech of Hajrulla ÇEKU, Deputy Minister, Ministry of Tourism and Environment of Albania
Speech of Frano MATUŠIĆ, State Secretary, Ministry of Tourism of the Republic of Croatia
Speech of Zoran JANKOVIC, State Secretary, Ministry of Foreign Affairs of Montenegro
LIST OF ABBREVIATIONS
BIBLIOGRAPHY