Array ( [id] => 2 [link] => [name] => [desc] => [children] => Array ( [0] => Array ( [id] => 7 [link] => https://edoc.coe.int/en/7-online-resources [name] => Online resources [desc] => [children] => Array ( [0] => Array ( [id] => 378 [link] => https://edoc.coe.int/en/378-the-council-of-europe-in-brief [name] => The Council of Europe in brief [desc] => [children] => Array ( [0] => Array ( [id] => 364 [link] => https://edoc.coe.int/en/364-map-of-the-member-states [name] => Map of the member states [desc] => [children] => Array ( ) ) [1] => Array ( [id] => 381 [link] => https://edoc.coe.int/en/381-an-overview [name] => An overview [desc] => [children] => Array ( ) ) [2] => Array ( [id] => 408 [link] => https://edoc.coe.int/en/408-annual-activity-report [name] => Annual activity report [desc] => [children] => Array ( ) ) ) ) [1] => Array ( [id] => 170 [link] => https://edoc.coe.int/en/170-human-rights [name] => Human rights [desc] => [children] => Array ( [0] => Array ( [id] => 172 [link] => https://edoc.coe.int/en/172-european-convention-on-human-rights [name] => European Convention on Human Rights [desc] => [children] => Array ( ) ) [1] => Array ( [id] => 374 [link] => https://edoc.coe.int/en/374-fundamental-freedoms [name] => Fundamental freedoms [desc] => [children] => Array ( ) ) [2] => Array ( [id] => 191 [link] => https://edoc.coe.int/en/191-violence-against-women [name] => Violence against women [desc] => [children] => Array ( ) ) [3] => Array ( [id] => 187 [link] => https://edoc.coe.int/en/187-children-s-rights [name] => Children's rights [desc] => [children] => Array ( ) ) [4] => Array ( [id] => 192 [link] => https://edoc.coe.int/en/192-trafficking-in-human-beings [name] => Trafficking in human beings [desc] => [children] => Array ( ) ) [5] => Array ( [id] => 372 [link] => https://edoc.coe.int/en/372-refugees [name] => Refugees [desc] => [children] => Array ( ) ) [6] => Array ( [id] => 176 [link] => https://edoc.coe.int/en/176-death-penalty [name] => Death penalty [desc] => [children] => Array ( ) ) [7] => Array ( [id] => 177 [link] => https://edoc.coe.int/en/177-prevention-of-torture [name] => Prevention of torture [desc] => [children] => Array ( ) ) [8] => Array ( [id] => 178 [link] => https://edoc.coe.int/en/178-racism [name] => Racism [desc] => [children] => Array ( ) ) ) ) [2] => Array ( [id] => 179 [link] => https://edoc.coe.int/en/179-democracy [name] => Democracy [desc] => [children] => Array ( [0] => Array ( [id] => 180 [link] => https://edoc.coe.int/en/180-local-democracy [name] => Local democracy [desc] => [children] => Array ( ) ) [1] => Array ( [id] => 182 [link] => https://edoc.coe.int/en/182-elections [name] => Elections [desc] => [children] => Array ( ) ) [2] => Array ( [id] => 181 [link] => https://edoc.coe.int/en/181-world-forum-for-democracy [name] => World Forum for Democracy [desc] => [children] => Array ( ) ) [3] => Array ( [id] => 413 [link] => https://edoc.coe.int/en/413-civil-society [name] => Civil society [desc] => [children] => Array ( ) ) ) ) [3] => Array ( [id] => 233 [link] => https://edoc.coe.int/en/233-law [name] => Law [desc] => [children] => Array ( [0] => Array ( [id] => 234 [link] => https://edoc.coe.int/en/234-organised-crime [name] => Organised crime [desc] => [children] => Array ( ) ) [1] => Array ( [id] => 235 [link] => https://edoc.coe.int/en/235-corruption [name] => Corruption [desc] => [children] => Array ( ) ) [2] => Array ( [id] => 237 [link] => https://edoc.coe.int/en/237-data-protection [name] => Data protection [desc] => [children] => Array ( ) ) [3] => Array ( [id] => 175 [link] => https://edoc.coe.int/en/175-european-prison-reform [name] => European prison reform [desc] => [children] => Array ( ) ) [4] => Array ( [id] => 238 [link] => https://edoc.coe.int/en/238-terrorism [name] => Terrorism [desc] => [children] => Array ( ) ) [5] => Array ( [id] => 239 [link] => https://edoc.coe.int/en/239-efficiency-of-justice [name] => Efficiency of justice [desc] => [children] => Array ( ) ) [6] => Array ( [id] => 379 [link] => https://edoc.coe.int/en/379-international-law [name] => International law [desc] => [children] => Array ( ) ) ) ) [4] => Array ( [id] => 193 [link] => https://edoc.coe.int/en/193-society [name] => Society [desc] => [children] => Array ( [0] => Array ( [id] => 194 [link] => https://edoc.coe.int/en/194-living-together-diversity-and-freedom-in-europe [name] => Living Together - Diversity and Freedom in Europe [desc] => [children] => Array ( ) ) [1] => Array ( [id] => 195 [link] => https://edoc.coe.int/en/195-european-social-charter [name] => European Social Charter [desc] => [children] => Array ( ) ) [2] => Array ( [id] => 205 [link] => https://edoc.coe.int/en/205-drug-policies [name] => Drug policies [desc] => [children] => Array ( ) ) [3] => Array ( [id] => 196 [link] => https://edoc.coe.int/en/196-migration [name] => Migration [desc] => [children] => Array ( ) ) [4] => Array ( [id] => 197 [link] => https://edoc.coe.int/en/197-council-of-europe-development-bank [name] => Council of Europe Development Bank [desc] => [children] => Array ( ) ) [5] => Array ( [id] => 222 [link] => https://edoc.coe.int/en/222-lgbt [name] => LGBT [desc] => [children] => Array ( ) ) [6] => Array ( [id] => 223 [link] => https://edoc.coe.int/en/223-people-with-disabilities [name] => People with disabilities [desc] => [children] => Array ( ) ) [7] => Array ( [id] => 190 [link] => https://edoc.coe.int/en/190-gender-equality [name] => Gender equality [desc] => [children] => Array ( ) ) ) ) [5] => Array ( [id] => 198 [link] => https://edoc.coe.int/en/198-new-technologies-medias [name] => New technologies / Medias [desc] => [children] => Array ( [0] => Array ( [id] => 199 [link] => https://edoc.coe.int/en/199-internet [name] => Internet [desc] => [children] => Array ( ) ) [1] => Array ( [id] => 200 [link] => https://edoc.coe.int/en/200-children-and-the-internet [name] => Children and the Internet [desc] => [children] => Array ( ) ) [2] => Array ( [id] => 201 [link] => https://edoc.coe.int/en/201-media [name] => Media [desc] => [children] => Array ( ) ) [3] => Array ( [id] => 202 [link] => https://edoc.coe.int/en/202-cybercrime [name] => Cybercrime [desc] => [children] => Array ( ) ) [4] => Array ( [id] => 410 [link] => https://edoc.coe.int/en/410-artificial-intelligence [name] => Artificial intelligence [desc] => [children] => Array ( ) ) ) ) [6] => Array ( [id] => 203 [link] => https://edoc.coe.int/en/203-health [name] => Health [desc] => [children] => Array ( [0] => Array ( [id] => 204 [link] => https://edoc.coe.int/en/204-bioethics [name] => Bioethics [desc] => [children] => Array ( ) ) [1] => Array ( [id] => 206 [link] => https://edoc.coe.int/en/206-medicines [name] => Medicines [desc] => [children] => Array ( ) ) [2] => Array ( [id] => 207 [link] => https://edoc.coe.int/en/207-health-care [name] => Health care [desc] => [children] => Array ( ) ) ) ) [7] => Array ( [id] => 208 [link] => https://edoc.coe.int/en/208-culture-heritage-nature [name] => Culture, heritage, nature [desc] => [children] => Array ( [0] => Array ( [id] => 210 [link] => https://edoc.coe.int/en/210-european-cultural-convention [name] => European Cultural Convention [desc] => [children] => Array ( ) ) [1] => Array ( [id] => 211 [link] => https://edoc.coe.int/en/211-intercultural-and-interreligious-dialogue [name] => Intercultural and interreligious dialogue [desc] => [children] => Array ( ) ) [2] => Array ( [id] => 212 [link] => https://edoc.coe.int/en/212-environment [name] => Environment [desc] => [children] => Array ( ) ) [3] => Array ( [id] => 214 [link] => https://edoc.coe.int/en/214-culture-and-democracy [name] => Culture and democracy [desc] => [children] => Array ( ) ) [4] => Array ( [id] => 397 [link] => https://edoc.coe.int/en/397-cultural-heritage [name] => Cultural heritage [desc] => [children] => Array ( ) ) ) ) [8] => Array ( [id] => 215 [link] => https://edoc.coe.int/en/215-the-council-of-europe-and-the-european-union [name] => The Council of Europe and the European Union [desc] => [children] => Array ( [0] => Array ( [id] => 216 [link] => https://edoc.coe.int/en/216-different-roles-shared-values [name] => Different roles, shared values [desc] => [children] => Array ( ) ) [1] => Array ( [id] => 217 [link] => https://edoc.coe.int/en/217-partnerships [name] => Partnerships [desc] => [children] => Array ( ) ) ) ) [9] => Array ( [id] => 218 [link] => https://edoc.coe.int/en/218-minority-rights [name] => Minority rights [desc] => [children] => Array ( [0] => Array ( [id] => 219 [link] => https://edoc.coe.int/en/219-national-minorities [name] => National minorities [desc] => [children] => Array ( ) ) [1] => Array ( [id] => 220 [link] => https://edoc.coe.int/en/220-minority-languages [name] => Minority languages [desc] => [children] => Array ( ) ) [2] => Array ( [id] => 221 [link] => https://edoc.coe.int/en/221-roma-and-travellers [name] => Roma and Travellers [desc] => [children] => Array ( ) ) ) ) [10] => Array ( [id] => 224 [link] => https://edoc.coe.int/en/224-education [name] => Education [desc] => [children] => Array ( [0] => Array ( [id] => 226 [link] => https://edoc.coe.int/en/226-teaching-history [name] => Teaching History [desc] => [children] => Array ( ) ) [1] => Array ( [id] => 393 [link] => https://edoc.coe.int/en/393-human-rights-democratic-citizenship-and-interculturalism [name] => Human rights, democratic citizenship and interculturalism [desc] => [children] => Array ( ) ) [2] => Array ( [id] => 394 [link] => https://edoc.coe.int/en/394-language-learning [name] => Language learning [desc] => [children] => Array ( ) ) [3] => Array ( [id] => 398 [link] => https://edoc.coe.int/en/398-teacher-education [name] => Teacher education [desc] => [children] => Array ( ) ) ) ) [11] => Array ( [id] => 382 [link] => https://edoc.coe.int/en/382-youth [name] => Youth [desc] => [children] => Array ( [0] => Array ( [id] => 392 [link] => https://edoc.coe.int/en/392-youth-in-europe [name] => Youth in Europe [desc] => [children] => Array ( ) ) ) ) [12] => Array ( [id] => 383 [link] => https://edoc.coe.int/en/383-sport [name] => Sport [desc] => [children] => Array ( [0] => Array ( [id] => 384 [link] => https://edoc.coe.int/en/384-sport-for-all [name] => Sport for all [desc] => [children] => Array ( ) ) [1] => Array ( [id] => 390 [link] => https://edoc.coe.int/en/390-doping [name] => Doping [desc] => [children] => Array ( ) ) [2] => Array ( [id] => 391 [link] => https://edoc.coe.int/en/391-violence-in-sport [name] => Violence in sport [desc] => [children] => Array ( ) ) ) ) [13] => Array ( [id] => 240 [link] => https://edoc.coe.int/en/240-institutions [name] => Institutions [desc] => [children] => Array ( [0] => Array ( [id] => 242 [link] => https://edoc.coe.int/en/242-parliamentary-assembly [name] => Parliamentary Assembly  [desc] => [children] => Array ( ) ) [1] => Array ( [id] => 243 [link] => https://edoc.coe.int/en/243-congress-of-local-and-regional-authorities [name] => Congress of Local and Regional Authorities  [desc] => [children] => Array ( ) ) [2] => Array ( [id] => 244 [link] => https://edoc.coe.int/en/244-european-court-of-human-rights [name] => European Court of Human Rights [desc] => [children] => Array ( ) ) [3] => Array ( [id] => 245 [link] => https://edoc.coe.int/en/245-human-rights-commissioner [name] => Human Rights Commissioner [desc] => [children] => Array ( ) ) [4] => Array ( [id] => 246 [link] => https://edoc.coe.int/en/246-conference-of-ingos [name] => Conference of INGOs [desc] => [children] => Array ( ) ) [5] => Array ( [id] => 247 [link] => https://edoc.coe.int/en/247-conferences-on-the-future-of-the-european-court-of-human-rights [name] => Conferences on the future of the European Court of Human Rights [desc] => [children] => Array ( ) ) ) ) [14] => Array ( [id] => 386 [link] => https://edoc.coe.int/en/386-resources-for-young-people [name] => Resources for young people [desc] => [children] => Array ( [0] => Array ( [id] => 387 [link] => https://edoc.coe.int/en/387-6-10-years [name] => 6 - 10 years [desc] => [children] => Array ( ) ) [1] => Array ( [id] => 389 [link] => https://edoc.coe.int/en/389-11-18-years [name] => 11 - 18 years [desc] => [children] => Array ( ) ) ) ) [15] => Array ( [id] => 402 [link] => https://edoc.coe.int/en/402-resources-for-teachers [name] => Resources for teachers [desc] => [children] => Array ( [0] => Array ( [id] => 404 [link] => https://edoc.coe.int/en/404-educational-tools [name] => Educational tools [desc] => [children] => Array ( ) ) [1] => Array ( [id] => 407 [link] => https://edoc.coe.int/en/407-history-teaching [name] => History teaching [desc] => [children] => Array ( ) ) ) ) ) ) ) ) 1
Catalog
Newsletter
Stay informed
Subscribe to our newsletter
Subscribe to our newsletter
Inter-state cases under the European Convention on Human Rights - Experiences and current challenges
(2022)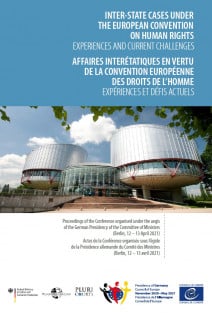  
Effective processing and resolution of cases relating to state disputes

An increasing number of inter-State applications have been brought before the European Court of Human Rights recent years. As they often relate to conflict situations, the Court is faced with challenges regarding the establishment of facts and various complex legal issues. The situation is compounded by the fact that around 11 000 individual applications related to inter-State applications are also pending before the Court. Moreover, numerous challenges appear when it comes to the execution of the Court's judgments in cases related to inter-State disputes.

These issues were discussed in the Conference "'Inter-State cases under the European Convention on Human Rights" organised by the German Presidency of the Committee of
Ministers in co-operation with the Council of Europe's Steering Committee for Human Rights (CDDH) on 12 and 13 April 2021. The Conference provided food for thought to the
ongoing work of the CDDH on the effective processing and resolution of cases relating to inter-State disputes. This document contains the interventions of the high-level speakers and experts in various panels of the Conference.