Supervision of the execution of judgments of the European Court of Human Rights 2021 - 15th Annual Report of the Committee of Ministers
(2022)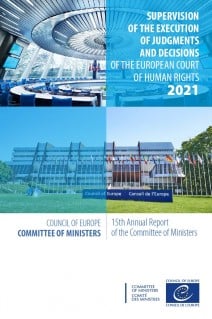  
Many positive developments but the system faces a number of serious challenge

This annual report presents an overview of major developments and outreach activities concerning the execution of judgments and decisions of the European Court of Human Rights. It also provides statistics concerning notably: new, pending and closed cases; action plans and reports submitted by respondent States; the length of the execution process; as well as just satisfaction awarded to applicants.

Although the Covid-19 pandemic continued to pose serious challenges, in 2021 the Committee of Ministers examined a record high number of cases at the four Human Rights meetings and closed more than 1,100 cases following the adoption by respondent States of individual, and a wide range of legislative and other general measures. Also, the participatory nature and transparency of the execution process were further reinforced, notably due to an ever increasing number of communications received by the Committee of Ministers from civil society organisations and national human rights institutions.

The execution process, however, continues to face a number of serious challenges. The increasing number of new judgments, including particularly complex inter-state and "Article 18" cases, places the system under strain. Concerns are also raised by delays in the submission by States of information vital for the execution process, such as action plans and reports and confirmation of payment of just satisfaction. In addition, several long-standing, systemic and structural problems at national level persist and require particular attention, although in a number of these cases progress has been made. As a result, further efforts should be pursued by member States and the Council of Europe to ensure that the Convention system can continue to respond effectively to the numerous human rights challenges Europe faces.
I. PREFACE BY THE CHAIRS OF THE HUMAN RIGHTS MEETINGS 
II. OVERVIEW OF MAJOR DEVELOPMENTS BY THE DIRECTOR GENERAL OF THE DIRECTORATE GENERAL OF HUMAN RIGHTS AND RULE OF LAW
Introductory remarks 
A. Major advances in cases examined by the Committee of Ministers 
B. Inter-state and other cases related to post-conflict situations or unresolved conflicts 
C. "Article 18" cases concerning abusive limitations of rights and freedoms 
D. Systemic/structural problems and advances 
E. Enhanced interaction with NHRIs, NGOs and law professionals 
Concluding remarks – urgent need to reinforce the execution process and national capacity 
III. OUTREACH ACTIVITIES (COOPERATION ACTIVITIES, COMMUNICATION AND INFORMATION) 
A. Activities of the Department for the Execution of the European Court's Judgments 
B. General Co-operation Activities and National Action Plans 
C. Targeted Convention-related activities 
D. Human Rights Education for Legal Professionals 
IV. STATISTICS 
A. Overview 
A.1. New cases 
A.2. Pending cases 
A.3. Closed cases 
B. New cases 
B.1. Leading or repetitive cases 
B.2. Enhanced or standard supervision 
B.3. New cases – State by State 
C. Pending cases 
C.1. Leading or repetitive cases 
C.2. Enhanced or standard supervision 
C.3. Pending cases – State by State 
D. Closed cases 
D.1. Leading or repetitive cases 
D.2. Enhanced or standard supervision 
D.3. Closed cases – State by State 
E. Supervision process 
E.1. Action plans/reports 
E.2. Interventions of the Committee of Ministers 
E.3. Transfers of leading cases/groups of cases 
E.4. Contributions by NHRIs and NGOs 
E.5. Main themes of leading cases under enhanced supervision 
E.6. Main States with leading cases under enhanced supervision 
F. Length of the execution process 
F.1. Leading cases pending 
F.2. Leading cases closed 
G. Just satisfaction 
G.1. Just satisfaction awarded 
G.2. Respect of payment deadlines 
H. Additional statistics 
H.1. Overview of friendly settlements and WECL cases 
H.2. WECL cases and Friendly settlements – State by State 
V. NEW JUDGMENTS WITH INDICATIONS OF RELEVANCE FOR THE EXECUTION 
A. Pilot judgments which became final in 2021 
B. Judgments with indications of relevance for the execution (under Article 46) which became final in 2021 
VI. FURTHER INFORMATION ON THE EXECUTION OF JUDGMENTS 
A. Internet 
B. Publications 
APPENDIX – GLOSSARY