Human rights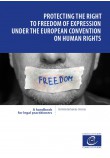 e-pub - Protecting the right to freedom of expression under the European Convention on Human Rights - A handbook for legal practitioners (2017)
Dominika Bychawska-Siniarska
REF. 048117GBR_epub
Type of document : Document
Format : Epub
Size : 201 KB
Language : English
Number of pages : 124
Other available formats
> PDF file
European Convention on Human Rights – Article 10 – Freedom of expression
1. Everyone has the right to freedom of expression. This right shall include freedom to hold opinions and to receive and impart information and ideas without interference by public authority and regardless of frontiers. This article shall not prevent States from requiring the licensing of broadcasting, television or cinema enterprises.
2. The exercise of these freedoms, since it carries with it duties and responsibilities, may be subject to such formalities, conditions, restrictions or penalties as are prescribed by law and are necessary in a democratic society, in the interests of national security, territorial integrity or public safety, for the prevention of disorder or crime, for the protection of health or morals, for the protection of the reputation or rights of others, for preventing the disclosure of information received in confidence, or for maintaining the authority and impartiality of the judiciary.
In the context of an effective democracy and respect for human rights mentioned in the Preamble to the European Convention on Human Rights, freedom of expression is not only important in its own right, but it also plays a central part in the protection of other rights under the Convention. Without a broad guarantee of the right to freedom of expression protected by independent and impartial courts, there is no free country, there is no democracy. This general proposition is undeniable.
This handbook is a practical tool for legal professionals from Council of Europe member states who wish to strengthen their skills in applying the European Convention on Human Rights and the case law of the European Court of Human Rights in their daily work.
ABOUT THE AUTHOR
ARTICLE 10 – FREEDOM OF EXPRESSION
INTRODUCTION
CHAPTER 1 – GENERAL CONSIDERATIONS ON ARTICLE 10
     1.1. Freedom to hold opinions
     1.2. Freedom to impart information and ideas
     1.3. Freedom to receive information and ideas
     1.4. Access to information
     1.5. Types of protected speech
CHAPTER 2 – DUTIES UNDER ARTICLE 10
CHAPTER 3 – UNPROTECTED SPEECH – HATE SPEECH, INCITEMENT TO VIOLENCE
     3.1. Incitement to violence
     3.2. Hate speech and racism
     3.3. Holocaust denial and references to Nazi ideology
CHAPTER 4 – THE SYSTEM OF RESTRICTIONS WITHIN THE EXERCISE OF THE RIGHT TO FREEDOM OF EXPRESSION – SECOND PARAGRAPH
     4.1. Permissible restrictions
     4.2. The three-part test
     4.3. Interference with the exercise of the right to freedom of expression
     4.4. Prescribed by law
     4.5. Legitimate aim
     4.6. Necessary in a democratic society
CHAPTER 5 – LIMITATIONS DUE TO "PUBLIC" REASONS
     5.1. Freedom of expression and national security
     5.2. Freedom of expression and territorial integrity
     5.3. Freedom of expression and prevention of disorder or crime
     5.4. Freedom of expression and morals
CHAPTER 6 – FREEDOM OF EXPRESSION AND REPUTATION
     6.1. Reputation of public figures
     6.2. Criticism of politicians
     6.3. High-ranking officials and civil servants
     6.4. Criticism of commercial entities
     6.5. Protection of minors
     6.6. Authority and impartiality of the judiciary
     6.7. Nature of expression
     6.8. Distinction between facts and opinions
     6.9. Good faith and due diligence
     6.10. Sanctions
CHAPTER 7 – RIGHTS OF OTHERS
CHAPTER 8 – FREEDOM OF EXPRESSION AND THE MEDIA
     8.1. Freedom of the press
     8.2. Positive obligations of the state and protection of journalists
     8.3. Freedom of radio and television broadcasting
     8.4. Duties and responsibilities of journalists
     8.5. Protection of journalistic sources
     8.6. Protection for whistle-blowers
CHAPTER 9 – FREEDOM OF EXPRESSION AND NEW TECHNOLOGIES
     9.1. Electronic surveillance
     9.2. General remarks on freedom of expression and the internet
     9.3. Blocking access
     9.4. Right to internet access
     9.5. Internet archives
     9.6. Liability for user-generated content
INDEX OF CASES