Society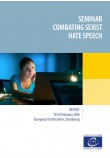 Seminar Combating Hate Speech - EYC Strasbourg, 10-12 February 2016 (2016)
REF. 167016GBR
Type of document : Document
Format : PDF
Size : 971 KB
Language : English
Number of pages : 54
While the impact of new information technologies on all aspects of modern societies and human life has been very positive, new vulnerabilities of our societies have emerged through the growth of the Internet and social media. The No Hate Speech Movement campaign was set up to mobilise young people for human rights online and countering hate speech.
In a survey carried out in 2015, women were one of the top three target groups of online hate speech encountered by the respondents. One thematic focus of the campaign is therefore sexist hate speech. Sexist hate speech is still too often seen as "acceptable", while in fact it is one of the most widespread and systemic forms of hate.
Women and girls receive threats and insults of a sexual character on a daily basis via emails, websites or social media, including threats of publishing personal photos and information. The aims are to humiliate and objectify women, to destroy their reputation and to make them vulnerable and fearful.
Sexist hate speech has devastating effects, especially on young women, and affects society's quest to achieve gender equality. The Council of Europe Gender Equality Strategy has the overall goal of achieving the advancement and empowering of women and the realisation of gender equality in member states. One of its five objectives is "combating gender stereotypes and sexism", including "combating sexism as a form of hate speech and integrating this dimension into Council of Europe action aiming at combating hate speech and discrimination (...)".
This report provides information about the extension of the problem, examples of action and priorities for educational and political action to seriously address and stop sexist hate speech.
Summary
Introduction
     Aims and objectives of the Seminar
     Presentations of the No Hate Speech Movement Campaign and of the Gender Equality Strategy
Causes and forms of sexist hate speech
Targets and impacts of sexist hate speech on women
     Targeted groups
     Impacts of sexist hate speech on women
Combating sexist hate speech
     Legal and policy frameworks to combating sexist hate speech and providing redress for victims
     Initiatives and projects to combat sexist hate speech
Moving forward in combating sexist hate speech
     Proposed activities for the No Hate Speech Movement, including the European Action Day against Sexist Hate Speech on 8 March 2016
     Proposed activities for other Council of Europe activities and sectors
     Proposed activities for national institutions and policies
     Proposed activities for partners of the Council of Europe, including nongovernmental and youth organisations, media organisations, platform providers and intermediaries
     Proposed activities for civil society
Appendix i – Presentation of initiatives on gender equality
Appendix ii – References
     Gender Equality and Violence against Women
     Media and internet
     Youth department and the No Hate Speech Movement
     United nations
     Videos
     References by participants