Internet literacy handbook
(2017)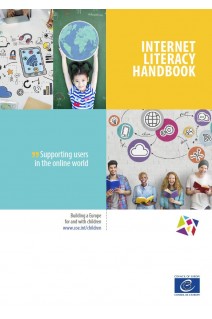  
Supporting users in the online world

Since the first edition of the Internet Literacy Handbook was issued in 2003 the world of the Internet has changed tremendously. The number of Internet users has risen; users are increasingly younger, trends in how people use the Internet and what they are looking for evolve, and new pitfalls in, for example, personal security arise seemingly overnight.
This new edition takes into account the myriad changes, although the object of the Handbook still remains, namely to offer families, educators and policy-makers sufficient technical know-how to allow them to navigate, with young people, through communication technology. The new edition also expands the scope of the Fact sheets anchoring previously "new" concepts of digital citizenship and digital parenting. This edition includes 26 Fact sheets arranged under 6 thematic headings including a heading specifically dedicated to "Looking Forward" towards the future of the Internet. The Handbook is designed to be easy to use and helpful, as illustrated by the Fact sheet entitled "Finding quality information on the Web". It is also available online, where it can be downloaded either in its full format or per individual factsheet.
FOREWORD
INTRODUCTION
1. INTERNET – ANYTIME, ANYWHERE
Fact sheet 1 – Getting connected
Fact sheet 2 – Online presence and the cloud
Fact sheet 3 – Web 2.0, Web 3.0 and more
Fact sheet 4 – Blogs and vlogs
Fact sheet 5 – Internet on the go
2. INTERNET – CONNECTING IDEAS AND PEOPLE
Fact sheet 6 – E-mail and communication
Fact sheet 7 – Chat and messaging media
Fact sheet 8 – Social networking and social sharing
Fact sheet 9 – Privacy and privacy settings
3. INTERNET – PARTICIPATING IN THE KNOWLEDGE SOCIETY
Fact sheet 10 – Searching for information
Fact sheet 11 – Finding quality information on the Web
Fact sheet 12 – Distance learning and MOOCs
Fact sheet 13 – Shopping online
4. INTERNET – FOR EVERYONE
Fact sheet 14 – Videos, music and images on the Internet
Fact sheet 15 – Creativity
Fact sheet 16 – Games
Fact sheet 17 – Digital citizenship
Fact sheet 18 – Digital parenting: positive and proactive
5. INTERNET – ADDRESSING THE CHALLENGE
Fact sheet 19 – Cybercrime: spam, malware, fraud and security
Fact sheet 20 – Labelling and filtering
Fact sheet 21 – Online harassment: bullying, stalking and trolling
Fact sheet 22 – Getting assistance
6. INTERNET - LOOKING FORWARD
Fact sheet 23 – Internet of things
Fact sheet 24 – Artificial intelligence, automation and disruptive technologies
Fact sheet 25 – Virtual and augmented reality
Fact sheet 26 – Are you the product? Big data, data mining and privacy