Principles for media and communication governance - Recommendation CM/Rec(2022)11 and explanatory report
(2022)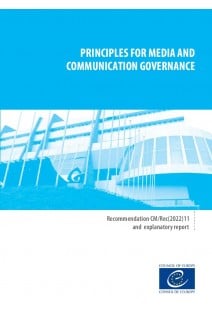  
Democratic societies are confronted with a structural transformation of the public sphere. Therefore, media and communication governance needs to be modernised. It needs to include both media and online platforms to guarantee a level playing field, an appropriate level of protection from undue interference and to provide States and relevant media stakeholders with a clear indication of their duties and responsibilities, in line with Council of Europe standards and values. To this end, the Recommendation contains fifteen procedural and substantive principles that should inform media and communication governance in the Council of Europe member States.

Procedural principles include transparency and accountability, openness and inclusiveness, independence and impartiality, evidence-based and impact-oriented governance choice as well as agility and flexibility.

The overarching substantive principle applicable to all stages of the communication process, namely production, dissemination, and use, involves promoting human rights and fundamental freedoms in communication. Substantive principles regarding production of media and communication include securing media freedom and promoting media pluralism, safeguarding the sustainability of journalism, ensuring transparency of content production and compliance with content obligations and professional standards.

Substantive principles regarding dissemination require functioning markets and protecting personal data in content dissemination, responding to the risks caused by platforms disseminating illegal content as well as legal but harmful content and mitigating the risks posed by algorithmic curation, selection and prioritisation. Finally, the principles regarding use involve guaranteeing human rights and fundamental freedoms in media and platform use and empowering users for their responsible use of communication channels.
RECOMMENDATION CM/REC(2022)11 
Preamble 
Appendix to Recommendation CM/Rec(2022)11 
EXPLANATORY REPORT 
Introduction 
Working methods 
Comments on Recommendation CM/Rec(2022)11 of the Committee of Ministers to member States on principles for media and communication governance 
Reference instruments