National parliaments as guarantors of human rights in Europe
()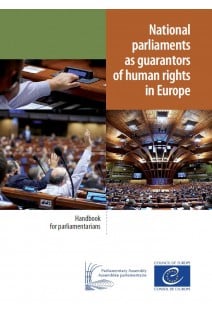  
Over nearly 70 years, the Parliamentary Assembly of the Council of Europe has been inspiring parliamentarians to make use of their democratic mandates to foster a pervasive culture of respect for human rights within a democracy underpinned by the rule of law.
As legislators and representatives of European citizens, parliamentarians have a responsibility, shared with the executive and judicial branches of their states to prevent and denounce human rights violations. They can do this by ensuring that international human rights norms are effectively implemented, norms which their countries have voluntarily signed up to, particularly those enshrined in the European Convention on Human Rights.
The purpose of this handbook is to equip parliamentarians from all over Europe to fulfil their responsibilities and seize opportunities to protect and implement human rights. For this purpose, the handbook reviews the structures, functions and working methods that allow parliaments to verify most effectively the compatibility of legislation, including draft legislation, andadministrative practices in their countries with European human rights standards. These emanate from the Convention but also from the case law of the Strasbourg Court, and the work of other Council of Europe bodies. As an inspiration, the handbook includes examples of best practices from a number of European parliaments.
FOREWORD
ABBREVIATIONS
GLOSSARY OF KEY TERMS
THE COUNCIL OF EUROPE IN BRIEF
     Parliamentary Assembly of the Council of Europe
     Committee of Ministers
     European Convention on Human Rights
     European Court of Human Rights
CHAPTER 1 – WHAT IS THE AIM OF THIS GUIDE?
CHAPTER 2 – WHAT HUMAN RIGHTS OBLIGATIONS DO PARLIAMENTARIANS HAVE?
     2.1. Increased recognition that parliamentarians are guarantors of human rights
     2.2. Parliamentarians' obligation to take positive action
CHAPTER 3 – WHAT SHOULD PARLIAMENTARIANS DO TO FULFIL THEIR HUMAN RIGHTS OBLIGATIONS?
     3.1. The human rights functions of parliamentarians
     3.2. How should the executive enable parliamentarians to carry out their human rights functions?
     3.3. Making shared responsibility for human rights a reality
CHAPTER 4 – HOW SHOULD PARLIAMENTARIANS ORGANISE THEMSELVES TO FULFIL THEIR HUMAN RIGHTS OBLIGATIONS?
     4.1. Different ways to organise parliamentary human rights work
     4.2. Supporting all parliamentarians to become guarantors of human rights
CHAPTER 5 – HOW CAN PARLIAMENTARIANS MAKE HUMAN RIGHTS STRUCTURES WORK EFFECTIVELY?
     5.1. Status and remit
     5.2. Membership
     5.3. Powers
     5.4. Working practices
     5.5. Developing external relationships
     5.6. Training and technical assistance
     5.7. Assessing the effectiveness of a human rights committee
CHAPTER 6 – HOW CAN PARLIAMENTARIANS WORK MORE CLOSELY WITH THE COUNCIL OF EUROPE?
     6.1. The special role and responsibility of Parliamentary Assembly delegates
     6.2. How all parliamentarians can build a closer relationship with the Council of Europe
     6.3. Earning deference from the European Court of Human Rights: how the Court respects good parliamentary practice
CONCLUSION
APPENDIX 1 – CHECKLIST FOR PARLIAMENTARIANS
APPENDIX 2 – PACE RESOLUTION 1823 (2011)
APPENDIX 3 – ADDITIONAL READING AND RESOURCES