Society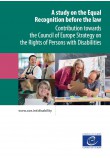 PDF - A study on the Equal Recognition before the law - Contribution towards the Council of Europe Strategy on the Rights of Persons with Disabilities (2017)
REF. 036017GBR
Type of document : Document
Format : PDF
Size : 1.216 MB
Language : English
Number of pages : 84
Equal recognition before the law: the capacity to hold rights and duties and the capacity to act on them.

This Study aims to identify ways and means of implementation of Article 121 of the UN Convention on the Rights of Persons with Disabilities (CRPD) which affirms the right to equal recognition before the law. It represents a paradigm shift from viewing persons with disabilities as objects of charity and medical treatment to identifying them as subjects with legal rights.

The requirements of Article 12 of the CRPD have been clearly interpreted by the UN CRPD Committee. Various bodies of the Council of Europe have acknowledged this shift in consensus regarding the right to universal legal capacity and have gradually moved towards affirming its applicability, most notably in the Council of Europe Strategy on the Rights of Persons with Disabilities 2017-2023. To reiterate, the Strategy asserts that the rights covered in it are to be interpreted in light of the UN CRPD.
Contents

INTRODUCTION
   Overview of Aims and Objectives of this Study
   Definition of Key Terms in this Study
ARTICLE 12 OF THE CRPD
   The interpretation of Article 12 by the UN CRPD Committee
   Subsequent commentary on General Comment No. 1 of the UN CRPD Committee
APPROACHES TAKEN IN MEMBER STATES OF THE COUNCIL OF EUROPE
   Reservations and Declarations to Article 12
   Overview of approaches taken in Council of Europe Member States
GOOD PRACTICE EXAMPLES FROM MEMBER AND OBSERVER STATES
   Ireland
   Bulgaria
   Sweden
   Israel
CONCLUSION
CHECKLIST FOR MEMBER STATES
LIST OF KEY RESOURCES FOR DESIGNING MEASURES TO IMPLEMENT ARTICLE 12 OF THE CRPD
   United Nations
   Council of Europe
   European Union
   Academic Commentary on Article 12 of the CRPD
   Civil Society
BIBLIOGRAPHY