Society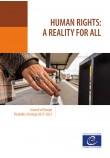 PDF - Human rights: a reality for all - Council of Europe Disability Strategy 2017-2023 (2017)
REF. 004217GBR
Type of document : Document
Format : PDF
Size : 274 KB
Language : English
Number of pages : 38
Other available languages
> French
Promoting the rights of persons with disabilities: Equality, dignity and equal opportunities.

The Council of Europe promotes, protects and monitors the implementation of human rights for all, including persons with disabilities. Persons with disabilities are entitled to have access to and enjoy, on an equal basis with others, the full range of human rights safeguarded by the European Convention on Human Rights, the European Social Charter, the United Nations Convention on the Rights of Persons with Disabilities and other international treaties. The Council of Europe Strategy on the Rights of Persons with Disabilities – Human Rights: A Reality for All – outlines the Organisation's priorities in the period 2017-2023.
The  overall  goal  of  the  Strategy  is  to  achieve  equality,  dignity  and  equal  opportunities for persons with disabilities in specific areas where the Council of Europe can make an input. This requires ensuring independence, freedom of choice, full and active participation in all areas of life and society.
Contents
FOREWORD
THE COUNCIL OF EUROPE AND THE RIGHTS OF PERSONS WITH DISABILITIES
   Context                                                                                                                                        
   Council of Europe Legal Standards  
   Council of Europe Disability Action Plan 2006-2015
   The new Strategy
   Risk management and national implementation
CROSS CUTTING THEMES
   Participation, co-operation and co-ordination
   Universal design and reasonable accommodation
   Gender equality perspective
   Multiple discrimination
   Education and training
PRIORITY AREAS
   Equality and non-discrimination
   Awareness raising
   Accessibility                                                                                                                             
   Equal recognition before the law  
   Freedom from exploitation, violence and abuse
WORKING METHODS
   Institutional setting
   Partnerships                                                                                                                            
   Communication                                                                                                                     
   Implementation and follow up