Sport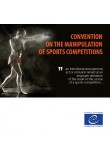 Convention on the manipulation of sports competitions (2017)
REF. 058717GBR
Type of document : Leaflet
Format : PDF
Size : 2.42 MB
Language : English
Number of pages : 6
Other available languages
> French > Portuguese > Russian > Spanish
What is the purpose of the convention?
■ The convention aims to facilitate national co-ordination and international co-operation against the threat of the manipulation of sports competitions, whether this is linked to criminal activity or to sports betting, or not.
■ To establish a set of standards and measures at international level to be implemented by public authorities, sports organisations and betting operators in order to prevent and combat manipulations of sports competitions.
■ To set up an international framework for the monitoring of these measures.