Array ( [id] => 2 [link] => [name] => [desc] => [children] => Array ( [0] => Array ( [id] => 7 [link] => https://edoc.coe.int/fr/7-ressources-en-ligne [name] => Ressources en ligne [desc] => [children] => Array ( [0] => Array ( [id] => 378 [link] => https://edoc.coe.int/fr/378-le-conseil-de-l-europe-en-bref [name] => Le Conseil de l'Europe en bref [desc] => [children] => Array ( [0] => Array ( [id] => 364 [link] => https://edoc.coe.int/fr/364-carte-des-etats-membres [name] => Carte des États membres [desc] => [children] => Array ( ) ) [1] => Array ( [id] => 381 [link] => https://edoc.coe.int/fr/381-un-aperu [name] => Un aperçu [desc] => [children] => Array ( ) ) [2] => Array ( [id] => 408 [link] => https://edoc.coe.int/fr/408-rapports-annuels-d-activite [name] => Rapports annuels d'activité [desc] => [children] => Array ( ) ) ) ) [1] => Array ( [id] => 170 [link] => https://edoc.coe.int/fr/170-droits-de-l-homme [name] => Droits de l'homme [desc] => [children] => Array ( [0] => Array ( [id] => 172 [link] => https://edoc.coe.int/fr/172-convention-europenne-des-droits-de-l-homme [name] => Convention européenne des droits de l'homme [desc] => [children] => Array ( ) ) [1] => Array ( [id] => 374 [link] => https://edoc.coe.int/fr/374-liberts-fondamentales [name] => Libertés fondamentales [desc] => [children] => Array ( ) ) [2] => Array ( [id] => 191 [link] => https://edoc.coe.int/fr/191-violence-l-gard-des-femmes [name] => Violence à l'égard des femmes [desc] => [children] => Array ( ) ) [3] => Array ( [id] => 187 [link] => https://edoc.coe.int/fr/187-droits-des-enfants [name] => Droits des enfants [desc] => [children] => Array ( ) ) [4] => Array ( [id] => 192 [link] => https://edoc.coe.int/fr/192-traite-des-etres-humains [name] => Traite des êtres humains [desc] => [children] => Array ( ) ) [5] => Array ( [id] => 372 [link] => https://edoc.coe.int/fr/372-rfugis [name] => Réfugiés [desc] => [children] => Array ( ) ) [6] => Array ( [id] => 176 [link] => https://edoc.coe.int/fr/176-peine-de-mort [name] => Peine de mort [desc] => [children] => Array ( ) ) [7] => Array ( [id] => 177 [link] => https://edoc.coe.int/fr/177-lutte-contre-la-torture [name] => Lutte contre la torture [desc] => [children] => Array ( ) ) [8] => Array ( [id] => 178 [link] => https://edoc.coe.int/fr/178-racisme [name] => Racisme [desc] => [children] => Array ( ) ) ) ) [2] => Array ( [id] => 179 [link] => https://edoc.coe.int/fr/179-democratie [name] => Démocratie [desc] => [children] => Array ( [0] => Array ( [id] => 180 [link] => https://edoc.coe.int/fr/180-dmocratie-locale [name] => Démocratie locale [desc] => [children] => Array ( ) ) [1] => Array ( [id] => 182 [link] => https://edoc.coe.int/fr/182-elections [name] => Elections [desc] => [children] => Array ( ) ) [2] => Array ( [id] => 181 [link] => https://edoc.coe.int/fr/181-forum-mondial-de-la-democratie [name] => Forum mondial de la démocratie [desc] => [children] => Array ( ) ) [3] => Array ( [id] => 413 [link] => https://edoc.coe.int/fr/413-societe-civile [name] => Société civile [desc] => [children] => Array ( ) ) ) ) [3] => Array ( [id] => 233 [link] => https://edoc.coe.int/fr/233-droit [name] => Droit [desc] => [children] => Array ( [0] => Array ( [id] => 234 [link] => https://edoc.coe.int/fr/234-crime-organise [name] => Crime organisé [desc] => [children] => Array ( ) ) [1] => Array ( [id] => 235 [link] => https://edoc.coe.int/fr/235-corruption [name] => Corruption [desc] => [children] => Array ( ) ) [2] => Array ( [id] => 237 [link] => https://edoc.coe.int/fr/237-protection-des-donnees [name] => Protection des données [desc] => [children] => Array ( ) ) [3] => Array ( [id] => 175 [link] => https://edoc.coe.int/fr/175-reforme-penitentiaire-europeenne [name] => Réforme pénitentiaire européenne [desc] => [children] => Array ( ) ) [4] => Array ( [id] => 238 [link] => https://edoc.coe.int/fr/238-terrorisme [name] => Terrorisme [desc] => [children] => Array ( ) ) [5] => Array ( [id] => 239 [link] => https://edoc.coe.int/fr/239-efficacite-de-la-justice [name] => Efficacité de la justice [desc] => [children] => Array ( ) ) [6] => Array ( [id] => 379 [link] => https://edoc.coe.int/fr/379-droit-international [name] => Droit international [desc] => [children] => Array ( ) ) ) ) [4] => Array ( [id] => 193 [link] => https://edoc.coe.int/fr/193-societe [name] => Société [desc] => [children] => Array ( [0] => Array ( [id] => 194 [link] => https://edoc.coe.int/fr/194-vivre-ensemble-diversite-et-liberte-en-europe [name] => Vivre ensemble - diversité et liberté en Europe [desc] => [children] => Array ( ) ) [1] => Array ( [id] => 195 [link] => https://edoc.coe.int/fr/195-charte-sociale [name] => Charte sociale [desc] => [children] => Array ( ) ) [2] => Array ( [id] => 205 [link] => https://edoc.coe.int/fr/205-lutte-contre-la-toxicomanie [name] => Lutte contre la toxicomanie [desc] => [children] => Array ( ) ) [3] => Array ( [id] => 196 [link] => https://edoc.coe.int/fr/196-migrations [name] => Migrations [desc] => [children] => Array ( ) ) [4] => Array ( [id] => 197 [link] => https://edoc.coe.int/fr/197-banque-de-developpement-du-conseil-de-l-europe [name] => Banque de développement du Conseil de l'Europe [desc] => [children] => Array ( ) ) [5] => Array ( [id] => 222 [link] => https://edoc.coe.int/fr/222-lgbt [name] => LGBT [desc] => [children] => Array ( ) ) [6] => Array ( [id] => 223 [link] => https://edoc.coe.int/fr/223-personnes-handicapees [name] => Personnes handicapées [desc] => [children] => Array ( ) ) [7] => Array ( [id] => 190 [link] => https://edoc.coe.int/fr/190-egalite-hommesfemmes [name] => Egalité hommes/femmes [desc] => [children] => Array ( ) ) ) ) [5] => Array ( [id] => 198 [link] => https://edoc.coe.int/fr/198-nouvelles-technologies-medias [name] => Nouvelles technologies / Médias [desc] => [children] => Array ( [0] => Array ( [id] => 199 [link] => https://edoc.coe.int/fr/199-internet [name] => Internet [desc] => [children] => Array ( ) ) [1] => Array ( [id] => 200 [link] => https://edoc.coe.int/fr/200-les-enfants-et-l-internet [name] => Les enfants et l'Internet [desc] => [children] => Array ( ) ) [2] => Array ( [id] => 201 [link] => https://edoc.coe.int/fr/201-medias [name] => Médias [desc] => [children] => Array ( ) ) [3] => Array ( [id] => 202 [link] => https://edoc.coe.int/fr/202-cybercriminalite [name] => Cybercriminalité [desc] => [children] => Array ( ) ) [4] => Array ( [id] => 410 [link] => https://edoc.coe.int/fr/410-intelligence-artificielle [name] => Intelligence artificielle [desc] => [children] => Array ( ) ) ) ) [6] => Array ( [id] => 203 [link] => https://edoc.coe.int/fr/203-sante [name] => Santé [desc] => [children] => Array ( [0] => Array ( [id] => 204 [link] => https://edoc.coe.int/fr/204-bioethique [name] => Bioéthique [desc] => [children] => Array ( ) ) [1] => Array ( [id] => 206 [link] => https://edoc.coe.int/fr/206-mdicaments [name] => Médicaments [desc] => [children] => Array ( ) ) [2] => Array ( [id] => 207 [link] => https://edoc.coe.int/fr/207-soins-de-sant [name] => Soins de santé [desc] => [children] => Array ( ) ) ) ) [7] => Array ( [id] => 208 [link] => https://edoc.coe.int/fr/208-culture-patrimoine-nature [name] => Culture, patrimoine, nature [desc] => [children] => Array ( [0] => Array ( [id] => 210 [link] => https://edoc.coe.int/fr/210-la-convention-culturelle-europenne [name] => La Convention culturelle européenne [desc] => [children] => Array ( ) ) [1] => Array ( [id] => 211 [link] => https://edoc.coe.int/fr/211-dialogue-interculturel-et-interreligieux [name] => Dialogue interculturel et interreligieux [desc] => [children] => Array ( ) ) [2] => Array ( [id] => 212 [link] => https://edoc.coe.int/fr/212-environnement [name] => Environnement [desc] => [children] => Array ( ) ) [3] => Array ( [id] => 214 [link] => https://edoc.coe.int/fr/214-culture-et-democratie [name] => Culture et démocratie [desc] => [children] => Array ( ) ) [4] => Array ( [id] => 397 [link] => https://edoc.coe.int/fr/397-patrimoine-culturel [name] => Patrimoine culturel [desc] => [children] => Array ( ) ) ) ) [8] => Array ( [id] => 215 [link] => https://edoc.coe.int/fr/215-le-conseil-de-l-europe-et-l-union-europenne [name] => Le Conseil de l'Europe et l'Union européenne [desc] => [children] => Array ( [0] => Array ( [id] => 216 [link] => https://edoc.coe.int/fr/216-missions-diffrentes-valeurs-communes [name] => Missions différentes, valeurs communes [desc] => [children] => Array ( ) ) [1] => Array ( [id] => 217 [link] => https://edoc.coe.int/fr/217-partenariats [name] => Partenariats [desc] => [children] => Array ( ) ) ) ) [9] => Array ( [id] => 218 [link] => https://edoc.coe.int/fr/218-droits-des-minorits [name] => Droits des minorités [desc] => [children] => Array ( [0] => Array ( [id] => 219 [link] => https://edoc.coe.int/fr/219-minorites-nationales [name] => Minorités nationales [desc] => [children] => Array ( ) ) [1] => Array ( [id] => 220 [link] => https://edoc.coe.int/fr/220-langues-minoritaires [name] => Langues minoritaires [desc] => [children] => Array ( ) ) [2] => Array ( [id] => 221 [link] => https://edoc.coe.int/fr/221-roms [name] => Roms [desc] => [children] => Array ( ) ) ) ) [10] => Array ( [id] => 224 [link] => https://edoc.coe.int/fr/224-education [name] => Education [desc] => [children] => Array ( [0] => Array ( [id] => 226 [link] => https://edoc.coe.int/fr/226-enseignement-de-l-histoire [name] => Enseignement de l'Histoire [desc] => [children] => Array ( ) ) [1] => Array ( [id] => 393 [link] => https://edoc.coe.int/fr/393-droits-de-l-homme-citoyennete-democratique-et-interculturalisme [name] => Droits de l'homme, citoyenneté démocratique et interculturalisme [desc] => [children] => Array ( ) ) [2] => Array ( [id] => 394 [link] => https://edoc.coe.int/fr/394-apprentissage-des-langues [name] => Apprentissage des langues [desc] => [children] => Array ( ) ) [3] => Array ( [id] => 398 [link] => https://edoc.coe.int/fr/398-formation-des-enseignants [name] => Formation des enseignants [desc] => [children] => Array ( ) ) ) ) [11] => Array ( [id] => 382 [link] => https://edoc.coe.int/fr/382-jeunesse [name] => Jeunesse [desc] => [children] => Array ( [0] => Array ( [id] => 392 [link] => https://edoc.coe.int/fr/392-les-jeunes-en-europe [name] => Les jeunes en Europe [desc] => [children] => Array ( ) ) ) ) [12] => Array ( [id] => 383 [link] => https://edoc.coe.int/fr/383-sport [name] => Sport [desc] => [children] => Array ( [0] => Array ( [id] => 384 [link] => https://edoc.coe.int/fr/384-sport-pour-tous [name] => Sport pour tous [desc] => [children] => Array ( ) ) [1] => Array ( [id] => 390 [link] => https://edoc.coe.int/fr/390-dopage [name] => Dopage [desc] => [children] => Array ( ) ) [2] => Array ( [id] => 391 [link] => https://edoc.coe.int/fr/391-la-violence-dans-le-sport [name] => La violence dans le sport [desc] => [children] => Array ( ) ) ) ) [13] => Array ( [id] => 240 [link] => https://edoc.coe.int/fr/240-institutions [name] => Institutions [desc] => [children] => Array ( [0] => Array ( [id] => 242 [link] => https://edoc.coe.int/fr/242-assemblee-parlementaire [name] => Assemblée parlementaire [desc] => [children] => Array ( ) ) [1] => Array ( [id] => 243 [link] => https://edoc.coe.int/fr/243-congres-des-pouvoirs-locaux-et-regionaux [name] => Congrès des pouvoirs locaux et régionaux [desc] => [children] => Array ( ) ) [2] => Array ( [id] => 244 [link] => https://edoc.coe.int/fr/244-cour-europenne-des-droits-de-lhomme [name] => Cour européenne des droits de l'homme [desc] => [children] => Array ( ) ) [3] => Array ( [id] => 245 [link] => https://edoc.coe.int/fr/245-commissaire-aux-droits-de-lhomme [name] => Commissaire aux droits de l'homme [desc] => [children] => Array ( ) ) [4] => Array ( [id] => 246 [link] => https://edoc.coe.int/fr/246-confrence-des-oing [name] => Conférence des OING [desc] => [children] => Array ( ) ) [5] => Array ( [id] => 247 [link] => https://edoc.coe.int/fr/247-conferences-sur-l-avenir-de-la-cour-europeenne-des-droits-de-l-homme [name] => Conférences sur l'avenir de la Cour européenne des droits de l'homme [desc] => [children] => Array ( ) ) ) ) [14] => Array ( [id] => 386 [link] => https://edoc.coe.int/fr/386-ressources-pour-les-plus-jeunes [name] => Ressources pour les plus jeunes [desc] => [children] => Array ( [0] => Array ( [id] => 387 [link] => https://edoc.coe.int/fr/387-6-10-ans [name] => 6 - 10 ans [desc] => [children] => Array ( ) ) [1] => Array ( [id] => 389 [link] => https://edoc.coe.int/fr/389-11-18-ans [name] => 11 - 18 ans [desc] => [children] => Array ( ) ) ) ) [15] => Array ( [id] => 402 [link] => https://edoc.coe.int/fr/402-ressources-pour-les-enseignants [name] => Ressources pour les enseignants [desc] => [children] => Array ( [0] => Array ( [id] => 404 [link] => https://edoc.coe.int/fr/404-outils-pedagogiques [name] => Outils pédagogiques [desc] => [children] => Array ( ) ) [1] => Array ( [id] => 407 [link] => https://edoc.coe.int/fr/407-enseignement-de-l-histoire [name] => Enseignement de l'histoire [desc] => [children] => Array ( ) ) ) ) ) ) ) ) 1
Catalogue
Newsletter
Restez informés
Souscrivez à notre newsletter
Souscrivez à notre newsletter
Competences for democratic culture - Living together as equals in culturally diverse democratic societies - Executive summary
(2016)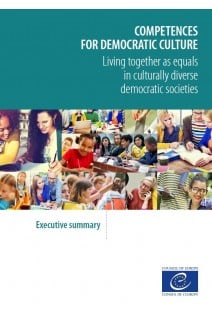  
Contemporary societies within Europe face many challenges, including declining levels of voter turnout in elections, increased distrust of politicians, high levels of hate crime, intolerance and prejudice towards minority ethnic and religious groups, and increasing levels of support for violent extremism. These challenges threaten the legitimacy of democratic institutions and peaceful co-existence within Europe.
Formal education is a vital tool that can be used to tackle these challenges. Appropriate educational input and practices can boost democratic engagement, reduce intolerance and prejudice, and decrease support for violent extremism. However, to achieve these goals, educationists need a clear understanding of the democratic competences that should be targeted by the curriculum.
The Council of Europe has produced a new conceptual model of the competences which citizens require to participate in democratic culture and live peacefully together with others in culturally diverse societies.
This brochure contains the executive summary of Competences for Democratic Culture for quick and easy reference. The full text is available in Council of Europe publication ISBN 978-92-871-8237-1.