Array ( [id] => 2 [link] => [name] => [desc] => [children] => Array ( [0] => Array ( [id] => 7 [link] => https://edoc.coe.int/fr/7-ressources-en-ligne [name] => Ressources en ligne [desc] => [children] => Array ( [0] => Array ( [id] => 378 [link] => https://edoc.coe.int/fr/378-le-conseil-de-l-europe-en-bref [name] => Le Conseil de l'Europe en bref [desc] => [children] => Array ( [0] => Array ( [id] => 364 [link] => https://edoc.coe.int/fr/364-carte-des-etats-membres [name] => Carte des États membres [desc] => [children] => Array ( ) ) [1] => Array ( [id] => 381 [link] => https://edoc.coe.int/fr/381-un-aperu [name] => Un aperçu [desc] => [children] => Array ( ) ) [2] => Array ( [id] => 408 [link] => https://edoc.coe.int/fr/408-rapports-annuels-d-activite [name] => Rapports annuels d'activité [desc] => [children] => Array ( ) ) ) ) [1] => Array ( [id] => 170 [link] => https://edoc.coe.int/fr/170-droits-de-l-homme [name] => Droits de l'homme [desc] => [children] => Array ( [0] => Array ( [id] => 172 [link] => https://edoc.coe.int/fr/172-convention-europenne-des-droits-de-l-homme [name] => Convention européenne des droits de l'homme [desc] => [children] => Array ( ) ) [1] => Array ( [id] => 374 [link] => https://edoc.coe.int/fr/374-liberts-fondamentales [name] => Libertés fondamentales [desc] => [children] => Array ( ) ) [2] => Array ( [id] => 191 [link] => https://edoc.coe.int/fr/191-violence-l-gard-des-femmes [name] => Violence à l'égard des femmes [desc] => [children] => Array ( ) ) [3] => Array ( [id] => 187 [link] => https://edoc.coe.int/fr/187-droits-des-enfants [name] => Droits des enfants [desc] => [children] => Array ( ) ) [4] => Array ( [id] => 192 [link] => https://edoc.coe.int/fr/192-traite-des-etres-humains [name] => Traite des êtres humains [desc] => [children] => Array ( ) ) [5] => Array ( [id] => 372 [link] => https://edoc.coe.int/fr/372-rfugis [name] => Réfugiés [desc] => [children] => Array ( ) ) [6] => Array ( [id] => 176 [link] => https://edoc.coe.int/fr/176-peine-de-mort [name] => Peine de mort [desc] => [children] => Array ( ) ) [7] => Array ( [id] => 177 [link] => https://edoc.coe.int/fr/177-lutte-contre-la-torture [name] => Lutte contre la torture [desc] => [children] => Array ( ) ) [8] => Array ( [id] => 178 [link] => https://edoc.coe.int/fr/178-racisme [name] => Racisme [desc] => [children] => Array ( ) ) ) ) [2] => Array ( [id] => 179 [link] => https://edoc.coe.int/fr/179-democratie [name] => Démocratie [desc] => [children] => Array ( [0] => Array ( [id] => 180 [link] => https://edoc.coe.int/fr/180-dmocratie-locale [name] => Démocratie locale [desc] => [children] => Array ( ) ) [1] => Array ( [id] => 182 [link] => https://edoc.coe.int/fr/182-elections [name] => Elections [desc] => [children] => Array ( ) ) [2] => Array ( [id] => 181 [link] => https://edoc.coe.int/fr/181-forum-mondial-de-la-democratie [name] => Forum mondial de la démocratie [desc] => [children] => Array ( ) ) ) ) [3] => Array ( [id] => 233 [link] => https://edoc.coe.int/fr/233-droit [name] => Droit [desc] => [children] => Array ( [0] => Array ( [id] => 234 [link] => https://edoc.coe.int/fr/234-crime-organise [name] => Crime organisé [desc] => [children] => Array ( ) ) [1] => Array ( [id] => 235 [link] => https://edoc.coe.int/fr/235-corruption [name] => Corruption [desc] => [children] => Array ( ) ) [2] => Array ( [id] => 175 [link] => https://edoc.coe.int/fr/175-reforme-penitentiaire-europeenne [name] => Réforme pénitentiaire européenne [desc] => [children] => Array ( ) ) [3] => Array ( [id] => 238 [link] => https://edoc.coe.int/fr/238-terrorisme [name] => Terrorisme [desc] => [children] => Array ( ) ) [4] => Array ( [id] => 239 [link] => https://edoc.coe.int/fr/239-efficacite-de-la-justice [name] => Efficacité de la justice [desc] => [children] => Array ( ) ) [5] => Array ( [id] => 379 [link] => https://edoc.coe.int/fr/379-droit-international [name] => Droit international [desc] => [children] => Array ( ) ) ) ) [4] => Array ( [id] => 193 [link] => https://edoc.coe.int/fr/193-societe [name] => Société [desc] => [children] => Array ( [0] => Array ( [id] => 194 [link] => https://edoc.coe.int/fr/194-vivre-ensemble-diversite-et-liberte-en-europe [name] => Vivre ensemble - diversité et liberté en Europe [desc] => [children] => Array ( ) ) [1] => Array ( [id] => 195 [link] => https://edoc.coe.int/fr/195-charte-sociale [name] => Charte sociale [desc] => [children] => Array ( ) ) [2] => Array ( [id] => 205 [link] => https://edoc.coe.int/fr/205-lutte-contre-la-toxicomanie [name] => Lutte contre la toxicomanie [desc] => [children] => Array ( ) ) [3] => Array ( [id] => 196 [link] => https://edoc.coe.int/fr/196-migrations [name] => Migrations [desc] => [children] => Array ( ) ) [4] => Array ( [id] => 197 [link] => https://edoc.coe.int/fr/197-banque-de-developpement-du-conseil-de-l-europe [name] => Banque de développement du Conseil de l'Europe [desc] => [children] => Array ( ) ) [5] => Array ( [id] => 222 [link] => https://edoc.coe.int/fr/222-lgbt [name] => LGBT [desc] => [children] => Array ( ) ) [6] => Array ( [id] => 223 [link] => https://edoc.coe.int/fr/223-personnes-handicapees [name] => Personnes handicapées [desc] => [children] => Array ( ) ) [7] => Array ( [id] => 190 [link] => https://edoc.coe.int/fr/190-egalite-hommesfemmes [name] => Egalité hommes/femmes [desc] => [children] => Array ( ) ) ) ) [5] => Array ( [id] => 198 [link] => https://edoc.coe.int/fr/198-nouvelles-technologies-medias [name] => Nouvelles technologies / Médias [desc] => [children] => Array ( [0] => Array ( [id] => 199 [link] => https://edoc.coe.int/fr/199-internet [name] => Internet [desc] => [children] => Array ( ) ) [1] => Array ( [id] => 200 [link] => https://edoc.coe.int/fr/200-les-enfants-et-l-internet [name] => Les enfants et l'Internet [desc] => [children] => Array ( ) ) [2] => Array ( [id] => 201 [link] => https://edoc.coe.int/fr/201-medias [name] => Médias [desc] => [children] => Array ( ) ) [3] => Array ( [id] => 202 [link] => https://edoc.coe.int/fr/202-cybercriminalite [name] => Cybercriminalité [desc] => [children] => Array ( ) ) [4] => Array ( [id] => 410 [link] => https://edoc.coe.int/fr/410-intelligence-artificielle [name] => Intelligence artificielle [desc] => [children] => Array ( ) ) ) ) [6] => Array ( [id] => 203 [link] => https://edoc.coe.int/fr/203-sante [name] => Santé [desc] => [children] => Array ( [0] => Array ( [id] => 204 [link] => https://edoc.coe.int/fr/204-bioethique [name] => Bioéthique [desc] => [children] => Array ( ) ) [1] => Array ( [id] => 206 [link] => https://edoc.coe.int/fr/206-mdicaments [name] => Médicaments [desc] => [children] => Array ( ) ) [2] => Array ( [id] => 207 [link] => https://edoc.coe.int/fr/207-soins-de-sant [name] => Soins de santé [desc] => [children] => Array ( ) ) ) ) [7] => Array ( [id] => 208 [link] => https://edoc.coe.int/fr/208-culture-patrimoine-nature [name] => Culture, patrimoine, nature [desc] => [children] => Array ( [0] => Array ( [id] => 210 [link] => https://edoc.coe.int/fr/210-la-convention-culturelle-europenne [name] => La Convention culturelle européenne [desc] => [children] => Array ( ) ) [1] => Array ( [id] => 211 [link] => https://edoc.coe.int/fr/211-dialogue-interculturel-et-interreligieux [name] => Dialogue interculturel et interreligieux [desc] => [children] => Array ( ) ) [2] => Array ( [id] => 212 [link] => https://edoc.coe.int/fr/212-environnement [name] => Environnement [desc] => [children] => Array ( ) ) [3] => Array ( [id] => 214 [link] => https://edoc.coe.int/fr/214-culture-et-democratie [name] => Culture et démocratie [desc] => [children] => Array ( ) ) [4] => Array ( [id] => 397 [link] => https://edoc.coe.int/fr/397-patrimoine-culturel [name] => Patrimoine culturel [desc] => [children] => Array ( ) ) ) ) [8] => Array ( [id] => 215 [link] => https://edoc.coe.int/fr/215-le-conseil-de-l-europe-et-l-union-europenne [name] => Le Conseil de l'Europe et l'Union européenne [desc] => [children] => Array ( [0] => Array ( [id] => 216 [link] => https://edoc.coe.int/fr/216-missions-diffrentes-valeurs-communes [name] => Missions différentes, valeurs communes [desc] => [children] => Array ( ) ) [1] => Array ( [id] => 217 [link] => https://edoc.coe.int/fr/217-partenariats [name] => Partenariats [desc] => [children] => Array ( ) ) ) ) [9] => Array ( [id] => 218 [link] => https://edoc.coe.int/fr/218-droits-des-minorits [name] => Droits des minorités [desc] => [children] => Array ( [0] => Array ( [id] => 219 [link] => https://edoc.coe.int/fr/219-minorites-nationales [name] => Minorités nationales [desc] => [children] => Array ( ) ) [1] => Array ( [id] => 220 [link] => https://edoc.coe.int/fr/220-langues-minoritaires [name] => Langues minoritaires [desc] => [children] => Array ( ) ) [2] => Array ( [id] => 221 [link] => https://edoc.coe.int/fr/221-roms [name] => Roms [desc] => [children] => Array ( ) ) ) ) [10] => Array ( [id] => 224 [link] => https://edoc.coe.int/fr/224-education [name] => Education [desc] => [children] => Array ( [0] => Array ( [id] => 393 [link] => https://edoc.coe.int/fr/393-droits-de-l-homme-citoyennete-democratique-et-interculturalisme [name] => Droits de l'homme, citoyenneté démocratique et interculturalisme [desc] => [children] => Array ( ) ) [1] => Array ( [id] => 394 [link] => https://edoc.coe.int/fr/394-apprentissage-des-langues [name] => Apprentissage des langues [desc] => [children] => Array ( ) ) [2] => Array ( [id] => 398 [link] => https://edoc.coe.int/fr/398-formation-des-enseignants [name] => Formation des enseignants [desc] => [children] => Array ( ) ) ) ) [11] => Array ( [id] => 382 [link] => https://edoc.coe.int/fr/382-jeunesse [name] => Jeunesse [desc] => [children] => Array ( [0] => Array ( [id] => 392 [link] => https://edoc.coe.int/fr/392-la-participation-des-jeunes [name] => La participation des jeunes [desc] => [children] => Array ( ) ) ) ) [12] => Array ( [id] => 383 [link] => https://edoc.coe.int/fr/383-sport [name] => Sport [desc] => [children] => Array ( [0] => Array ( [id] => 384 [link] => https://edoc.coe.int/fr/384-sport-pour-tous [name] => Sport pour tous [desc] => [children] => Array ( ) ) [1] => Array ( [id] => 390 [link] => https://edoc.coe.int/fr/390-dopage [name] => Dopage [desc] => [children] => Array ( ) ) [2] => Array ( [id] => 391 [link] => https://edoc.coe.int/fr/391-la-violence-dans-le-sport [name] => La violence dans le sport [desc] => [children] => Array ( ) ) ) ) [13] => Array ( [id] => 240 [link] => https://edoc.coe.int/fr/240-institutions [name] => Institutions [desc] => [children] => Array ( [0] => Array ( [id] => 242 [link] => https://edoc.coe.int/fr/242-assemblee-parlementaire [name] => Assemblée parlementaire [desc] => [children] => Array ( ) ) [1] => Array ( [id] => 243 [link] => https://edoc.coe.int/fr/243-congres-des-pouvoirs-locaux-et-regionaux [name] => Congrès des pouvoirs locaux et régionaux [desc] => [children] => Array ( ) ) [2] => Array ( [id] => 244 [link] => https://edoc.coe.int/fr/244-cour-europenne-des-droits-de-lhomme [name] => Cour européenne des droits de l'homme [desc] => [children] => Array ( ) ) [3] => Array ( [id] => 245 [link] => https://edoc.coe.int/fr/245-commissaire-aux-droits-de-lhomme [name] => Commissaire aux droits de l'homme [desc] => [children] => Array ( ) ) [4] => Array ( [id] => 246 [link] => https://edoc.coe.int/fr/246-confrence-des-oing [name] => Conférence des OING [desc] => [children] => Array ( ) ) [5] => Array ( [id] => 247 [link] => https://edoc.coe.int/fr/247-conferences-sur-l-avenir-de-la-cour-europeenne-des-droits-de-l-homme [name] => Conférences sur l'avenir de la Cour européenne des droits de l'homme [desc] => [children] => Array ( ) ) ) ) [14] => Array ( [id] => 386 [link] => https://edoc.coe.int/fr/386-ressources-pour-les-plus-jeunes [name] => Ressources pour les plus jeunes [desc] => [children] => Array ( [0] => Array ( [id] => 387 [link] => https://edoc.coe.int/fr/387-6-10-ans [name] => 6 - 10 ans [desc] => [children] => Array ( ) ) [1] => Array ( [id] => 389 [link] => https://edoc.coe.int/fr/389-11-18-ans [name] => 11 - 18 ans [desc] => [children] => Array ( ) ) ) ) [15] => Array ( [id] => 402 [link] => https://edoc.coe.int/fr/402-ressources-pour-les-enseignants [name] => Ressources pour les enseignants [desc] => [children] => Array ( [0] => Array ( [id] => 404 [link] => https://edoc.coe.int/fr/404-outils-pedagogiques [name] => Outils pédagogiques [desc] => [children] => Array ( ) ) [1] => Array ( [id] => 407 [link] => https://edoc.coe.int/fr/407-enseignement-de-l-histoire [name] => Enseignement de l'histoire [desc] => [children] => Array ( ) ) ) ) ) ) ) ) 1
Catalogue
Newsletter
Restez informés
Souscrivez à notre newsletter
Souscrivez à notre newsletter
Council of Europe contribution to the United Nations 2030 Agenda for Sustainable Development
(2018)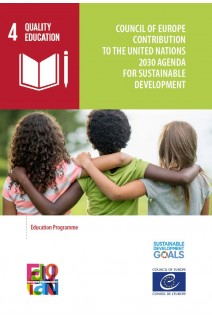  
On 1 January 2016, the World started implementing the "UN 2030 Agenda for Sustainable Development", an ambitious and universal vision, based on 17 Sustainable Development Goals (SDGs) and 169 associated targets, which are all integrated, indivisible and interlinked.
They apply universally to all and are highly relevant for the Council of Europe; countries are expected to take ownership and establish national frameworks for the achievement of the 17 goals. Most, if not all, of the Council of Europe's activities are relevant and contribute to the implementation of the UN 2030 Agenda and the achievement of the SDGs.
Recognising the intrinsic links between sustainable development and the protection of human rights, the Council of Europe is committed to working with and supporting its 47 member states in implementing the UN 2030 Agenda through a wide range of actions.