Guide to knowledge translation - Communicating youth research in six steps
(2021)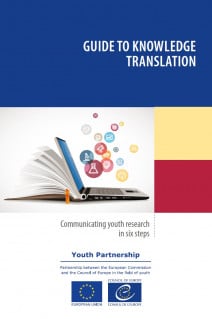  
To get the right information to the right people at the right time..

Youth researchers gather knowledge and data about young people's lives, providing much-needed evidence for the development of better and more relevant youth policy and youth work initiatives. But how do they explain their findings to others? In order for the acquired knowledge to support policy and practice, it is crucial that research findings are effectively communicated to policy makers, practitioners, youth organisations and young people.

Knowledge translation is a set of tools and activities that can help researchers in this process. This knowledge translation guide supports researchers in identifying the relevant findings and messages to be shared with different audiences, identifying their knowledge needs, developing communication materials and dissemination strategies, as well as evaluating the effectiveness of such communication.
INTRODUCTION 
What is knowledge translation? 
Origins of knowledge translation 
Essential factors in reaching policy makers and practitioners 
The six steps of knowledge translation adapted to youth research needs 
IDENTIFY YOUR RESEARCH RESULTS 
1. Scientific (academic) results (raw evidence) – mostly of interest to the academic community 
2. Results that can be translated (information that can contribute to or guide policy making and practice) 
3. Direct social impact/progress generated by the research study to date 
4. Social impact in the long term 
ESTABLISH WHAT OUTCOMES YOU WANT TO ACHIEVE WITH THE RESEARCH RESULTS 
IDENTIFY YOUR KNOWLEDGE USERS 
Working with stakeholders to reach your audience(s) 
DEVELOP CONTENT AND ARGUMENTS (THE MESSAGES) 
A message for each audience 
Music to the ears of your knowledge users 
Identifying the key messages and information 
The four steps to developing the best messages 
Delivering bad news 
REACHING THE AUDIENCES (FORMAT AND DISSEMINATION) 
A strategy for each audience 
FOLLOW-UP AND EVALUATION 
Reach indicators 
Uptake indicators 
Use indicators 
Other results indicators 
REFERENCES 
Other relevant resources on youth research