Ireland takes over the Chairmanship of the Committee of Ministers
Published : 05/23/2022 11:06:06
Categories :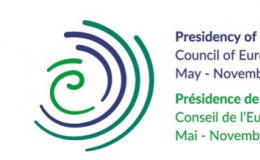 On 20 May, Ireland has taken over the rotating Chairmanship of the Council of Europe's Committee of Ministers from Italy at the annual meeting of foreign ministers from the organisation's 46 member states. Ireland's Presidency will focus on three main priorities: reinforcing human rights and the protection of civilians in Europe, promoting participatory democracy and youth engagement, and fostering a Europe of welcome, inclusion, and diversity.
On this occasion, the Directorate of Communications of the Council of Europe invites you to discover a selection of publications to order (http://book.coe.int) and free downloadable information material (http://edoc.coe.int) in Irish language.
Treoir don Choinbhinsiún Eorpach um Chearta an Duine

An ceart chun na beatha, toirmeasc ar chéastóireacht, saoirse smaoinimh, coinsiasa agus reiligiúin, saoirse chun tuairimí a nochtadh, an ceart chun pósadh... An raibh a fhios agat go gcosnaítear na cearta sin agus go leor eile leis an gCoinbhinsiún Eorpach um Chearta an Duine? Léiríonn údar an leabhráin seo na cearta sin go simplí agus go beacht, le samplaí sonracha. Leagann sé gníomh na Cúirte Eorpaí um Chearta an Duine i gcomhthéacs ghníomhaíochtaí Chomhairle na hEorpa a bhfuil na cuspóirí céanna acu.

Comhairle Na Heorpa – Caomhnóir Chearta An Duine

Cuireann an bhileog seo Comhairle na hEorpa, Guardian of Human Rights i láthair. Míníonn sé feidhmiú a chuid institiúidí éagsúla agus a ghníomh maidir le comhair idirnáisiúnta.

An Eoraip agus a cuid institiúidí


Ainmneacha cosúla – an aithníonn tú óna chéile iad?

Is réamhrá don Chúirt agus na príomh-dátaí ina stair í an bhileog ghearr. Tugann sé achoimre ghearr ar an gCoinbhinsiún agus ar na ráthaíochtaí agus na toirmisc atá ann.

Coinbhinsiún Chomhairle na hEorpa maidir le Gníomhaíocht in aghaidh Gáinneáil ar Dhaoine - Cearta íospartach

Sainmhíníonn an Coinbhinsiún gáinneáil mar shárú ar chearta an duine agus sárú ar dhínit agus sláine an duine. Dá bhrí sin, déanann na húdaráis náisiúnta a bhfreagracht a fhostú mura ndéanann siad gníomh chun gáinneáil a chosc, na híospartaigh a chosaint agus suirbhéanna éifeachtacha a dhéanamh ar chásanna bleáin.

Coinbhinsiún Chomhairle na hEorpa maidir le Gníomhaíocht in aghaidh Gáinneáil ar Dhaoine - Meicníocht monatóireachta

Tá sé d'aidhm le Coinbhinsiún Chomhairle na hEorpa maidir le Gníomhaíocht in aghaidh Gáinneáil ar Dhaoine, a tháinig i bhfeidhm an 1 Feabhra 2008, gáinneáil ar dhaoine a chosc, íospartaigh gáinneála a chosaint agus an dlí a chur ar gháinneálaithe. Cuimsítear leis gach cineál gáinneála (idir idirnáisiúnta agus trasnáisiúnta, bíodh baint aici le coireacht eagraithe nó ná bíodh) agus áirítear leis gach íospartach gáinneála (mná, fir agus leanaí), chomh maith le gach cineál dúshaothraithe. Áirítear sa choinbhinsiún bearta chun comhpháirtíochtaí a chur chun cinn leis an tsochaí shibhialta agus comhar idirnáisiúnta.