Addressing violence in schools through education for democratic citizenship and human rights education
(2016)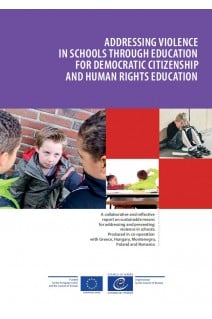  
Every child has the right to live free from physical and psychological violence.
Violence in schools is one of the most visible forms of violence against children. Violence in schools can take many forms, ranging from physical violence to psychological violence. It is often expressed through acts of bullying, intimidation and repression. Violence in schools creates insecurity and fear which harm the general school climate and infringe pupils' right to learn in a safe, unthreatening environment. Schools cannot fulfil their role as places of learning and socialisation if children are not in an environment free of violence.
A collaborative and reflective report on sustainable means for addressing and preventing violence in schools. Produced in co-operation with Greece, Hungary, Montenegro, Poland and Romania.
ACKNOWLEDGMENT
Participating countries and members of the national teams
1. INTRODUCTION
1.1. Project aims and overview
1.2. Basic assumptions of the project and methodological approach
1.3. List of national reports
2. POLICY AND RESEARCH ON SCHOOL VIOLENCE IN GREECE, HUNGARY, MONTENEGRO, POLAND AND ROMANIA – COMPARATIVE REVIEW
2.1. Introduction
2.2. Policies and legal framework
2.3. The conceptualisation of violence in the participant countries
2.4. Concluding remarks
3. CONCEPTUALISATIONS OF VIOLENCE AT SCHOOL – COMPARATIVE REPORT ON FOCUS GROUP INTERVIEWS
3.1. Introduction
3.2. Perceptions of violence at school
3.3. Major Variables of School Violence
3.4. Means for combatting violence and recommendations
4. POINTS FOR CONSIDERATION AND SUGGESTIONS FOR FURTHER ACTION
4.1. Introduction
4.2. Perceptions of violence at school
4.3. Means for Combatting violence at school. The "Whole Community" approach for a Democratic School Culture
4.4. Suggestions for further action
5. REFERENCES
APPENDICES
Table 1: Legislation related to school violence
Table 2: Policies on school violence
Table 3: Terminology
Table 4: Gender
Table 5: Origin
Table 6: Approaches to violence
Table 7: Socio-economic status