Internet, Media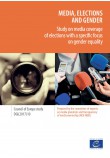 Media, elections and gender - Study on media coverage of elections with a specific focus on gender quality (2018)
Committee of experts on media pluralism and transparency of media ownership (MSI-MED)
REF. 039918GBR
Type of document : Document
Format : PDF
Size : 639 KB
Language : English
Number of pages : 34
Other available languages
> French
When a man enters public life, media usually don't pay attention to the fact that he is a man. When a woman runs for office, her gender is almost always a focus of debate...

This study explores how male and female politicians are portrayed in the media during electoral campaigns and to what extent the representation of gender during elections influences voters' decisions. It consists of a review of existing research reports and an overview of current practices in the member states of the Council of Europe.
The study shows that while female politicians in general receive less media attention than their male counterparts, their gender is frequently the focus of debate. Moreover, the electoral messages are framed mostly by male journalists, editors and experts, the level or promotion of women to positions of responsibility remaining relatively low. The study reaffirms the need to mainstream gender equality and incorporate it in all aspects of media coverage of elections, including through implementation of the existing standards of the Council of Europe, as well as through media education and research.
INTRODUCTION
OBJECTIVES OF THE STUDY
PART I – LEGAL INSTRUMENTS OF THE COUNCIL OF EUROPE
1. Recommendation CM/Rec (2013) 1 of the Committee of Ministers of the Council of Europe to member states on gender equality and media
2. Recommendation CM/Rec (2011)7 of the Committee of Ministers of the Council of Europe to member states on a new notion of media
3. Recommendation CM/Rec(2007)15 of the Committee of Ministers to member states on measures concerning media coverage of election campaigns
4. Recommendation CM/Rec(2007)17 of the Committee of Ministers to member states on gender equality standards and mechanisms
5. Recommendation Rec(2003)3 of the Committee of Ministers to member states on balanced participation of women and men in political and public decision making 1
6. The implementation of the existing standards of the Council of Europe
PART II – MEDIA AND GENDER EQUALITY
1. Data on media coverage of women and men politicians
2. Reasons behind gender inequality in media coverage of women candidates
3. Media coverage of elections from a gender perspective
4. Influence of media reports on voters' opinion
PART III– REVIEW OF NATIONAL REGULATORY AND SELF-REGULATORY MECHANISMS AND PRACTICES
1. Statutory requirements regarding gender equality in the media
2. Media regulators' and equality authorities' strategies for gender equality in the media
3. Media self-regulation
4. Civil society initiatives
5. Tools and guidelines to improve gender portrayal in media coverage
PART IV – CONCLUSIONS
1. Regulatory and self-regulatory mechanisms
2. Media educations and trainings
3. Research
REFERENCES