Society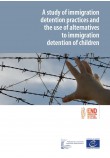 A study of immigration detention practices and the use of alternatives to immigration detention of children (2017)
Athanassia P. Sykiotou, for the Committee on Migration, Refugees and Displaced Persons of the Parliamentary Assembly of the Council of Europe, in the framework of the Parliamentary Campaign to End Immigration Detention of Children.
REF. 090117GBR
Type of document : Document
Format : PDF
Size : 1.16 MB
Language : English
Number of pages : 79
Other available languages
> French
Europe continues to be faced with unprecedented numbers of migrants seeking protection. Migrant children are the most vulnerable group, whether they are arriving with their families or as unaccompanied minors. A worrying number of them end up in administrative detention as a result of existing immigration laws and policies. In detention facilities they are at high risk of abuse and neglect. Moreover, minors that are unaccompanied or separated from their parents or guardians are often unable to advocate for their fundamental human rights.
ABBREVIATIONS
AIMS AND OBJECTIVES OF THIS STUDY
     Methodology
INTRODUCTION
     General remarks
     Reasons for immigration detention
     The impact of immigration detention on children
INTERNATIONAL STANDARDS ON DETENTION OF CHILDREN
     International principles against detention of children
     Overview of case law relating to the immigration detention of children
     Council of Europe measures regarding detention of children
NATIONAL IMMIGRATION DETENTION PRACTICES
     National provisions on immigration detention
     Maximum length of detention and authority responsible for the decision
     Statistical data on detention of migrant children
     Measures to safeguard family unity
     Support systems in place
     Non-discriminatory access for migrant children to national services
     Screening and assessment procedures in place
     Detention conditions
     Judicial review
     Complaint and monitoring mechanism
SPECIFIC GROUPS OF CHILDREN IN IMMIGRATION DETENTION
     Detention of mentally or physically disabled children
     Detention of girls
     Babies and infants
DETENTION PRACTICES IN THE EU MEMBER STATES
     The legal framework in EU member states
     Relevant EU texts on irregular migration
ALTERNATIVES TO IMMIGRATION DETENTION
     International standards
     The use of alternatives in non-EU member states
CONCLUSION
RECOMMENDATIONS
BIBLIOGRAPHY
APPENDIX 1: TABLES
Table 1: National provisions of non-EU member states on immigration detention of children
Table 2: Maximum length of detention and the authority responsible for the detention decision
Table 3: Measures to safeguard family unity
Table 4: Support systems in placea
Table 5: Non-discriminatory access for migrant children to national services
Table 6: Screening and assessment procedures
Table7: Alternatives to immigration detention for children
APPENDIX 2: QUESTIONNAIRE ECPRD NO. 3044 TO COUNCIL OF EUROPE MEMBER STATES
Questionnaire for the Council of Europe Study on Immigration Detention Practices and the Use of Alternatives to Immigration Detention of Children addressed to the member states through the European Centre for Parliamentary Research and Documentation (ECPRD) – Request No. 3044