Human rights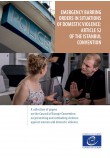 Emergency barring orders in situations of domestic violence: Article 52 of the Istanbul Convention (2017)
Rosa Logar, Johanna Niemi
REF. 084117GBR
Type of document : Document
Format : PDF
Size : 629 KB
Language : English
Number of pages : 50
Article 52 – Emergency barring orders Parties shall take the necessary legislative or other measures to ensure that the competent authorities are granted the power to order, in situations of immediate danger, a perpetrator of domestic violence to vacate the residence of the victim or person at risk for a sufficient period of time and to prohibit the perpetrator from entering the residence of or contacting the victim or person at risk. Measures taken pursuant to this article shall give priority to the safety of victims or persons at risk.

Protection of victims is a core element of a co-ordinated and strategic response to violence against women and domestic violence, and needs to be implemented alongside adequate and effective prevention, service provision and prosecution. In situations of immediate danger, the most effective way to protect domestic violence victims and guarantee their safety is by achieving a physical distance between the victim and the perpetrator. Article 52 of the Council of Europe Convention on Preventing and Combating Violence against Women and Domestic Violence (the Istanbul Convention) establishes the obligation of states parties to ensure protection to victims of domestic violence, among other measures, by ordering the perpetrator to leave, to stay away from the home of the victim or person at risk, and not to contact the victim or person at risk, on the basis of an emergency barring order (EBO).
The document aims to support the implementation of Article 52 of the Istanbul Convention on EBOs by providing policy makers and practitioners with practical advice on how to introduce EBOs as an effective measure of protection for victims of domestic violence in situations of immediate danger of further (and often more severe) violence from the perpetrator.
INTRODUCTION
     The duty of the state to protect
     Protection orders in international law
THE SCOPE OF ARTICLE 52
     The emergency barring order as a measure to ensure the safety of victims of domestic violence or those at risk
ADDRESSING THE OBLIGATIONS UNDER ARTICLE 52 OF THE ISTANBUL CONVENTION
     The obligation to protect in case of immediate danger
     Possible legal regimes of the emergency barring order (criminal, administrative, civil)
     Elements of effective emergency barring orders
BALANCING THE RIGHTS AND LEGAL SAFEGUARDS IN THE CONTEXT OF EMERGENCY BARRING ORDERS
     Privacy and other rights in balance
     Legal safeguards
IMPLEMENTING EMERGENCY BARRING ORDERS: EXAMPLES FROM COUNCIL OF EUROPE MEMBER STATES
     Overview of the situation in Council of Europe member states with respect to introducing emergency barring orders
     Austria
     Bulgaria
     The Netherlands
     Spain
CONCLUSIONS
CHECKLIST FOR IMPLEMENTING EMERGENCY BARRING ORDERS
KEY COUNCIL OF EUROPE RESOURCES
BIBLIOGRAPHY