Supervision of the execution of judgments of the European Court of Human Rights 2022 - 16th Annual Report of the Committee of Ministers
(2023)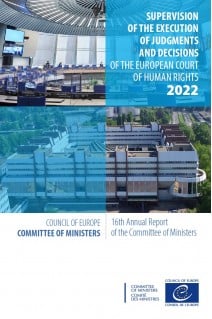  
An increase in political will to execute the European Court of Human Rights' judgments is necessary

This Annual Report contains an overview of major advances and challenges recorded in the execution of the European Court's judgments and decisions in 2022. It also provides, for the first time, a country-by-country statistical overview, along with information on new, pending and closed cases, and payment of just satisfaction by respondent States.

In 2022, a year marked by the full-fledged aggression of the Russian Federation against Ukraine and the former's exclusion from the Council of Europe, the Committee of Ministers ended the supervision of the execution of 880 cases (including 200 leading cases requiring specific and often wide-ranging measures by States to prevent similar violations), following the adoption by respondent States of individual and/or general measures, including in some cases constitutional and statutory reforms. There was also a new record number of communications from civil society organisations and national human rights institutions.

Nonetheless, the number of new judgments transmitted to the Committee by the Court continued to increase significantly. Also, the complexity and sensitivity of the issues examined by the Committee continue to increase, notably in the context of inter-state cases, Article 18 cases, infringement proceedings, and various systemic, structural or complex problems that member States continue to face. This situation is compounded by the persistent problem in a number of States of insufficient capacity to take measures for the prompt, full and effective execution of the European Court's judgments.

The report recalls that a more proactive attitude is required from member States involving in particular the development of parliamentary, executive and judicial capacity to respond to the Court's case-law, including stronger and better resourced national coordination structures able to prevent and remedy violations of the Convention.
I. PREFACE BY THE CHAIRS OF THE HUMAN RIGHTS MEETINGS 
II. OVERVIEW OF MAJOR DEVELOPMENTS BY THE DIRECTOR GENERAL OF THE DIRECTORATE GENERAL HUMAN RIGHTS AND RULE OF LAW 
Introduction 
A. Supervision of the execution of cases pending against the Russian Federation 
B. Major advances in cases examined by the Committee of Ministers 
C. Closure of individual repetitive cases 
D. Inter-state and other cases related to post-conflict situations or unresolved conflicts 
E. "Article 18" cases concerning abusive limitations of rights and freedoms 
F. Systemic, structural or complex problems and advances 
Concluding remarks 
III. OUTREACH ACTIVITIES (COOPERATION, COMMUNICATION AND INFORMATION)
A. Activities of the Department for the Execution of the European Court's Judgments 
B. General Co-operation activities and Action plans 
C. Targeted Convention-related co-operation activities 
D. Human Rights Education for Legal Professionals 
IV. STATISTICS 
A. Overview 
A.1. Country by country overview 
A.2. New cases 
A.3. Pending cases 
A.4. Closed cases
B. New cases 
B.1. Leading or repetitive cases 
B.2. Enhanced or standard supervision 
B.3. New cases – State by State 
C. Pending cases 
C.1. Leading or repetitive cases 
C.2. Enhanced or standard supervision 
C.3. Pending cases – State by State 
D. Closed cases 
D.1. Leading or repetitive cases 
D.2. Enhanced or standard supervision 
D.3. Closed cases – State by State 
E. Supervision process 
E.1. Action plans/reports 
E.2. Interventions of the Committee of Ministers 
E.3. Transfers of leading cases/groups of cases 
E.4. Contributions from Civil Society Organisations (CSOs) and National Human Rights Institutions (NHRIs) 
E.5. Main themes of leading cases under enhanced supervision 
E.6. Main States with leading cases under enhanced supervision 
F. Length of the execution process 
F.1. Leading cases pending 
F.2. Leading cases closed 
G. Just satisfaction 
G.1. Just satisfaction awarded 
G.2. Respect of payment deadlines 
H. Additional statistics 
H.1. Overview of friendly settlements and WECL cases 
H.2. WECL cases and Friendly settlements – State by State 
V. NEW JUDGMENTS WITH INDICATIONS OF RELEVANCE FOR THE EXECUTION 
A. Pilot judgments which became final in 2022 
B. Judgments with indications of relevance for the execution (under Article 46) which became final in 2022 
C. Article 46 § 4 – Infringement procedure 
VI. FURTHER INFORMATION ON THE EXECUTION OF JUDGMENTS 
A. Internet 
B. Publications 
APPENDIX – GLOSSARY