White Paper on transnational organised crime
(2015)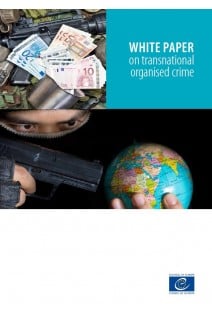  
Transnational organised crime (TOC) represents a major threat to global security. It threatens peace and human security, violates human rights and undermines the economic, social, cultural, political and civil development of societies worldwide. Because of its transnational character, TOC requires a targeted and comprehensive approach, including the swift application of international co-operation mechanisms.
This white paper, drafted at the request of the Committee of Ministers, establishes five areas in which the Council of Europe could contribute to fighting TOC and identifies specific tasks that could be carried out better or more efficiently by the Organisation: 1. Problems related to police and judicial international co-operation, 2. The use of special investigative techniques, 3. The implementation of witness protection programmes and collaboration of state witnesses, 4. The need for increasing co-operation with administrative agencies and the private sector and 5. The essential need to target the proceeds of crime in order to discourage this type of crime and to improve the effectiveness of the fight against criminal organisations that operate in a transnational setting.
With an innovative multidisciplinary approach and the choice to focus on improving the criminal response in a transnational setting, this White Paper is intended to become a helpful tool for policy makers and practitioners alike.
Contents
PREFACE
EXECUTIVE SUMMARY
CHAPTER 1. INTRODUCTION
1.1. The Council of Europe and transnational organised crime
1.2. The White Paper process
1.3. Legislative and policy activities related to organised crime as a transnational phenomenon
CHAPTER 2. FEATURES, TRENDS AND DEVELOPMENTS IN TRANSNATIONAL ORGANISED CRIME
2.1. Difficulties in identifying trends in transnational organised crime
2.2. New trends identified in transnational organised crime
2.3. Transnational organised crime: key features and responses
CHAPTER 3. IDENTIFIED KEY AREAS
3.1. Enhancing international co-operation through networks
3.2. Special investigative techniques
3.3. Witness protection and incentives for co-operation
3.4. Administrative synergies and co-operation with the private sector
3.5. Recovery of assets
CHAPTER 4. RECOMMENDATIONS AND PROPOSALS FOR FUTURE ACTION
4.1. General recommendations
4.2. Enhancing judicial and police co-operation
4.3. The use of special investigative techniques
4.4. Witnesses, state witnesses and collaborators
4.5. Synergies and co-operation with other entities
4.6. Recovery of assets
CHAPTER 5. CONCLUSIONS OF THE COMMITTEE
APPENDIX 1 – SELECTED TEXTS
APPENDIX 2 – LIST OF ABBREVIATIONS