Teaching controversial issues (version estonienne)
(2019)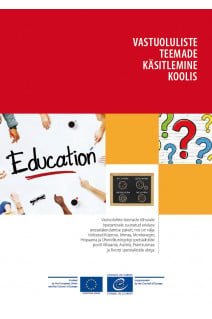  
Living with Controversy - Teaching Controversial Issues Through Education for Democratic Citizenship and Human Rights (EDC/HRE) - Training Pack for Teachers
This Training Pack is a professional development programme for teachers which is designed to support and promote the teaching of controversial issues in schools in Europe. It seeks to address the challenges of teaching controversial issues through the development of a comprehensive package of training and professional development material.
■ It aims to help teachers recognise the value of engaging young people in controversial issues and develop the confidence and competences to make it a part of their everyday practice, in particular through:
          • The creation of 'safe spaces' in the classroom where students can explore issues that concern them freely and without fear
          • The use of teaching strategies and techniques which promote open and respectful dialogue.
■ It takes the view that, while there no 'quick fixes' and not every issue will be suitable for every age group, ultimately there is no good reason why controversial issues should be avoided in schools and classrooms and every good reason why they should not.
ACKNOWLEDGEMENTS
INTRODUCTION
PART A. SCOPING PAPER EXPLORING THE CHALLENGES AND DEVELOPING COMPETENCE
Introduction
Purpose
Foundation
Approach
The context
Literature review
What are controversial issues?
Why teach controversial issues?
What are the challenges?
How can these challenges be met?
What types of training and training resources are currently available?
Conclusions
Recommendations
APPENDIX I. TEACHER COMPETENCES FOR TEACHING CONTROVERSIAL ISSUES
1. Personal
2. Theoretical
3. Practical
REFERENCES
PART B. PROGRAMME OF TRAINING ACTIVITIES
The Programme of Training Activities
Implementing the Programme of Training Activities
Outcomes
The role of the facilitator/trainer
Section 1: Introducing controversial issues
Section 2: Teaching methods
Section 3: Reflection and evaluation
Section one: Introducing controversial issues
Activity 1.1: Introduction
Activity 1.2: Musical chairs
Activity 1.3: Blob Tree
Activity 1.4: Hot or cold?
Activity 1.5: Baggage check
Section two – Teaching methods
Meeting the challenge
Activity 2.1: Whose side are you on?
Activity 2.2: Changing Perspectives
Activity 2.3: The School on the Edge of the Forest
Activity 2.4: Other People's Shoes
Activity 2.5: World Café
Activity 2.6: Forum Theatre
Section three – Reflection and evaluation
Putting it all together
Activity 3.1: Snowball
Activity 3.2: Lesson Plan
Activity 3.3: Blue Letters
Activity 3.4: Fun Tree