Array ( [id] => 2 [link] => [name] => [desc] => [children] => Array ( [0] => Array ( [id] => 7 [link] => https://edoc.coe.int/fr/7-ressources-en-ligne [name] => Ressources en ligne [desc] => [children] => Array ( [0] => Array ( [id] => 378 [link] => https://edoc.coe.int/fr/378-le-conseil-de-l-europe-en-bref [name] => Le Conseil de l'Europe en bref [desc] => [children] => Array ( [0] => Array ( [id] => 364 [link] => https://edoc.coe.int/fr/364-carte-des-etats-membres [name] => Carte des États membres [desc] => [children] => Array ( ) ) [1] => Array ( [id] => 381 [link] => https://edoc.coe.int/fr/381-un-aperu [name] => Un aperçu [desc] => [children] => Array ( ) ) [2] => Array ( [id] => 408 [link] => https://edoc.coe.int/fr/408-rapports-annuels-d-activite [name] => Rapports annuels d'activité [desc] => [children] => Array ( ) ) ) ) [1] => Array ( [id] => 170 [link] => https://edoc.coe.int/fr/170-droits-de-l-homme [name] => Droits de l'homme [desc] => [children] => Array ( [0] => Array ( [id] => 172 [link] => https://edoc.coe.int/fr/172-convention-europenne-des-droits-de-l-homme [name] => Convention européenne des droits de l'homme [desc] => [children] => Array ( ) ) [1] => Array ( [id] => 374 [link] => https://edoc.coe.int/fr/374-liberts-fondamentales [name] => Libertés fondamentales [desc] => [children] => Array ( ) ) [2] => Array ( [id] => 191 [link] => https://edoc.coe.int/fr/191-violence-l-gard-des-femmes [name] => Violence à l'égard des femmes [desc] => [children] => Array ( ) ) [3] => Array ( [id] => 187 [link] => https://edoc.coe.int/fr/187-droits-des-enfants [name] => Droits des enfants [desc] => [children] => Array ( ) ) [4] => Array ( [id] => 192 [link] => https://edoc.coe.int/fr/192-traite-des-etres-humains [name] => Traite des êtres humains [desc] => [children] => Array ( ) ) [5] => Array ( [id] => 372 [link] => https://edoc.coe.int/fr/372-rfugis [name] => Réfugiés [desc] => [children] => Array ( ) ) [6] => Array ( [id] => 176 [link] => https://edoc.coe.int/fr/176-peine-de-mort [name] => Peine de mort [desc] => [children] => Array ( ) ) [7] => Array ( [id] => 177 [link] => https://edoc.coe.int/fr/177-lutte-contre-la-torture [name] => Lutte contre la torture [desc] => [children] => Array ( ) ) [8] => Array ( [id] => 178 [link] => https://edoc.coe.int/fr/178-racisme [name] => Racisme [desc] => [children] => Array ( ) ) ) ) [2] => Array ( [id] => 179 [link] => https://edoc.coe.int/fr/179-democratie [name] => Démocratie [desc] => [children] => Array ( [0] => Array ( [id] => 180 [link] => https://edoc.coe.int/fr/180-dmocratie-locale [name] => Démocratie locale [desc] => [children] => Array ( ) ) [1] => Array ( [id] => 182 [link] => https://edoc.coe.int/fr/182-elections [name] => Elections [desc] => [children] => Array ( ) ) [2] => Array ( [id] => 181 [link] => https://edoc.coe.int/fr/181-forum-mondial-de-la-democratie [name] => Forum mondial de la démocratie [desc] => [children] => Array ( ) ) [3] => Array ( [id] => 413 [link] => https://edoc.coe.int/fr/413-societe-civile [name] => Société civile [desc] => [children] => Array ( ) ) ) ) [3] => Array ( [id] => 233 [link] => https://edoc.coe.int/fr/233-droit [name] => Droit [desc] => [children] => Array ( [0] => Array ( [id] => 234 [link] => https://edoc.coe.int/fr/234-crime-organise [name] => Crime organisé [desc] => [children] => Array ( ) ) [1] => Array ( [id] => 235 [link] => https://edoc.coe.int/fr/235-corruption [name] => Corruption [desc] => [children] => Array ( ) ) [2] => Array ( [id] => 237 [link] => https://edoc.coe.int/fr/237-protection-des-donnees [name] => Protection des données [desc] => [children] => Array ( ) ) [3] => Array ( [id] => 175 [link] => https://edoc.coe.int/fr/175-reforme-penitentiaire-europeenne [name] => Réforme pénitentiaire européenne [desc] => [children] => Array ( ) ) [4] => Array ( [id] => 238 [link] => https://edoc.coe.int/fr/238-terrorisme [name] => Terrorisme [desc] => [children] => Array ( ) ) [5] => Array ( [id] => 239 [link] => https://edoc.coe.int/fr/239-efficacite-de-la-justice [name] => Efficacité de la justice [desc] => [children] => Array ( ) ) [6] => Array ( [id] => 379 [link] => https://edoc.coe.int/fr/379-droit-international [name] => Droit international [desc] => [children] => Array ( ) ) ) ) [4] => Array ( [id] => 193 [link] => https://edoc.coe.int/fr/193-societe [name] => Société [desc] => [children] => Array ( [0] => Array ( [id] => 194 [link] => https://edoc.coe.int/fr/194-vivre-ensemble-diversite-et-liberte-en-europe [name] => Vivre ensemble - diversité et liberté en Europe [desc] => [children] => Array ( ) ) [1] => Array ( [id] => 195 [link] => https://edoc.coe.int/fr/195-charte-sociale [name] => Charte sociale [desc] => [children] => Array ( ) ) [2] => Array ( [id] => 205 [link] => https://edoc.coe.int/fr/205-lutte-contre-la-toxicomanie [name] => Lutte contre la toxicomanie [desc] => [children] => Array ( ) ) [3] => Array ( [id] => 196 [link] => https://edoc.coe.int/fr/196-migrations [name] => Migrations [desc] => [children] => Array ( ) ) [4] => Array ( [id] => 197 [link] => https://edoc.coe.int/fr/197-banque-de-developpement-du-conseil-de-l-europe [name] => Banque de développement du Conseil de l'Europe [desc] => [children] => Array ( ) ) [5] => Array ( [id] => 222 [link] => https://edoc.coe.int/fr/222-lgbt [name] => LGBT [desc] => [children] => Array ( ) ) [6] => Array ( [id] => 223 [link] => https://edoc.coe.int/fr/223-personnes-handicapees [name] => Personnes handicapées [desc] => [children] => Array ( ) ) [7] => Array ( [id] => 190 [link] => https://edoc.coe.int/fr/190-egalite-hommesfemmes [name] => Egalité hommes/femmes [desc] => [children] => Array ( ) ) ) ) [5] => Array ( [id] => 198 [link] => https://edoc.coe.int/fr/198-nouvelles-technologies-medias [name] => Nouvelles technologies / Médias [desc] => [children] => Array ( [0] => Array ( [id] => 199 [link] => https://edoc.coe.int/fr/199-internet [name] => Internet [desc] => [children] => Array ( ) ) [1] => Array ( [id] => 200 [link] => https://edoc.coe.int/fr/200-les-enfants-et-l-internet [name] => Les enfants et l'Internet [desc] => [children] => Array ( ) ) [2] => Array ( [id] => 201 [link] => https://edoc.coe.int/fr/201-medias [name] => Médias [desc] => [children] => Array ( ) ) [3] => Array ( [id] => 202 [link] => https://edoc.coe.int/fr/202-cybercriminalite [name] => Cybercriminalité [desc] => [children] => Array ( ) ) [4] => Array ( [id] => 410 [link] => https://edoc.coe.int/fr/410-intelligence-artificielle [name] => Intelligence artificielle [desc] => [children] => Array ( ) ) ) ) [6] => Array ( [id] => 203 [link] => https://edoc.coe.int/fr/203-sante [name] => Santé [desc] => [children] => Array ( [0] => Array ( [id] => 204 [link] => https://edoc.coe.int/fr/204-bioethique [name] => Bioéthique [desc] => [children] => Array ( ) ) [1] => Array ( [id] => 206 [link] => https://edoc.coe.int/fr/206-mdicaments [name] => Médicaments [desc] => [children] => Array ( ) ) [2] => Array ( [id] => 207 [link] => https://edoc.coe.int/fr/207-soins-de-sant [name] => Soins de santé [desc] => [children] => Array ( ) ) ) ) [7] => Array ( [id] => 208 [link] => https://edoc.coe.int/fr/208-culture-patrimoine-nature [name] => Culture, patrimoine, nature [desc] => [children] => Array ( [0] => Array ( [id] => 210 [link] => https://edoc.coe.int/fr/210-la-convention-culturelle-europenne [name] => La Convention culturelle européenne [desc] => [children] => Array ( ) ) [1] => Array ( [id] => 211 [link] => https://edoc.coe.int/fr/211-dialogue-interculturel-et-interreligieux [name] => Dialogue interculturel et interreligieux [desc] => [children] => Array ( ) ) [2] => Array ( [id] => 212 [link] => https://edoc.coe.int/fr/212-environnement [name] => Environnement [desc] => [children] => Array ( ) ) [3] => Array ( [id] => 214 [link] => https://edoc.coe.int/fr/214-culture-et-democratie [name] => Culture et démocratie [desc] => [children] => Array ( ) ) [4] => Array ( [id] => 397 [link] => https://edoc.coe.int/fr/397-patrimoine-culturel [name] => Patrimoine culturel [desc] => [children] => Array ( ) ) ) ) [8] => Array ( [id] => 215 [link] => https://edoc.coe.int/fr/215-le-conseil-de-l-europe-et-l-union-europenne [name] => Le Conseil de l'Europe et l'Union européenne [desc] => [children] => Array ( [0] => Array ( [id] => 216 [link] => https://edoc.coe.int/fr/216-missions-diffrentes-valeurs-communes [name] => Missions différentes, valeurs communes [desc] => [children] => Array ( ) ) [1] => Array ( [id] => 217 [link] => https://edoc.coe.int/fr/217-partenariats [name] => Partenariats [desc] => [children] => Array ( ) ) ) ) [9] => Array ( [id] => 218 [link] => https://edoc.coe.int/fr/218-droits-des-minorits [name] => Droits des minorités [desc] => [children] => Array ( [0] => Array ( [id] => 219 [link] => https://edoc.coe.int/fr/219-minorites-nationales [name] => Minorités nationales [desc] => [children] => Array ( ) ) [1] => Array ( [id] => 220 [link] => https://edoc.coe.int/fr/220-langues-minoritaires [name] => Langues minoritaires [desc] => [children] => Array ( ) ) [2] => Array ( [id] => 221 [link] => https://edoc.coe.int/fr/221-roms [name] => Roms [desc] => [children] => Array ( ) ) ) ) [10] => Array ( [id] => 224 [link] => https://edoc.coe.int/fr/224-education [name] => Education [desc] => [children] => Array ( [0] => Array ( [id] => 226 [link] => https://edoc.coe.int/fr/226-enseignement-de-l-histoire [name] => Enseignement de l'Histoire [desc] => [children] => Array ( ) ) [1] => Array ( [id] => 393 [link] => https://edoc.coe.int/fr/393-droits-de-l-homme-citoyennete-democratique-et-interculturalisme [name] => Droits de l'homme, citoyenneté démocratique et interculturalisme [desc] => [children] => Array ( ) ) [2] => Array ( [id] => 394 [link] => https://edoc.coe.int/fr/394-apprentissage-des-langues [name] => Apprentissage des langues [desc] => [children] => Array ( ) ) [3] => Array ( [id] => 398 [link] => https://edoc.coe.int/fr/398-formation-des-enseignants [name] => Formation des enseignants [desc] => [children] => Array ( ) ) ) ) [11] => Array ( [id] => 382 [link] => https://edoc.coe.int/fr/382-jeunesse [name] => Jeunesse [desc] => [children] => Array ( [0] => Array ( [id] => 392 [link] => https://edoc.coe.int/fr/392-les-jeunes-en-europe [name] => Les jeunes en Europe [desc] => [children] => Array ( ) ) ) ) [12] => Array ( [id] => 383 [link] => https://edoc.coe.int/fr/383-sport [name] => Sport [desc] => [children] => Array ( [0] => Array ( [id] => 384 [link] => https://edoc.coe.int/fr/384-sport-pour-tous [name] => Sport pour tous [desc] => [children] => Array ( ) ) [1] => Array ( [id] => 390 [link] => https://edoc.coe.int/fr/390-dopage [name] => Dopage [desc] => [children] => Array ( ) ) [2] => Array ( [id] => 391 [link] => https://edoc.coe.int/fr/391-la-violence-dans-le-sport [name] => La violence dans le sport [desc] => [children] => Array ( ) ) ) ) [13] => Array ( [id] => 240 [link] => https://edoc.coe.int/fr/240-institutions [name] => Institutions [desc] => [children] => Array ( [0] => Array ( [id] => 242 [link] => https://edoc.coe.int/fr/242-assemblee-parlementaire [name] => Assemblée parlementaire [desc] => [children] => Array ( ) ) [1] => Array ( [id] => 243 [link] => https://edoc.coe.int/fr/243-congres-des-pouvoirs-locaux-et-regionaux [name] => Congrès des pouvoirs locaux et régionaux [desc] => [children] => Array ( ) ) [2] => Array ( [id] => 244 [link] => https://edoc.coe.int/fr/244-cour-europenne-des-droits-de-lhomme [name] => Cour européenne des droits de l'homme [desc] => [children] => Array ( ) ) [3] => Array ( [id] => 245 [link] => https://edoc.coe.int/fr/245-commissaire-aux-droits-de-lhomme [name] => Commissaire aux droits de l'homme [desc] => [children] => Array ( ) ) [4] => Array ( [id] => 246 [link] => https://edoc.coe.int/fr/246-confrence-des-oing [name] => Conférence des OING [desc] => [children] => Array ( ) ) [5] => Array ( [id] => 247 [link] => https://edoc.coe.int/fr/247-conferences-sur-l-avenir-de-la-cour-europeenne-des-droits-de-l-homme [name] => Conférences sur l'avenir de la Cour européenne des droits de l'homme [desc] => [children] => Array ( ) ) ) ) [14] => Array ( [id] => 386 [link] => https://edoc.coe.int/fr/386-ressources-pour-les-plus-jeunes [name] => Ressources pour les plus jeunes [desc] => [children] => Array ( [0] => Array ( [id] => 387 [link] => https://edoc.coe.int/fr/387-6-10-ans [name] => 6 - 10 ans [desc] => [children] => Array ( ) ) [1] => Array ( [id] => 389 [link] => https://edoc.coe.int/fr/389-11-18-ans [name] => 11 - 18 ans [desc] => [children] => Array ( ) ) ) ) [15] => Array ( [id] => 402 [link] => https://edoc.coe.int/fr/402-ressources-pour-les-enseignants [name] => Ressources pour les enseignants [desc] => [children] => Array ( [0] => Array ( [id] => 404 [link] => https://edoc.coe.int/fr/404-outils-pedagogiques [name] => Outils pédagogiques [desc] => [children] => Array ( ) ) [1] => Array ( [id] => 407 [link] => https://edoc.coe.int/fr/407-enseignement-de-l-histoire [name] => Enseignement de l'histoire [desc] => [children] => Array ( ) ) ) ) ) ) ) ) 1
Catalogue
Newsletter
Restez informés
Souscrivez à notre newsletter
Souscrivez à notre newsletter
Deci, acesta este un abuz sexual? So, this is sexual abuse? version roumaine)
(2020)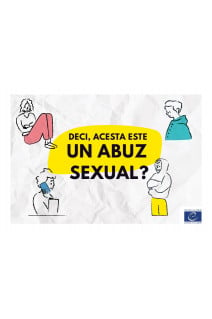  
Children are not alone when they have questions on sexual abuse...
"So, this is sexual abuse?" is a new child-friendly booklet for teenagers (aged 12 and up), to explore some of the ways in which sexual abuse and exploitation of children can occur today. The main message of the publication is that children are not alone when they have questions. Whether they are concerned about certain behaviours, have questions about their right to say no or what to do when sexually explicit pictures or images are shared online, the aim of the booklet is to provide some useful advice and information to children and adults in order to access support to deal with these questions. The booklet provides insight into the stories of several young people and raises awareness about the substantive and procedural provisions of the Lanzarote Convention in an accessible way.
This publication was developed in the context of the EndOCSEA@Europe project,with Hintalovon Child Rights Foundation and the participation of children. The group was consulted three times to develop the questions that are addressed, the scenarios, and dialogues included.
So, this is sexual abuse?_EN from Council of Europe OP Services on Vimeo.