Responsibility and AI
(2019)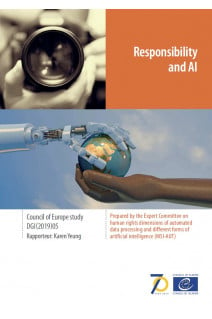  
A study of the implications of advanced digital technologies (including AI systems) for the concept of responsibility within a human rights framework.


Advanced digital technologies and services, including AI tools, come with extraordinary promise, particularly in the form of enhanced efficiency, accuracy, timeliness and convenience across a wide range of services. Yet the emergence of these technologies is also accompanied by rising public anxiety regarding their potentially damaging effects for individuals, for vulnerable groups and for society more generally.

Given their pervasiveness in daily life, we must acquire a deeper understanding of their impact on the exercise of human rights and fundamental freedoms, and we should carefully consider how to allocate responsibility in case of adverse consequences. If we are to take human rights seriously in a globally connected digital age, we cannot allow the power of our advanced digital technologies and systems, and those who wield and derive benefits from them, to be accrued and exercised without responsibility.

Effective and democratically legitimised governance arrangements and enforcement mechanisms must be put in place to ensure that responsibility for the risks, harms and wrongs arising from the operation of advanced digital technologies are duly allocated.
Introduction 
Executive Summary 
Chapter 1. Introduction 
1.1 Scope of this study 
1.2 Structure of this study 
1.3 Understanding the implications of AI for concepts of responsibility 
1.4 Implications for the concept of responsibility from a human rights perspective 
Chapter 2. Threats, risks, harms and wrongs associated with advanced digital technologies 
2.1 The rise of algorithmic decision-making (ADM) systems 
   2.1.1 How do ADM systems systematically threaten particular rights? 
   2.1.2 Societal risks associated with data-driven profiling
2.2 Collective societal threats and risks generated by other AI technologies
   2.2.1 Malicious attacks, unethical system design or unintended system failure 
   2.2.2 Loss of authentic, real and meaningful human contact 
   2.2.3 The chilling effect of data repurposing 
   2.2.4 Digital power without responsibility 
   2.2.5 The hidden privatisation of decisions about public values 
   2.2.6 Exploitation of human labour to train algorithms 
2.3 Power asymmetry and threats to the socio-technical foundations of moral and democratic community 
2.4 Summary 
Chapter 3. Who bears responsibility for the threats, risks, harms and wrongs posed by advanced digital technologies? 
3.1 What is responsibility and why does it matter? 
3.2 Dimensions of responsibility 
3.3 How do advanced digital technologies (including AI) implicate existing conceptions of responsibility? 
   3.3.1 Prospective responsibility: voluntary ethics codes and the 'Responsible Robotics/AI' project 
   3.3.2 Machine autonomy and the alleged 'control' problem 
3.4 Models for allocating responsibility 
   3.4.1 Intention/culpability-based models 
   3.4.2 Risk/Negligence-based models 
   3.4.3 Strict responsibility
   3.4.4 Mandatory Insurance 
3.5 Responsibility challenges posed by complex and dynamic socio-technical systems 
   3.5.1 The problem of 'many hands' 
   3.5.2 Human-Computer Interaction 
   3.5.3 Unpredictable, dynamic interactions between complex socio-technical systems 
3.6 State responsibility for ensuring effective protection of human rights
3.7 Non-judicial mechanisms for enforcing responsibility for advanced digital technologies 
   3.7.1 Technical protection mechanisms 
   3.7.2 Regulatory governance instruments and techniques 
   3.7.3 Standard setting, monitoring and enforcement 
3.8 Reinvigorating human rights discourse in a networked digital age 
3.9 Summary 
Chapter 4. Conclusion 
Appendix A 
References