Array ( [id] => 2 [link] => [name] => [desc] => [children] => Array ( [0] => Array ( [id] => 7 [link] => https://edoc.coe.int/fr/7-ressources-en-ligne [name] => Ressources en ligne [desc] => [children] => Array ( [0] => Array ( [id] => 378 [link] => https://edoc.coe.int/fr/378-le-conseil-de-l-europe-en-bref [name] => Le Conseil de l'Europe en bref [desc] => [children] => Array ( [0] => Array ( [id] => 364 [link] => https://edoc.coe.int/fr/364-carte-des-etats-membres [name] => Carte des États membres [desc] => [children] => Array ( ) ) [1] => Array ( [id] => 381 [link] => https://edoc.coe.int/fr/381-un-aperu [name] => Un aperçu [desc] => [children] => Array ( ) ) [2] => Array ( [id] => 408 [link] => https://edoc.coe.int/fr/408-rapports-annuels-d-activite [name] => Rapports annuels d'activité [desc] => [children] => Array ( ) ) ) ) [1] => Array ( [id] => 170 [link] => https://edoc.coe.int/fr/170-droits-de-l-homme [name] => Droits de l'homme [desc] => [children] => Array ( [0] => Array ( [id] => 172 [link] => https://edoc.coe.int/fr/172-convention-europenne-des-droits-de-l-homme [name] => Convention européenne des droits de l'homme [desc] => [children] => Array ( ) ) [1] => Array ( [id] => 374 [link] => https://edoc.coe.int/fr/374-liberts-fondamentales [name] => Libertés fondamentales [desc] => [children] => Array ( ) ) [2] => Array ( [id] => 191 [link] => https://edoc.coe.int/fr/191-violence-l-gard-des-femmes [name] => Violence à l'égard des femmes [desc] => [children] => Array ( ) ) [3] => Array ( [id] => 187 [link] => https://edoc.coe.int/fr/187-droits-des-enfants [name] => Droits des enfants [desc] => [children] => Array ( ) ) [4] => Array ( [id] => 192 [link] => https://edoc.coe.int/fr/192-traite-des-etres-humains [name] => Traite des êtres humains [desc] => [children] => Array ( ) ) [5] => Array ( [id] => 372 [link] => https://edoc.coe.int/fr/372-rfugis [name] => Réfugiés [desc] => [children] => Array ( ) ) [6] => Array ( [id] => 176 [link] => https://edoc.coe.int/fr/176-peine-de-mort [name] => Peine de mort [desc] => [children] => Array ( ) ) [7] => Array ( [id] => 177 [link] => https://edoc.coe.int/fr/177-lutte-contre-la-torture [name] => Lutte contre la torture [desc] => [children] => Array ( ) ) [8] => Array ( [id] => 178 [link] => https://edoc.coe.int/fr/178-racisme [name] => Racisme [desc] => [children] => Array ( ) ) ) ) [2] => Array ( [id] => 179 [link] => https://edoc.coe.int/fr/179-democratie [name] => Démocratie [desc] => [children] => Array ( [0] => Array ( [id] => 180 [link] => https://edoc.coe.int/fr/180-dmocratie-locale [name] => Démocratie locale [desc] => [children] => Array ( ) ) [1] => Array ( [id] => 182 [link] => https://edoc.coe.int/fr/182-elections [name] => Elections [desc] => [children] => Array ( ) ) [2] => Array ( [id] => 181 [link] => https://edoc.coe.int/fr/181-forum-mondial-de-la-democratie [name] => Forum mondial de la démocratie [desc] => [children] => Array ( ) ) [3] => Array ( [id] => 413 [link] => https://edoc.coe.int/fr/413-societe-civile [name] => Société civile [desc] => [children] => Array ( ) ) ) ) [3] => Array ( [id] => 233 [link] => https://edoc.coe.int/fr/233-droit [name] => Droit [desc] => [children] => Array ( [0] => Array ( [id] => 234 [link] => https://edoc.coe.int/fr/234-crime-organise [name] => Crime organisé [desc] => [children] => Array ( ) ) [1] => Array ( [id] => 235 [link] => https://edoc.coe.int/fr/235-corruption [name] => Corruption [desc] => [children] => Array ( ) ) [2] => Array ( [id] => 237 [link] => https://edoc.coe.int/fr/237-protection-des-donnees [name] => Protection des données [desc] => [children] => Array ( ) ) [3] => Array ( [id] => 175 [link] => https://edoc.coe.int/fr/175-reforme-penitentiaire-europeenne [name] => Réforme pénitentiaire européenne [desc] => [children] => Array ( ) ) [4] => Array ( [id] => 238 [link] => https://edoc.coe.int/fr/238-terrorisme [name] => Terrorisme [desc] => [children] => Array ( ) ) [5] => Array ( [id] => 239 [link] => https://edoc.coe.int/fr/239-efficacite-de-la-justice [name] => Efficacité de la justice [desc] => [children] => Array ( ) ) [6] => Array ( [id] => 379 [link] => https://edoc.coe.int/fr/379-droit-international [name] => Droit international [desc] => [children] => Array ( ) ) ) ) [4] => Array ( [id] => 193 [link] => https://edoc.coe.int/fr/193-societe [name] => Société [desc] => [children] => Array ( [0] => Array ( [id] => 194 [link] => https://edoc.coe.int/fr/194-vivre-ensemble-diversite-et-liberte-en-europe [name] => Vivre ensemble - diversité et liberté en Europe [desc] => [children] => Array ( ) ) [1] => Array ( [id] => 195 [link] => https://edoc.coe.int/fr/195-charte-sociale [name] => Charte sociale [desc] => [children] => Array ( ) ) [2] => Array ( [id] => 205 [link] => https://edoc.coe.int/fr/205-lutte-contre-la-toxicomanie [name] => Lutte contre la toxicomanie [desc] => [children] => Array ( ) ) [3] => Array ( [id] => 196 [link] => https://edoc.coe.int/fr/196-migrations [name] => Migrations [desc] => [children] => Array ( ) ) [4] => Array ( [id] => 197 [link] => https://edoc.coe.int/fr/197-banque-de-developpement-du-conseil-de-l-europe [name] => Banque de développement du Conseil de l'Europe [desc] => [children] => Array ( ) ) [5] => Array ( [id] => 222 [link] => https://edoc.coe.int/fr/222-lgbt [name] => LGBT [desc] => [children] => Array ( ) ) [6] => Array ( [id] => 223 [link] => https://edoc.coe.int/fr/223-personnes-handicapees [name] => Personnes handicapées [desc] => [children] => Array ( ) ) [7] => Array ( [id] => 190 [link] => https://edoc.coe.int/fr/190-egalite-hommesfemmes [name] => Egalité hommes/femmes [desc] => [children] => Array ( ) ) ) ) [5] => Array ( [id] => 198 [link] => https://edoc.coe.int/fr/198-nouvelles-technologies-medias [name] => Nouvelles technologies / Médias [desc] => [children] => Array ( [0] => Array ( [id] => 199 [link] => https://edoc.coe.int/fr/199-internet [name] => Internet [desc] => [children] => Array ( ) ) [1] => Array ( [id] => 200 [link] => https://edoc.coe.int/fr/200-les-enfants-et-l-internet [name] => Les enfants et l'Internet [desc] => [children] => Array ( ) ) [2] => Array ( [id] => 201 [link] => https://edoc.coe.int/fr/201-medias [name] => Médias [desc] => [children] => Array ( ) ) [3] => Array ( [id] => 202 [link] => https://edoc.coe.int/fr/202-cybercriminalite [name] => Cybercriminalité [desc] => [children] => Array ( ) ) [4] => Array ( [id] => 410 [link] => https://edoc.coe.int/fr/410-intelligence-artificielle [name] => Intelligence artificielle [desc] => [children] => Array ( ) ) ) ) [6] => Array ( [id] => 203 [link] => https://edoc.coe.int/fr/203-sante [name] => Santé [desc] => [children] => Array ( [0] => Array ( [id] => 204 [link] => https://edoc.coe.int/fr/204-bioethique [name] => Bioéthique [desc] => [children] => Array ( ) ) [1] => Array ( [id] => 206 [link] => https://edoc.coe.int/fr/206-mdicaments [name] => Médicaments [desc] => [children] => Array ( ) ) [2] => Array ( [id] => 207 [link] => https://edoc.coe.int/fr/207-soins-de-sant [name] => Soins de santé [desc] => [children] => Array ( ) ) ) ) [7] => Array ( [id] => 208 [link] => https://edoc.coe.int/fr/208-culture-patrimoine-nature [name] => Culture, patrimoine, nature [desc] => [children] => Array ( [0] => Array ( [id] => 210 [link] => https://edoc.coe.int/fr/210-la-convention-culturelle-europenne [name] => La Convention culturelle européenne [desc] => [children] => Array ( ) ) [1] => Array ( [id] => 211 [link] => https://edoc.coe.int/fr/211-dialogue-interculturel-et-interreligieux [name] => Dialogue interculturel et interreligieux [desc] => [children] => Array ( ) ) [2] => Array ( [id] => 212 [link] => https://edoc.coe.int/fr/212-environnement [name] => Environnement [desc] => [children] => Array ( ) ) [3] => Array ( [id] => 214 [link] => https://edoc.coe.int/fr/214-culture-et-democratie [name] => Culture et démocratie [desc] => [children] => Array ( ) ) [4] => Array ( [id] => 397 [link] => https://edoc.coe.int/fr/397-patrimoine-culturel [name] => Patrimoine culturel [desc] => [children] => Array ( ) ) ) ) [8] => Array ( [id] => 215 [link] => https://edoc.coe.int/fr/215-le-conseil-de-l-europe-et-l-union-europenne [name] => Le Conseil de l'Europe et l'Union européenne [desc] => [children] => Array ( [0] => Array ( [id] => 216 [link] => https://edoc.coe.int/fr/216-missions-diffrentes-valeurs-communes [name] => Missions différentes, valeurs communes [desc] => [children] => Array ( ) ) [1] => Array ( [id] => 217 [link] => https://edoc.coe.int/fr/217-partenariats [name] => Partenariats [desc] => [children] => Array ( ) ) ) ) [9] => Array ( [id] => 218 [link] => https://edoc.coe.int/fr/218-droits-des-minorits [name] => Droits des minorités [desc] => [children] => Array ( [0] => Array ( [id] => 219 [link] => https://edoc.coe.int/fr/219-minorites-nationales [name] => Minorités nationales [desc] => [children] => Array ( ) ) [1] => Array ( [id] => 220 [link] => https://edoc.coe.int/fr/220-langues-minoritaires [name] => Langues minoritaires [desc] => [children] => Array ( ) ) [2] => Array ( [id] => 221 [link] => https://edoc.coe.int/fr/221-roms [name] => Roms [desc] => [children] => Array ( ) ) ) ) [10] => Array ( [id] => 224 [link] => https://edoc.coe.int/fr/224-education [name] => Education [desc] => [children] => Array ( [0] => Array ( [id] => 226 [link] => https://edoc.coe.int/fr/226-enseignement-de-l-histoire [name] => Enseignement de l'Histoire [desc] => [children] => Array ( ) ) [1] => Array ( [id] => 393 [link] => https://edoc.coe.int/fr/393-droits-de-l-homme-citoyennete-democratique-et-interculturalisme [name] => Droits de l'homme, citoyenneté démocratique et interculturalisme [desc] => [children] => Array ( ) ) [2] => Array ( [id] => 394 [link] => https://edoc.coe.int/fr/394-apprentissage-des-langues [name] => Apprentissage des langues [desc] => [children] => Array ( ) ) [3] => Array ( [id] => 398 [link] => https://edoc.coe.int/fr/398-formation-des-enseignants [name] => Formation des enseignants [desc] => [children] => Array ( ) ) ) ) [11] => Array ( [id] => 382 [link] => https://edoc.coe.int/fr/382-jeunesse [name] => Jeunesse [desc] => [children] => Array ( [0] => Array ( [id] => 392 [link] => https://edoc.coe.int/fr/392-les-jeunes-en-europe [name] => Les jeunes en Europe [desc] => [children] => Array ( ) ) ) ) [12] => Array ( [id] => 383 [link] => https://edoc.coe.int/fr/383-sport [name] => Sport [desc] => [children] => Array ( [0] => Array ( [id] => 384 [link] => https://edoc.coe.int/fr/384-sport-pour-tous [name] => Sport pour tous [desc] => [children] => Array ( ) ) [1] => Array ( [id] => 390 [link] => https://edoc.coe.int/fr/390-dopage [name] => Dopage [desc] => [children] => Array ( ) ) [2] => Array ( [id] => 391 [link] => https://edoc.coe.int/fr/391-la-violence-dans-le-sport [name] => La violence dans le sport [desc] => [children] => Array ( ) ) ) ) [13] => Array ( [id] => 240 [link] => https://edoc.coe.int/fr/240-institutions [name] => Institutions [desc] => [children] => Array ( [0] => Array ( [id] => 242 [link] => https://edoc.coe.int/fr/242-assemblee-parlementaire [name] => Assemblée parlementaire [desc] => [children] => Array ( ) ) [1] => Array ( [id] => 243 [link] => https://edoc.coe.int/fr/243-congres-des-pouvoirs-locaux-et-regionaux [name] => Congrès des pouvoirs locaux et régionaux [desc] => [children] => Array ( ) ) [2] => Array ( [id] => 244 [link] => https://edoc.coe.int/fr/244-cour-europenne-des-droits-de-lhomme [name] => Cour européenne des droits de l'homme [desc] => [children] => Array ( ) ) [3] => Array ( [id] => 245 [link] => https://edoc.coe.int/fr/245-commissaire-aux-droits-de-lhomme [name] => Commissaire aux droits de l'homme [desc] => [children] => Array ( ) ) [4] => Array ( [id] => 246 [link] => https://edoc.coe.int/fr/246-confrence-des-oing [name] => Conférence des OING [desc] => [children] => Array ( ) ) [5] => Array ( [id] => 247 [link] => https://edoc.coe.int/fr/247-conferences-sur-l-avenir-de-la-cour-europeenne-des-droits-de-l-homme [name] => Conférences sur l'avenir de la Cour européenne des droits de l'homme [desc] => [children] => Array ( ) ) ) ) [14] => Array ( [id] => 386 [link] => https://edoc.coe.int/fr/386-ressources-pour-les-plus-jeunes [name] => Ressources pour les plus jeunes [desc] => [children] => Array ( [0] => Array ( [id] => 387 [link] => https://edoc.coe.int/fr/387-6-10-ans [name] => 6 - 10 ans [desc] => [children] => Array ( ) ) [1] => Array ( [id] => 389 [link] => https://edoc.coe.int/fr/389-11-18-ans [name] => 11 - 18 ans [desc] => [children] => Array ( ) ) ) ) [15] => Array ( [id] => 402 [link] => https://edoc.coe.int/fr/402-ressources-pour-les-enseignants [name] => Ressources pour les enseignants [desc] => [children] => Array ( [0] => Array ( [id] => 404 [link] => https://edoc.coe.int/fr/404-outils-pedagogiques [name] => Outils pédagogiques [desc] => [children] => Array ( ) ) [1] => Array ( [id] => 407 [link] => https://edoc.coe.int/fr/407-enseignement-de-l-histoire [name] => Enseignement de l'histoire [desc] => [children] => Array ( ) ) ) ) ) ) ) ) 1
Catalogue
Newsletter
Restez informés
Souscrivez à notre newsletter
Souscrivez à notre newsletter
Brochure - Council of Europe Action Plan to promote the rights and full participation of people with disabilities in society: Improving the quality of life of people with disabilities in Europe 2006-2015 - Abridged evaluation report
(2016)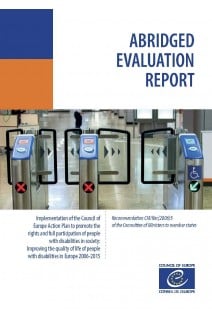  
The evaluation of the implementation of the Council of Europe Disability Action Plan highlights achievements over the ten-year period in particular with regard to legislation, service delivery, the physical environment and attitudes towards persons with disabilities.
There are significant challenges ahead that cannot be eliminated overnight. They call for the continued commitment of governments, the full involvement of organisations of and for persons with disabilities, and other relevant stakeholders, sharing of knowhow and exchanging of promising practices to ensure that Europe becomes a democratic, welcoming home for all, and upholds its values of democracy, respect for human rights and diversity.
The Evaluation Report follows the Plan's 15 action lines and outlines their AIMS, depicts the positive influence of the Plan under IMPACTS, and highlights the shortcomings in its implementation under CHALLENGES.