12th General Report on GRETA's Activities covering the period from 1 January to 31 December 2022
(2023)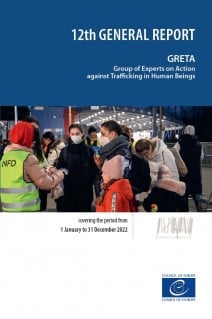  
The Council of Europe Convention on Action Against Trafficking in Human Beings, in force since 2008, provides a comprehensive framework for combating trafficking in human beings from a human-rights based and victim-centred perspective. To date, the Convention has been ratified by all 46 member states of the Council of Europe, as well as by the non-member states Belarus and Israel.

The Group of Experts on Action against Trafficking in Human Beings (GRETA) is responsible for evaluating the implementation of the Convention by the States Parties. Its recommendations help to trigger legislative changes, raise awareness of the various forms of human trafficking and better protect the rights of trafficked persons.

GRETA's 12th General Report presents an overview of its activities from 1 January to 31 December 2022, including meetings, evaluation visits, country reports, round tables, and relations with other Council of Europe bodies, international organisations and non-governmental organisations. The report also includes a thematic chapter devoted to managing the risks of trafficking in human beings related to the war in Ukraine and a presentation of the new Committee of Ministers' recommendation on preventing and combating trafficking in human beings for the purpose of labour exploitation.
INTRODUCTION BY THE PRESIDENT OF GRETA 
ACTIVITIES DURING THE PERIOD FROM 1 JANUARY TO 31 DECEMBER 2022 
Introduction 
GRETA meetings 
Country visits and evaluations 
GRETA MEMBERSHIP AND BUREAU 
SIGNATURES AND RATIFICATIONS OF THE CONVENTION 
VISIBILITY AND IMPACT OF THE MONITORING PROCESS 
Publicity of GRETA's reports 
Practical impact of GRETA's monitoring work 
Activities related to the implementation of GRETA's recommendations 
PREVENTING AND DETECTING TRAFFICKING IN HUMAN BEINGS FOLLOWING RUSSIA'S AGGRESSION AGAINST UKRAINE
Registration and safe migration routes 
Immediate assistance and integration 
Information and awareness-raising 
Detection of potential victims and traffickers 
Vulnerable groups 
Co-operation and co-ordination 
RECOMMENDATION OF THE COMMITTEE OF MINISTERS ON PREVENTING AND
COMBATING TRAFFICKING IN HUMAN BEINGS FOR THE PURPOSE OF LABOUR
EXPLOITATION 
MEETING OF NATIONAL ANTI-TRAFFICKING CO-ORDINATORS AND RAPPORTEURS 
RELATIONS WITH THE COMMITTEE OF THE PARTIES 
CO-OPERATION WITH COUNCIL OF EUROPE BODIES 
European Court of Human Rights 
Other Council of Europe bodies 
CO-OPERATION WITH OTHER INTERGOVERNMENTAL ORGANISATIONS 
United Nations 
Inter-Agency Co-ordination Group against Trafficking in Persons (ICAT) 
OSCE/ODIHR 
European Union 
Council of Baltic Sea States (CBSS) 
CO-OPERATION WITH CIVIL SOCIETY 
APPENDIX 1 
Chart of signatures and ratifications of the Council of Europe 
Convention on Action against Trafficking in Human Beings Status as of 31/12/2022 
APPENDIX 2 
GRETA's field of operations 
APPENDIX 3 
List of GRETA members (as at 31 December 2022) 
APPENDIX 4 
Secretariat of the Council of Europe Convention on Action against Trafficking in Human Beings (as at 31 December 2022) 
APPENDIX 5 
List of GRETA's activities during the period 1 January to 31 December 2022 
APPENDIX 6 
List of activities organised to support the implementation of GRETA's recommendations during the period 1 January to 31 December 2022 
APPENDIX 7 
Updated provisional timetable of GRETA's 3rd Evaluation Round 
APPENDIX 8 
Participation of GRETA members and Secretariat in events in the area of action against trafficking in human beings 
APPENDIX 9 
Workflow of the monitoring mechanism of the Council of Europe Anti-Trafficking Convention