Ready for future challenges - Reinforcing the Council of Europe
(2019)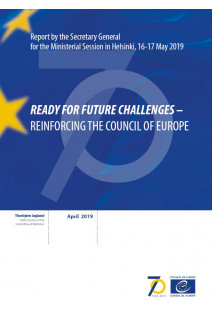  
Ready for future challenges: Secretary General Thorbjørn Jagland urges member states to reinforce the Council of Europe

In his last annual report after ten years as Secretary General, Thorbjørn Jagland has urged the Council of Europe's 47 member states to reinforce the organisation, to make sure that it is properly financed and to develop new legal standards on emerging challenges to human rights and democracy.

"Faced with growing threats to the rule of law and new challenges to human rights across our continent, I am convinced that we need to reinforce the Council of Europe's instruments, not to replace or duplicate them. These should also be financed properly from public money," said the Secretary General.

The Secretary General's report highlights the Council of Europe's substantial contribution to promoting peace and stability across Europe, notably through the European Convention on Human Rights and the European Social Charter.

However, it also cites a number of areas of concern – including attempts to bring courts under political control, increasing pressure on journalists and NGOs and challenges to the authority of the European Court of Human Rights from nationalist forces – and calls for the organisation to be more proactive in upholding its legal standards.

In addition, the Secretary General urges member states to create new standards to help tackle a number of emerging challenges to human rights and democracy, notably artificial intelligence and modern slavery, as well as taking additional measures to promote economic and social inclusion.

The report also sets out a number of principles according to which the Secretary General believes the on-going difficulties between the Council of Europe and the Russian Federation should be resolved.

These include upholding the rights and obligations of all 47 member states to fully participate in the organisation's Committee of Ministers and Parliamentary Assembly, as well as their obligation to co-operate with the Council of Europe in good faith and to pay their financial contributions on time.
A CALL TO MEMBER STATES' GOVERNMENTS 
Council of Europe acquis 
New challenges – vital standards 
Need to be more proactive 
The need to secure financial integrity and a continued focus on efficiency 
The Council of Europe's strategic advantage 
CHAPTER I - TRENDS AND CHALLENGES TO OUR DEMOCRATIC SECURITY 
Political and legal challenges to our Convention system 
Judicial independence under stress in a number of member states 
Threats against freedom of expression and media freedom 
Freedom of assembly and freedom of association 
Social and societal challenges 
Negative impact of austerity measures 
Need to strengthen anti-discrimination and equality policies 
Protecting national minorities' rights: maintaining peace in Europe 
Addressing migration on the basis of our standards 
CHAPTER II - COUNCIL OF EUROPE ACQUIS 
Ensuring and protecting rights 
Key areas 
Enabling participation 
Sports 
Culture 
Education and youth 
Internet governance 
STRENGTHENING THE ACQUIS BY ADDRESSING MAJOR CHALLENGES 
Forced labour ("modern slavery") 
Scope and victim profiles 
Source of vulnerability 
Identification challenges 
Difficulties in acknowledging the problem 
Difficulties in addressing the problem 
Artificial intelligence 
Potential risks of AI 
Basis for action by the Council of Europe 
Ways forward 
Increased inequality 
A widening gap 
Social rights in Europe 
Renewed momentum 
CHAPTER III - TAKING STOCK OF THE REFORM PROCESS 
A strengthened Convention system 
Better co-ordination within the Organisation 
A sustainable human resources policy 
STRATEGIC PROPOSALS FOR MOVING FORWARD 
Strengthening intergovernmental co-operation 
Strengthening the monitoring by the Council of Europe 
Monitoring by statutory bodies 
Monitoring by convention-based and institutional mechanisms 
New monitoring approach to critical developments 
Addressing the challenge of "grey zones" 
Enhancing the ability of the CPT to react to emergency situations 
Ensuring the sustainability of the Organisation 
Creating a special fund – The Helsinki Fund 
Increasing the Working Capital Fund 
Moving away from the zero nominal growth policy 
Adapting the rules and scale applied to contributions 
Towards a more sustainable economic model 
Adopting a four-year strategic framework 
Continuing structural and administrative reforms 
Functions and election procedure of the Deputy Secretary General 
Administrative reform and the People Strategy