Protecting women and girls from violence in the digital age
(2021)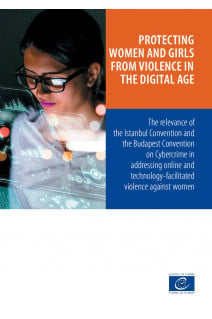  
The relevance of the Istanbul Convention and the Budapest Convention on Cybercrime in addressing online and technology-facilitated violence against women

The Istanbul Convention is the most far-reaching international treaty to tackle violence against women and domestic violence. Its comprehensive set of provisions spans far-ranging preventive and protective measures as well as a number of obligations to ensure an adequate criminal justice response to such serious violations of human rights. The Budapest Convention on Cybercrime is the most relevant international agreement on cybercrime and electronic evidence. It provides for the criminalisation of offences against and by means of computers, procedural law tools to secure electronic evidence, and for international co-operation among Parties.

This study looks at the complementary application of these two conventions to address online and technology-facilitated violence against women through co-ordinated policies, prevention, protection, prosecution and international co-operation.
EXECUTIVE SUMMARY 
INTRODUCTION 
CHAPTER I - DEFINING ONLINE AND TECHNOLOGY-FACILITATED VIOLENCE AGAINST WOMEN 
THE PHENOMENON: WHAT, HOW AND WHERE? 
FORMS OF TECHNOLOGY-FACILITATED VIOLENCE AGAINST WOMEN 
VICTIMISATION CHARACTERISTICS 
CHALLENGES FACING THE VICTIMS 
CHAPTER II - THE ISTANBUL CONVENTION AND ONLINE AND TECHNOLOGY-FACILITATED VIOLENCE AGAINST WOMEN 
SCOPE 
MONITORING MECHANISM 
RELATIONSHIP WITH OTHER INSTRUMENTS 
CHAPTER III - THE BUDAPEST CONVENTION 
THE TEXT AND ITS SCOPE 
ADDITIONAL PROTOCOLS TO THE BUDAPEST CONVENTION 
The first additional protocol 
The forthcoming second additional protocol 
FOLLOW-UP COMMITTEE AND CYBERCRIME PROGRAMME OFFICE 
CHAPTER IV - INTERNATIONAL AND REGIONAL INSTRUMENTS COVERING THE ISSUE OF ONLINE AND TECHNOLOGY-FACILITATED VIOLENCE AGAINST WOMEN 
CEDAW COMMITTEE GENERAL RECOMMENDATION NO. 35 
COUNCIL OF EUROPE RECOMMENDATION ON PREVENTING AND COMBATING SEXISM 
COUNCIL OF EUROPE GENDER EQUALITY STRATEGY 
EU GENDER EQUALITY STRATEGY 
EU STRATEGY ON VICTIM'S RIGHTS 
COUNCIL OF EUROPE CONVENTION 108+ AND THE GDPR 
THE EU DIGITAL SERVICES ACT 
THE PROPOSAL FOR E-EVIDENCE 
THE EU CODE OF CONDUCT ON COUNTERING ILLEGAL HATE SPEECH ONLINE 
CHAPTER V - FOCUS ON ARTICLES 33, 34 AND 40 OF THE ISTANBUL CONVENTION 
SEXUAL AND GENDERED ONLINE HARASSMENT 
A note on cyberbullying 
Non-consensual image or video sharing 
Online sexual harassment containing exploitation, coercion and threats 
Sexualised bullying 
Applicable Budapest Convention provisions 
ONLINE AND TECHNOLOGY-FACILITATED STALKING 
Spyware/stalkerware and tracking via GPS or geolocation 
Scaring, threatening and controlling via the Internet of Things (IoT) 
Applicable Budapest Convention provisions 
FORMS OF ONLINE AND TECHNOLOGY-FACILITATED PSYCHOLOGICAL VIOLENCE 
CHAPTER VI - RELEVANT PROVISIONS OF THE ISTANBUL AND BUDAPEST CONVENTIONS 
INTEGRATED POLICIES 
PREVENTION 
PROTECTION 
PROSECUTION 
INVESTIGATION, PROSECUTION, PROCEDURAL LAW AND PROTECTIVE MEASURES 
INTERNATIONAL CO-OPERATION 
CHAPTER VII - CONCLUDING REMARKS AND RECOMMENDATIONS 
CONCLUDING REMARKS 
RECOMMENDATIONS 
APPENDIX 1: DISCUSSION ON IMAGE-BASED SEXUAL ABUSE AS A SEXUAL AND GENDER-BASED CYBERCRIME AND A FORM OF ONLINE SEXUAL HARASSMENT WITH AGGRAVATING CIRCUMSTANCES
APPENDIX 2: DISCUSSION ON EXISTING FRAMEWORKS ON SEXIST HATE SPEECH ONLINE AND RESPONSES TO IT IN LAW AND IN INTERNET PLATFORM PRACTICE 
APPENDIX 3: GLOSSARY OF TERMS 
APPENDIX 4: REFERENCES