How to protect journalists and other media actors?
(2020)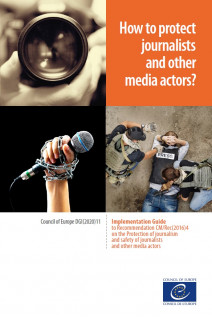  
Violence against journalists is on the rise across Council of Europe member States – attacks are getting more severe and include, in some cases, murders and car bombs, as well as other forms of physical violence and threats. The present Implementation guide aims to provide member States with concrete responses to the question what can and should be done to protect journalists and other media actors.

It does so by providing more context to the Committee of Ministers Recommendation on the Protection of journalism and the safety of journalists and other media actors, including references to the case law of the European Court of Human Rights and to other sources. More importantly, it showcases concrete valuable practices in the area and makes suggestions for implementation of the Recommendation, with a view to removing the issue of safety and impunity from the realm of mere theory and projecting it into actionable measures. A self-assessment tool offered by the Implementation guide is intended to help member States objectively review the state of implementation of the Recommendation in their respective jurisdictions.
INTRODUCTION AND METHODOLOGY 
ANALYSIS OF SELECTED AREAS OF THE PROTECTION PILLAR OF THE GUIDELINES OF RECOMMENDATION CM/REC(2016)4 
A. Early-warning, rapid response mechanisms and protection measures to ensure the safety of journalists (paragraphs 8-10 of the Guidelines) 
B. Training on the protection of journalists (paragraph 12 of the Guidelines) 
C. Discriminatory or arbitrary application of legislation or sanctions to silence journalists and other media actors (paragraph 13 of the Guidelines) 
D. Role of journalists and other media actors covering demonstrations and other events (paragraph 14 of the Guidelines)
E. Hostility and undermining the integrity of journalists by public authorities (paragraph 15 of the Guidelines) 
ANALYSIS OF SELECTED AREAS OF THE PROSECUTION PILLAR OF THE GUIDELINES OF RECOMMENDATION CM/REC(2016)4 
A. Requirements for an effective investigation and operational requirements to stem impunity (paragraphs 17-22 and 24-25 of the Guidelines) 
B. Remedies available to journalists and their next of kin (paragraph 23 of the Guidelines) 
APPENDIX
SELF-ASSESSMENT TOOL FOR MEMBER STATES ON SELECTED TOPICS REGARDING THE PROTECTION OF JOURNALISM AND SAFETY OF JOURNALISTS AND OTHER MEDIA ACTORS – UNDER
THE PROTECTION AND PROSECUTION PILLARS OF THE GUIDELINES OF RECOMMENDATION CM/REC(2016)4