New technologies, new social media and the European Charter for Regional or Minority Languages
(2020)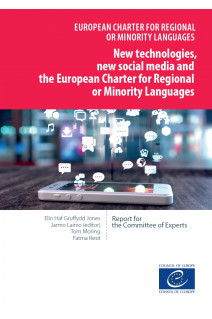  
The European Charter for Regional or Minority Languages is the European convention for the protection and promotion of languages used by traditional minorities. Together with the Framework Convention for the Protection of National Minorities it constitutes the Council of Europe's commitment to the protection of national minorities.

Regional or minority languages are part of Europe's cultural heritage and their protection and promotion contribute to the building of a Europe based on democracy and cultural diversity.

The Charter, drawn up on the basis of a text put forward by the Standing Conference of Local and Regional Authorities of Europe, was adopted as a convention on 25 June 1992 by the Committee of Ministers of the Council of Europe, and was opened for signature in Strasbourg on 5 November 1992. It entered into force on 1 March 1998.
ABBREVIATIONS 
PREFACE 
CHAPTER 1
1.1. INTRODUCTION 
1.1.1. About the report 
1.1.2. The background and working group's starting points 
CHAPTER 2
2.1. INTRODUCTION TO CHAPTER 2 
2.2. CHANGES TO MEDIA LANDSCAPE: ANALYSIS OF CONTEXTUAL CHANGE, INCLUDING FOR MINORITY LANGUAGES 
2.2.1. Outline of Chapter 2 
2.2.2. Digitisation and changes in legacy media (print) 
2.2.3. Digitisation and changes in legacy media (broadcasting) 
2.2.4. Effects of marketisation and digitisation for RML media 
2.2.5. New and emerging forms of media 
2.2.6. Participatory media 
2.2.7. Divided public spheres 
2.2.8. Language and technology 
2.2.9. The role of the state and its policy implications 
2.2.10. Concluding points to section 2.2. 
2.3. NEW MEDIA IN THE PRACTICE OF THE COMMITTEE OF EXPERTS – HOW MONITORING HAS FACED THE CHALLENGE 
2.3.1. References to the media and the internet 
2.3.2. The internet as the only distribution channel of media 
2.3.3. Media only present online as audio or audiovisual work 
2.3.4. Advocating and encouraging the use of the internet 
2.3.5. New media actors 
2.3.6. Conclusion 
2.4. THE CHARTER´S TEXT IN THE LIGHT OF NEW TECHNOLOGIES: ARTICLES 7, 11, 12 AND 14 
2.4.1. Introductory remarks 
2.4.2. Article 7 – Objectives and principles 
2.4.3. Article 11 – Media 
2.4.4. Article 12 – Cultural activities and facilities 
2.4.5. Article 14 – Transfrontier exchanges 
2.5. ORIENTATIONS FOR MONITORING 
CHAPTER 3
3.1. INTRODUCTION AND OUTLINE OF CHAPTER 3 
3.2. SOME COMMENTS ON THE EXPERTS' ANALYSES 
3.3. PROBLEMS OF THE DYNAMIC AND FLEXIBLE OUTLINE OF THE CHARTER, VERSUS A STATIC UNDERSTANDING OF ITS FUNCTIONS 
3.4. THE REACH OF THE CHARTER AND THE POWER OF STATES PARTIES 
3.5. OTHER ISSUES RAISED 
3.5.1. Demographies 
3.5.2. Further effects of digitisation 
3.6. FINAL WORDS AND EPILOGUE TO THE REPORT