Array ( [id] => 2 [link] => [name] => [desc] => [children] => Array ( [0] => Array ( [id] => 7 [link] => https://edoc.coe.int/fr/7-ressources-en-ligne [name] => Ressources en ligne [desc] => [children] => Array ( [0] => Array ( [id] => 378 [link] => https://edoc.coe.int/fr/378-le-conseil-de-l-europe-en-bref [name] => Le Conseil de l'Europe en bref [desc] => [children] => Array ( [0] => Array ( [id] => 364 [link] => https://edoc.coe.int/fr/364-carte-des-etats-membres [name] => Carte des États membres [desc] => [children] => Array ( ) ) [1] => Array ( [id] => 381 [link] => https://edoc.coe.int/fr/381-un-aperu [name] => Un aperçu [desc] => [children] => Array ( ) ) [2] => Array ( [id] => 408 [link] => https://edoc.coe.int/fr/408-rapports-annuels-d-activite [name] => Rapports annuels d'activité [desc] => [children] => Array ( ) ) ) ) [1] => Array ( [id] => 170 [link] => https://edoc.coe.int/fr/170-droits-de-l-homme [name] => Droits de l'homme [desc] => [children] => Array ( [0] => Array ( [id] => 172 [link] => https://edoc.coe.int/fr/172-convention-europenne-des-droits-de-l-homme [name] => Convention européenne des droits de l'homme [desc] => [children] => Array ( ) ) [1] => Array ( [id] => 374 [link] => https://edoc.coe.int/fr/374-liberts-fondamentales [name] => Libertés fondamentales [desc] => [children] => Array ( ) ) [2] => Array ( [id] => 191 [link] => https://edoc.coe.int/fr/191-violence-l-gard-des-femmes [name] => Violence à l'égard des femmes [desc] => [children] => Array ( ) ) [3] => Array ( [id] => 187 [link] => https://edoc.coe.int/fr/187-droits-des-enfants [name] => Droits des enfants [desc] => [children] => Array ( ) ) [4] => Array ( [id] => 192 [link] => https://edoc.coe.int/fr/192-traite-des-etres-humains [name] => Traite des êtres humains [desc] => [children] => Array ( ) ) [5] => Array ( [id] => 372 [link] => https://edoc.coe.int/fr/372-rfugis [name] => Réfugiés [desc] => [children] => Array ( ) ) [6] => Array ( [id] => 176 [link] => https://edoc.coe.int/fr/176-peine-de-mort [name] => Peine de mort [desc] => [children] => Array ( ) ) [7] => Array ( [id] => 177 [link] => https://edoc.coe.int/fr/177-lutte-contre-la-torture [name] => Lutte contre la torture [desc] => [children] => Array ( ) ) [8] => Array ( [id] => 178 [link] => https://edoc.coe.int/fr/178-racisme [name] => Racisme [desc] => [children] => Array ( ) ) ) ) [2] => Array ( [id] => 179 [link] => https://edoc.coe.int/fr/179-democratie [name] => Démocratie [desc] => [children] => Array ( [0] => Array ( [id] => 180 [link] => https://edoc.coe.int/fr/180-dmocratie-locale [name] => Démocratie locale [desc] => [children] => Array ( ) ) [1] => Array ( [id] => 182 [link] => https://edoc.coe.int/fr/182-elections [name] => Elections [desc] => [children] => Array ( ) ) [2] => Array ( [id] => 181 [link] => https://edoc.coe.int/fr/181-forum-mondial-de-la-democratie [name] => Forum mondial de la démocratie [desc] => [children] => Array ( ) ) ) ) [3] => Array ( [id] => 233 [link] => https://edoc.coe.int/fr/233-droit [name] => Droit [desc] => [children] => Array ( [0] => Array ( [id] => 234 [link] => https://edoc.coe.int/fr/234-crime-organise [name] => Crime organisé [desc] => [children] => Array ( ) ) [1] => Array ( [id] => 235 [link] => https://edoc.coe.int/fr/235-corruption [name] => Corruption [desc] => [children] => Array ( ) ) [2] => Array ( [id] => 237 [link] => https://edoc.coe.int/fr/237-protection-des-donnees [name] => Protection des données [desc] => [children] => Array ( ) ) [3] => Array ( [id] => 175 [link] => https://edoc.coe.int/fr/175-reforme-penitentiaire-europeenne [name] => Réforme pénitentiaire européenne [desc] => [children] => Array ( ) ) [4] => Array ( [id] => 238 [link] => https://edoc.coe.int/fr/238-terrorisme [name] => Terrorisme [desc] => [children] => Array ( ) ) [5] => Array ( [id] => 239 [link] => https://edoc.coe.int/fr/239-efficacite-de-la-justice [name] => Efficacité de la justice [desc] => [children] => Array ( ) ) [6] => Array ( [id] => 379 [link] => https://edoc.coe.int/fr/379-droit-international [name] => Droit international [desc] => [children] => Array ( ) ) ) ) [4] => Array ( [id] => 193 [link] => https://edoc.coe.int/fr/193-societe [name] => Société [desc] => [children] => Array ( [0] => Array ( [id] => 194 [link] => https://edoc.coe.int/fr/194-vivre-ensemble-diversite-et-liberte-en-europe [name] => Vivre ensemble - diversité et liberté en Europe [desc] => [children] => Array ( ) ) [1] => Array ( [id] => 195 [link] => https://edoc.coe.int/fr/195-charte-sociale [name] => Charte sociale [desc] => [children] => Array ( ) ) [2] => Array ( [id] => 205 [link] => https://edoc.coe.int/fr/205-lutte-contre-la-toxicomanie [name] => Lutte contre la toxicomanie [desc] => [children] => Array ( ) ) [3] => Array ( [id] => 196 [link] => https://edoc.coe.int/fr/196-migrations [name] => Migrations [desc] => [children] => Array ( ) ) [4] => Array ( [id] => 197 [link] => https://edoc.coe.int/fr/197-banque-de-developpement-du-conseil-de-l-europe [name] => Banque de développement du Conseil de l'Europe [desc] => [children] => Array ( ) ) [5] => Array ( [id] => 222 [link] => https://edoc.coe.int/fr/222-lgbt [name] => LGBT [desc] => [children] => Array ( ) ) [6] => Array ( [id] => 223 [link] => https://edoc.coe.int/fr/223-personnes-handicapees [name] => Personnes handicapées [desc] => [children] => Array ( ) ) [7] => Array ( [id] => 190 [link] => https://edoc.coe.int/fr/190-egalite-hommesfemmes [name] => Egalité hommes/femmes [desc] => [children] => Array ( ) ) ) ) [5] => Array ( [id] => 198 [link] => https://edoc.coe.int/fr/198-nouvelles-technologies-medias [name] => Nouvelles technologies / Médias [desc] => [children] => Array ( [0] => Array ( [id] => 199 [link] => https://edoc.coe.int/fr/199-internet [name] => Internet [desc] => [children] => Array ( ) ) [1] => Array ( [id] => 200 [link] => https://edoc.coe.int/fr/200-les-enfants-et-l-internet [name] => Les enfants et l'Internet [desc] => [children] => Array ( ) ) [2] => Array ( [id] => 201 [link] => https://edoc.coe.int/fr/201-medias [name] => Médias [desc] => [children] => Array ( ) ) [3] => Array ( [id] => 202 [link] => https://edoc.coe.int/fr/202-cybercriminalite [name] => Cybercriminalité [desc] => [children] => Array ( ) ) [4] => Array ( [id] => 410 [link] => https://edoc.coe.int/fr/410-intelligence-artificielle [name] => Intelligence artificielle [desc] => [children] => Array ( ) ) ) ) [6] => Array ( [id] => 203 [link] => https://edoc.coe.int/fr/203-sante [name] => Santé [desc] => [children] => Array ( [0] => Array ( [id] => 204 [link] => https://edoc.coe.int/fr/204-bioethique [name] => Bioéthique [desc] => [children] => Array ( ) ) [1] => Array ( [id] => 206 [link] => https://edoc.coe.int/fr/206-mdicaments [name] => Médicaments [desc] => [children] => Array ( ) ) [2] => Array ( [id] => 207 [link] => https://edoc.coe.int/fr/207-soins-de-sant [name] => Soins de santé [desc] => [children] => Array ( ) ) ) ) [7] => Array ( [id] => 208 [link] => https://edoc.coe.int/fr/208-culture-patrimoine-nature [name] => Culture, patrimoine, nature [desc] => [children] => Array ( [0] => Array ( [id] => 210 [link] => https://edoc.coe.int/fr/210-la-convention-culturelle-europenne [name] => La Convention culturelle européenne [desc] => [children] => Array ( ) ) [1] => Array ( [id] => 211 [link] => https://edoc.coe.int/fr/211-dialogue-interculturel-et-interreligieux [name] => Dialogue interculturel et interreligieux [desc] => [children] => Array ( ) ) [2] => Array ( [id] => 212 [link] => https://edoc.coe.int/fr/212-environnement [name] => Environnement [desc] => [children] => Array ( ) ) [3] => Array ( [id] => 214 [link] => https://edoc.coe.int/fr/214-culture-et-democratie [name] => Culture et démocratie [desc] => [children] => Array ( ) ) [4] => Array ( [id] => 397 [link] => https://edoc.coe.int/fr/397-patrimoine-culturel [name] => Patrimoine culturel [desc] => [children] => Array ( ) ) ) ) [8] => Array ( [id] => 215 [link] => https://edoc.coe.int/fr/215-le-conseil-de-l-europe-et-l-union-europenne [name] => Le Conseil de l'Europe et l'Union européenne [desc] => [children] => Array ( [0] => Array ( [id] => 216 [link] => https://edoc.coe.int/fr/216-missions-diffrentes-valeurs-communes [name] => Missions différentes, valeurs communes [desc] => [children] => Array ( ) ) [1] => Array ( [id] => 217 [link] => https://edoc.coe.int/fr/217-partenariats [name] => Partenariats [desc] => [children] => Array ( ) ) ) ) [9] => Array ( [id] => 218 [link] => https://edoc.coe.int/fr/218-droits-des-minorits [name] => Droits des minorités [desc] => [children] => Array ( [0] => Array ( [id] => 219 [link] => https://edoc.coe.int/fr/219-minorites-nationales [name] => Minorités nationales [desc] => [children] => Array ( ) ) [1] => Array ( [id] => 220 [link] => https://edoc.coe.int/fr/220-langues-minoritaires [name] => Langues minoritaires [desc] => [children] => Array ( ) ) [2] => Array ( [id] => 221 [link] => https://edoc.coe.int/fr/221-roms [name] => Roms [desc] => [children] => Array ( ) ) ) ) [10] => Array ( [id] => 224 [link] => https://edoc.coe.int/fr/224-education [name] => Education [desc] => [children] => Array ( [0] => Array ( [id] => 226 [link] => https://edoc.coe.int/fr/226-enseignement-de-l-histoire [name] => Enseignement de l'Histoire [desc] => [children] => Array ( ) ) [1] => Array ( [id] => 393 [link] => https://edoc.coe.int/fr/393-droits-de-l-homme-citoyennete-democratique-et-interculturalisme [name] => Droits de l'homme, citoyenneté démocratique et interculturalisme [desc] => [children] => Array ( ) ) [2] => Array ( [id] => 394 [link] => https://edoc.coe.int/fr/394-apprentissage-des-langues [name] => Apprentissage des langues [desc] => [children] => Array ( ) ) [3] => Array ( [id] => 398 [link] => https://edoc.coe.int/fr/398-formation-des-enseignants [name] => Formation des enseignants [desc] => [children] => Array ( ) ) ) ) [11] => Array ( [id] => 382 [link] => https://edoc.coe.int/fr/382-jeunesse [name] => Jeunesse [desc] => [children] => Array ( [0] => Array ( [id] => 392 [link] => https://edoc.coe.int/fr/392-les-jeunes-en-europe [name] => Les jeunes en Europe [desc] => [children] => Array ( ) ) ) ) [12] => Array ( [id] => 383 [link] => https://edoc.coe.int/fr/383-sport [name] => Sport [desc] => [children] => Array ( [0] => Array ( [id] => 384 [link] => https://edoc.coe.int/fr/384-sport-pour-tous [name] => Sport pour tous [desc] => [children] => Array ( ) ) [1] => Array ( [id] => 390 [link] => https://edoc.coe.int/fr/390-dopage [name] => Dopage [desc] => [children] => Array ( ) ) [2] => Array ( [id] => 391 [link] => https://edoc.coe.int/fr/391-la-violence-dans-le-sport [name] => La violence dans le sport [desc] => [children] => Array ( ) ) ) ) [13] => Array ( [id] => 240 [link] => https://edoc.coe.int/fr/240-institutions [name] => Institutions [desc] => [children] => Array ( [0] => Array ( [id] => 242 [link] => https://edoc.coe.int/fr/242-assemblee-parlementaire [name] => Assemblée parlementaire [desc] => [children] => Array ( ) ) [1] => Array ( [id] => 243 [link] => https://edoc.coe.int/fr/243-congres-des-pouvoirs-locaux-et-regionaux [name] => Congrès des pouvoirs locaux et régionaux [desc] => [children] => Array ( ) ) [2] => Array ( [id] => 244 [link] => https://edoc.coe.int/fr/244-cour-europenne-des-droits-de-lhomme [name] => Cour européenne des droits de l'homme [desc] => [children] => Array ( ) ) [3] => Array ( [id] => 245 [link] => https://edoc.coe.int/fr/245-commissaire-aux-droits-de-lhomme [name] => Commissaire aux droits de l'homme [desc] => [children] => Array ( ) ) [4] => Array ( [id] => 246 [link] => https://edoc.coe.int/fr/246-confrence-des-oing [name] => Conférence des OING [desc] => [children] => Array ( ) ) [5] => Array ( [id] => 247 [link] => https://edoc.coe.int/fr/247-conferences-sur-l-avenir-de-la-cour-europeenne-des-droits-de-l-homme [name] => Conférences sur l'avenir de la Cour européenne des droits de l'homme [desc] => [children] => Array ( ) ) ) ) [14] => Array ( [id] => 386 [link] => https://edoc.coe.int/fr/386-ressources-pour-les-plus-jeunes [name] => Ressources pour les plus jeunes [desc] => [children] => Array ( [0] => Array ( [id] => 387 [link] => https://edoc.coe.int/fr/387-6-10-ans [name] => 6 - 10 ans [desc] => [children] => Array ( ) ) [1] => Array ( [id] => 389 [link] => https://edoc.coe.int/fr/389-11-18-ans [name] => 11 - 18 ans [desc] => [children] => Array ( ) ) ) ) [15] => Array ( [id] => 402 [link] => https://edoc.coe.int/fr/402-ressources-pour-les-enseignants [name] => Ressources pour les enseignants [desc] => [children] => Array ( [0] => Array ( [id] => 404 [link] => https://edoc.coe.int/fr/404-outils-pedagogiques [name] => Outils pédagogiques [desc] => [children] => Array ( ) ) [1] => Array ( [id] => 407 [link] => https://edoc.coe.int/fr/407-enseignement-de-l-histoire [name] => Enseignement de l'histoire [desc] => [children] => Array ( ) ) ) ) ) ) ) ) 1
Catalogue
Newsletter
Restez informés
Souscrivez à notre newsletter
Souscrivez à notre newsletter
Istanbul Convention - Crimes committed in the name of so-called "honour"
(2019)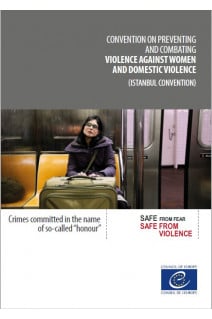  

The Council of Europe Convention on Preventing and Combating Violence against Women Istanbul Convention, CETS No. 210) covers various forms of gender-based violence, which is defined as "violence that is directed against a woman because she is a woman or that affects women disproportionately" (Article 3.d).

So-called "honour crimes" are one form of gender-based violence. However, if you are looking for an outright criminalisation of such crimes, your search will be in vain. The drafters of the convention analysed so-called "honour crimes" very carefully: the reasons why they are committed and what perpetrators are trying to achieve with this type of violence. This exercise showed that crimes committed in the name of so-called "honour" are usually crimes that have been part of the criminal law landscape of Council of Europe member states for a very long time: murder, manslaughter, bodily injury, etc. What makes them different is the intent behind them. They are committed to pursue an aim other than, or in addition to, the immediate effect of the crime. This ulterior aim may be the restoration of family "honour", the desire to be seen as respecting tradition or complying with the perceived religious, cultural or customary requirements of a particular community.
To capture this, the drafters of the convention moved away from the original idea of introducing a separate criminal offence for so-called "honour crimes" and agreed instead to ban any attempts to justify criminal behaviour on the basis of culture, custom, religion, tradition or so-called "honour".