Listen – Act – Change - Council of Europe Handbook on children's participation (Finnish version)
(2023)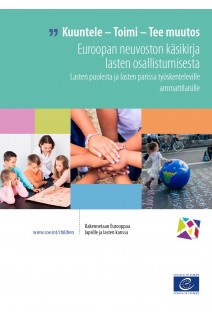  
An essential guide for professionals working for and with children
Since coming into force over 30 years ago, Article 12 of the United Nations Convention on the Rights of the Child has affirmed children's right to express their views on all matters that affect them. The Council of Europe has sought to make this right real and concrete in the member states through its Recommendation CM/Rec(2012)2 on the participation of children and young people under the age of 18, and has also embedded child participation in its own standard-setting, monitoring and capacity building work as well as at its international events. This Handbook represents a substantive contribution to the Strategy for the Rights of the Child (2016 to 2021) promoting child participation under its second priority area.
The Handbook was produced by the Children's Rights Division of the Council of Europe in collaboration with international child participation experts and following the consultation of more than 50 children and young people on the challenges to be addressed.
It is meant to be a hands-on tool for people who work with children in a professional capacity, for example in schools, hospitals, alternative care settings, child protection services, and other social services. It is designed for social workers, teachers, judges, lawyers, immigration officers, psychologists, civil servants, youth workers and day care workers, offering them practical approaches to "do" children's participation and make it work for all children, including those in vulnerable situations, both at an individual and a collective level.
Professionals using this Handbook are invited to improve their capacities and skills to "listen" to children, to "act" upon the lessons learned and to "change" any decision making involving or concerning children. They are also invited to spread the good practice promoted through this tool and thus, in the end, to make a life-changing impact for children in those contexts where decisions are made without truly listening to them.
PRÉFACE 
REMERCIEMENTS 
COMMENT UTILISER CE MANUEL ? 
PARTIE 1 : COMPRENDRE LA PARTICIPATION DES ENFANTS EN THÉORIE ET EN PRATIQUE 
1.1 LE DROIT DES ENFANTS D'ÊTRE ENTENDUS SUR LES QUESTIONS QUI LES CONCERNENT 
1.2 POURQUOI LA PARTICIPATION DES ENFANTS EST-ELLE SI IMPORTANTE ? 
1.3 LES IMPLICATIONS DU PROCESSUS DE PARTICIPATION DES ENFANTS 
1.4 L'INFLUENCE DES ENFANTS DANS LES PROCESSUS PARTICIPATIFS 
1.5 FAIRE LES CHOSES CORRECTEMENT : UNE PARTICIPATION SÛRE, ÉTHIQUE, INCLUSIVE ET EFFICACE 
1.6 DES ENVIRONNEMENTS FAVORABLES 
PARTIE 2 : CRÉER DES ORGANISATIONS ET ENVIRONNEMENTS PARTICIPATIFS 
2.1 GARANTIR L'APPROPRIATION DU PROCESSUS AU PLUS HAUT NIVEAU 
2.2 ÉVALUER LA SITUATION ACTUELLE 
2.3 CONCEVOIR UNE POLITIQUE ET DES PROCÉDURES ORGANISATIONNELLES 
2.4 RENFORCER LES CAPACITÉS DES PERSONNELS 
2.5 INSTAURER DES MÉCANISMES DE PLAINTE SÛRS ET ADAPTÉS AUX ENFANTS 
2.6 SUIVRE ET ÉVALUER LA MISE EN OEUVRE 
PARTIE 3 : LES ENFANTS EN TANT QU'INDIVIDUS 
3.1 PRÉPARER ET PLANIFIER 
3.2 ÉTABLIR UN LIEN AVEC LES ENFANTS 
3.3 IDENTIFIER LES PROBLÈMES ET LES PRIORITÉS 
3.4 RECUEILLIR LE POINT DE VUE DES ENFANTS 
3.5 AGIR 
3.6 ASSURER UN SUIVI 
3.7 DRESSER LE BILAN, ENGAGER UNE RÉFLEXION ET RECOMMENCER 
PARTIE 4 : PARTICIPATION COLLECTIVE 
4.1 PRÉPARER ET PLANIFIER 
4.2 ÉTABLIR UN LIEN AVEC LES ENFANTS 
4.3 IDENTIFIER LES PROBLÈMES ET LES PRIORITÉS 
4.4 RECUEILLIR LE POINT DE VUE DES ENFANTS 
4.5 AGIR 
4.6 ASSURER UN SUIVI 
4.7 DRESSER LE BILAN, ENGAGER UNE RÉFLEXION ET RECOMMENCER
PARTIE 5 : RESSOURCES 
5.1 NORMES JURIDIQUES 
5.2 LA PARTICIPATION DES ENFANTS DANS DIFFÉRENTS CONTEXTES OU AVEC DIFFÉRENTS GROUPES : ORIENTATIONS ET EXEMPLES 
5.3 ACTIVITÉS (PARTICIPATION COLLECTIVE) 
5.4 SENSIBILISATION ET MILITANTISME DES ENFANTS 
5.5 RENFORCEMENT DES COMPÉTENCES 
5.6 INSTITUTIONS PARTICIPATIVES 
5.7 SUIVI ET ÉVALUATION 
5.8 BASES THÉORIQUES 
5.9 DIVERS 
ANNEXE 1
: LES NEUF PRESCRIPTIONS DE BASE POUR UNE PARTICIPATION EFFICACE ET ÉTHIQUE : IMPLICATIONS CONCRÈTES 
ANNEXE 2
: ORIENTATIONS SUR L'ÉLABORATION D'INFORMATIONS ACCESSIBLES 
ANNEXE 3
: AIDE-MÉMOIRE POUR GARANTIR LA SÉCURITÉ ET LE BIEN-ÊTRE 
ANNEXE 4
: LUTTER CONTRE LA DISCRIMINATION : IMPLICATIONS CONCRÈTES 
ANNEXE 5
: AIDE-MÉMOIRE POUR EXPLIQUER LE RÔLE DES ENFANTS DANS LES RENCONTRES ET LES PROCÉDURES 
ANNEXE 6
: AIDE-MÉMOIRE POUR COMMUNIQUER AVEC LES ENFANTS 
ANNEXE 7
: QUESTIONS ESSENTIELLES POUR PRÉPARER LA PARTICIPATION COLLECTIVE 
ANNEXE 8
: AIDE-MÉMOIRE POUR GARANTIR LA LIBERTÉ D'EXPRESSION ET D'ASSOCIATION