Listen – Act – Change - Council of Europe Handbook on children's participation
(2020)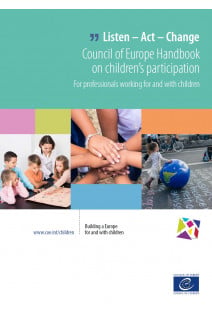  
An essential guide for professionals working for and with children

Since coming into force over 30 years ago, Article 12 of the United Nations Convention on the Rights of the Child has affirmed children's right to express their views on all matters that affect them. The Council of Europe has sought to make this right real and concrete in the member states through its Recommendation CM/Rec(2012)2 on the participation of children and young people under the age of 18, and has also embedded child participation in its own standard-setting, monitoring and capacity building work as well as at its international events. This Handbook represents a substantive contribution to the Strategy for the Rights of the Child (2016 to 2021) promoting child participation under its second priority area.

The Handbook was produced by the Children's Rights Division of the Council of Europe in collaboration with international child participation experts and following the consultation of more than 50 children and young people on the challenges to be addressed.

It is meant to be a hands-on tool for people who work with children in a professional capacity, for example in schools, hospitals, alternative care settings, child protection services, and other social services. It is designed for social workers, teachers, judges, lawyers, immigration officers, psychologists, civil servants, youth workers and day care workers, offering them practical approaches to "do" children's participation and make it work for all children, including those in vulnerable situations, both at an individual and a collective level.

Professionals using this Handbook are invited to improve their capacities and skills to "listen" to children, to "act" upon the lessons learned and to "change" any decision making involving or concerning children. They are also invited to spread the good practice promoted through this tool and thus, in the end, to make a life-changing impact for children in those contexts where decisions are made without truly listening to them.
PREFACE 
ACKNOWLEDGMENTS 
HOW TO USE THE HANDBOOK 
SECTION 1: UNDERSTANDING CHILDREN'S PARTICIPATION IN THEORY AND PRACTICE 
1.1 CHILDREN'S RIGHTS TO PARTICIPATION IN MATTERS THAT AFFECT THEM 
Figure 1: Dimensions of children's participation 
1.2 WHY IS CHILDREN'S PARTICIPATION SO IMPORTANT? 
1.3 THE PROCESS OF CHILDREN'S PARTICIPATION – WHAT'S INVOLVED? 
Figure 2: Participation as a rolling process that produces change 
1.4 INFLUENCE IN PARTICIPATION PROCESSES 
Figure 3: A first Lattice of Children's Participation 
Figure 4: A second phase Lattice of Children's Participation 
1.5 DOING IT WELL – SAFE, ETHICAL, INCLUSIVE AND IMPACTFUL PARTICIPATION 
Practice note: Consent and child protection 
1.6 ENABLING ENVIRONMENTS 
Example: Increasing awareness of rights for children on the move 
Example: Government youth portal for children 
Hints and tips: Getting started 
SECTION 2: DEVELOPING PARTICIPATORY ORGANISATIONS AND ENVIRONMENTS 
2.1 ENSURING OWNERSHIP AT THE HIGHEST LEVEL 
Example: Conversations and dialogue with government ministers 
2.2 UNDERTAKING AN ASSESSMENT OF THE CURRENT STATE OF PLAY 
Example: Child particpation assessment tool (CPAT) 
2.3 DEVELOPING AN ORGANISATIONAL POLICY AND PROCEDURES 
Example: Eurochild children's participation strategy 
Spaces and processes 
Figure 9: Formal and informal participation spaces and activities 
Example: Child-friendly Health Care 
2.4 BUILDING STAFF CAPACITY 
Training: Champions of children's participation 
Involving children in the recruitment and selection of staff 
Example: Child participation in the recruitment of an ombudsman 
2.5 SAFE AND CHILD FRIENDLY COMPLAINTS MECHANISMS 
2.6 MONITORING AND REVIEWING IMPLEMENTATION 
Checklist: A listening 'alternative care' institution 
Checklist: A child-friendly and participatory classroom 
Hints and tips: Making child particpation work in the long term 
SECTION 3: SUPPORTING PARTICIPATION OF INDIVIDUAL CHILDREN
Example: The right to be heard 
3.1 PREPARATION AND PLANNING 
Example: Child-rights friendly environment 
3.2 CONNECTING WITH CHILDREN 
3.3 IDENTIFYING ISSUES AND PRIORITIES 
3.4 INVESTIGATING CHILDREN'S VIEWS 
Example: "BARNAHUS" (Children's House) special safe settings 
Example: Accessing independent support to express views 
Practice note: Respect for evolving capacities 
Example: Presuming capacity 
3.5 TAKING ACTION 
Practice note: Best interests of the child 
3.6 FOLLOWING UP ACTIONS 
3.7 REVIEWING, REFLECTING AND STARTING AGAIN 
Checklist: Reflecting on discrimination 
Hints and tips: Connecting with children 
SECTION 4: COLLECTIVE PARTICIPATION 
4.1 PREPARATION AND PLANNING 
4.2 CONNECTING WITH CHILDREN 
Example: Intergenerational support for activism 
Example: Youth advisory group in child-friendly cities conference 
Example: Collaborative priority setting 
Example: 2getherLAND Camp Advisory Group 
Example: Lithuanian School Students' Union 
4.3 IDENTIFYING ISSUES AND PRIORITIES 
Example: Child-led priority setting 
Example: Roma Children Map Community strengths and needs 
4.4 INVESTIGATING CHILDREN'S VIEWS 
Example: Online surveys for children 
Example: Using photovoice as a method to listen 
Example: Consulting young children on the quality of services 
Practice note: Ground rules or group contracts 
4.5 TAKING ACTION 
Example: Identifying people who can be asked to act 
Example: Self-advocacy – banning the use of garbage bags 
4.6 FOLLOWING UP ACTION 
Example: Follow-up actions after consulting with children 
Example: Follow-up actions after children make demands 
4.7 REVIEWING, REFLECTING AND STARTING AGAIN 
Hints and tips: Practioner's piorities for collective particpation 
SECTION 5: RESOURCES 
5.1 LEGAL STANDARDS 
5.2 GUIDANCE ON AND EXAMPLES FOR CHILDREN'S PARTICIPATION IN DIFFERENT SETTINGS OR WITH DIFFERENT GROUPS 
5.3 ACTIVITIES (COLLECTIVE PARTICIPATION) 
5.4 ADVOCACY AND CHILD ACTIVISM 
5.5 FURTHER TRAINING 
5.6 PARTICIPATORY INSTITUTIONS 
5.7 MONITORING AND EVALUATION 
5.8 UNDERPINNING THEORY 
5.9 OTHER 
ANNEX 1: THE NINE BASIC REQUIREMENTS FOR EFFECTIVE AND ETHICAL PARTICIPATION:
THE IMPLICATIONS FOR PRACTICE 
1. REQUIREMENT ONE: PARTICIPATION IS TRANSPARENT AND INFORMATIVE 
2. REQUIREMENT TWO: PARTICIPATION IS VOLUNTARY 
3. REQUIREMENT THREE: PARTICIPATION IS RESPECTFUL 
4. REQUIREMENT FOUR: PARTICIPATION IS RELEVANT 
5. REQUIREMENT FIVE: PARTICIPATION IS CHILD-FRIENDLY 
6. REQUIREMENT SIX: PARTICIPATION IS INCLUSIVE 
7. REQUIREMENT SEVEN: PARTICIPATION IS SUPPORTED BY TRAINING FOR ADULTS 
8. REQUIREMENT EIGHT: SAFE AND SENSITIVE TO RISK 
9. REQUIREMENT NINE: PARTICIPATION IS ACCOUNTABLE 
ANNEX 2: PRODUCING ACCESSIBLE INFORMATION: GUIDANCE 
ANNEX 3: ENSURING SAFETY AND WELL-BEING: A CHECKLIST 
AS YOU PREPARE YOUR ORGANISATION 
BEFORE YOU START AN ACTIVITY 
AT THE START AND DURING THE ACTIVITY 
AT THE END OF THE ACTIVITY 
ANNEX 4: CHALLENGING DISCRIMINATION: IMPLICATIONS FOR PRACTICE 
ANNEX 5: EXPLAINING CHILDREN'S ROLE IN MEETINGS AND PROCEEDINGS: A CHECKLIST 
ANNEX 6 COMMUNICATING WITH CHILDREN: A CHECKLIST 
DO YOU ENSURE THAT? 
CONNECTING WITH CHILDREN IS ENABLED WHEN: 
ANNEX 7: PREPARING FOR COLLECTIVE PARTICIPATION: KEY QUESTIONS CONSIDER 
WHAT ARE YOUR AIMS AND OBJECTIVES? 
WHO COULD BE INVOLVED? 
HOW CAN YOU ENSURE CHILDREN'S VIEWS RESULT IN ACTION: 
WHAT RESOURCES CAN YOU SECURE? 
ANNEX 8: SUPPORTING FREEDOM OF EXPRESSION AND ASSOCIATION: A CHECKLIST