Human rights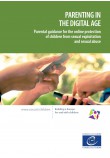 Parenting in the digital age - Parental guidance for the online protection of children from sexual exploitation and sexual abuse (2017)
Dr Elizabeth Milovidov, JD.
REF. 130417GBR
Type of document : Document
Format : PDF
Size : 4.33 MB
Language : English
Number of pages : 28
Other available languages
> French
Parenting in the 21st century is challenging at the best of times. Today's children grow up in the fastchanging digital age, a new world in which parents may be poorly equipped or are barely keeping up.
This brochure, which may be read in conjunction with six accompanying short video tutorials (www.coe.int/children), aims to provide parents and carers with useful tools and helpful tips on protecting children online. In these tutorials, digital parenting coach Dr Elizabeth Milovidov, J.D. gives straightforward practical advice on the particularly sensitive topic of the online protection of children from sexual exploitation and sexual abuse, explaining terminology and providing sound guidance on what parents need to look out for and how to manage and avoid pitfalls. The six topics addressed in these tutorials are: the online protection of children; sextortion; sexting; sex-chatting; grooming and revenge porn.
INTRODUCTION
1. ONLINE PROTECTION OF CHILDREN
2. ONLINE SEXUAL EXPLOITATION OF CHILDREN (SEXTORTION)
3. SELF-GENERATED SEXUALLY EXPLICIT IMAGES AND MATERIALS INVOLVING CHILDREN (SEXTING)
4. SEX-CHATTING
5. GROOMING
6. SEXUALISED IMAGES USED IN REVENGE (REVENGE PORN)