Society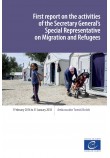 First report on the activities of the Secretary General's Special Representative on Migration and Refugees (2018)
Ambassador Tomáš Boček, Secretary General's Special Representative on Migration and Refugees
REF. 026118GBR
Type of document : Report
Format : PDF
Size : 771 KB
Language : English
Number of pages : 30
Other available languages
> French
In January 2016, Tomáš Boček was appointed Special Representative on Migration and Refugees of Council of Europe Secretary General. His mandate is to gather information on how the fundamental rights of migrants and refugees are protected on the ground in the member States, and to develop proposals for action at national and European level. He also liaises with international partners, in particular the United Nations High Commissioner for Refugees, the International Organisation for Migration, UNICEF, the EU and FRONTEX.

One of his priorities is to improve the situation of the high number of refugee and migrant children currently in Europe. He has prepared a Council of Europe Action Plan (2017-2019) to this effect. It was approved by the Committee of Minsters 19 May 2017 and the Special Representative is now coordinating its implementation. He has also undertaken fact-finding missions to hotspots, camps and detention centres in several member States.
This report covers the period from 1st February 2016 to 31 January 2018.
Introduction and overview of activities
Fact-finding missions, reports and follow-up activities
     A. Summary
     B. Greece and "the former Yugoslav Republic of Macedonia"
     C. Turkey
     D. Calais and Grande-Synthe
     E. Italy
     F. Serbia and two transit zones in Hungary
     G. Bulgaria
Protection of refugee and migrant children
Advice on legislation
Co-ordonation of activities within the Council of Europe
Co-operation with other international organisations
Participation in events
Communication
Organisational matters
Observations and future priorities
     A. Future challenges and the Council of Europe's role
     B. My priorities for 2018-2019
Appendix 1 – Mandate
Appendix 2 – Links to fact-finding mission reports